One of the best decisions we have made as a married couple is to ditch our cable. Although we still haven't completely scrapped the screen, we are making a move toward less reality shows and more reality. For now, that means some classic bunny ear antennas, plus Amazon Prime and Redbox for the occasional movie. I like to imagine a day when our television's only job is displaying photos and homemade videos of sweet times with our family. Even by just getting rid of cable and sticking to a few basic channels, we've experienced many of the benefits below. I encourage you to consider doing the same.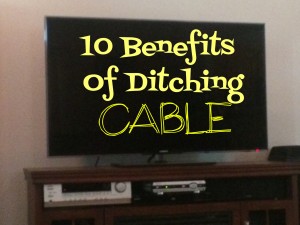 1. Save more money. Everyone has something they're saving for whether it be an expensive item like a car or something smaller like a new pair of jeans. Whatever it may be, cutting cable will help you put more into your piggy bank.
2. Steal more time. Everyone wants more of it, but there isn't anymore out there. You get what you're given so make the most of it. If you're like me, you could find yourself lost in shows for hours. It always left me feeling unproductive and guilty about wasting my time. If we want more time, we have to steal it from something else. Why not steal your TV time for more family/work/crafting/learning/volunteer time?
3. Be more productive. So you think you're the master of multi-tasking huh? Many of us are dual or even triple screeners. We can often be found sitting on the couch watching TV with our computer in our lap and our phone by side. All those tasks going on at one time must make us more productive, right? Wrong. I find I'm way more productive when I turn the TV off, focusing my mind on the ONE task at hand. TV is a distraction that siginificantly decreases our productivity.
4. Enjoy less drama. Let's all just be a little honest with each other here. We each have enough drama in our own lives that we don't need television shows to add more. Whether you're watching soap operas and sitcoms or the news and HGTV, it's the drama that draws you in. It's toxic. Run away. Run quickly away.
5. Play more games. As a child, I learned to play Gin Rummy at the kitchen table, monopoly on the coffee table, and darts in the garage. Although those moments were few and far between, they are some of my fondest memories. How often do we play games that don't involve screens? The face-to-face fun an interaction has been replaced by face-to-screen entertainment, and kids around the US are growing up without knowing how to hold their own at a card table. It's a tragedy.
6. Increase your knowledge. Look, I understand that television can be educational and that YouTube videos are the new encyclopedias, but life is so much more fun when we learn through apprenticeship. I have many dishes that are better than my mom's macaroni and corn casserole (sorry, mom!), but I make it frequently because it reminds me of when she taught me how to make it. From shooting hoops to changing a tire, life skills are meant to be shared through relationships and learned by doing. So turn off that TV and teach someone something.
7. Be more rested. It's 8:55 pm and you're absolutely exhausted. Thankfully, your show is almost over then you'll head to bed, but then it happens. Your show ends and instead of a commercial, it goes right to the next show. You don't look away quick enough and all of a sudden you're hooked, glued to the couch for another hour. It's happened to the best of us. We can't stand the thought of missing out on something. Sleep is precious. Get more of it.
8. Exercise your imagination. Don't watch your stories, create them. Build a fort (without looking it up on YouTube first), climb on in, and tell a tale of adventure and mystery. Create Christmas crafts without guidance from Martha Stewart. Let your brain run free without constant input and see what the output is. I'm sure you won't be disappointed.
9. Soak up Vitamin D. When I was growing up I spent most of my summer in the sun jumping on the trampoline, shooting hoops in the driveway, splashing in puddles, and stomping in the creek. Now the glare of the sun reflects off my iPad so my love for sunlight has dwindled. It's sad, but true. It's so difficult to avoid curling up on the couch in our air conditioned homes, remote at the ready. If you don't have cable, chances are you'll find yourself seeking outdoor entertainment more often.
10. Experience deeper connection. If you're anything like Casey and me, you come home from a long day and veg out on the couch in front of a mindless show. Maybe you even sit on opposite sides of the room, or even in different rooms because you don't like the same shows. Shutting off the tube leaves room for conversations that drive deeper emotional connection. Oh and if you have a TV in your bedroom, get rid of it and (ahem) find a way to entertain each other.
Now ready to kick cable out your door just yet? Try one day per week, tube-free Tuesday or if you're really brave, turn it off Monday – Friday. Let's see what life we can get back by cutting back on TV.
Have you ditched cable and seen an impact in your life for the better? Would love to hear from you in the comments.