I can't believe that 2012 has come and gone. This has definitely been an interesting year for me and Casey, one that was worth talking about. Usually we send out a picture perfect Christmas card to family and friends, but this year we wanted to let everyone know what what's been going on so we wrote a letter. I sent this out a while ago, but then realized that you all are like family too! So I've shared the letter with you all below and also our Christmas card.  Happy New Year!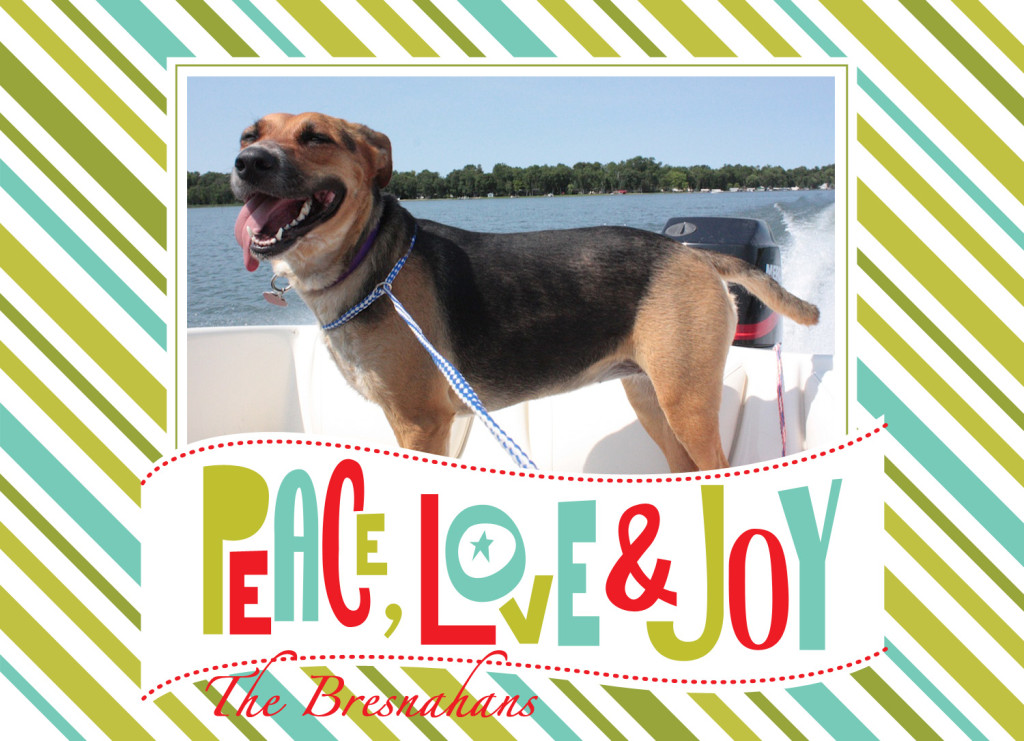 The Bresnahan Christmas Update
Congratulations! You have received the first (possibly annual) Christmas update from Casey, Shana and Minny. We wish that we could stay in touch with all of you throughout the year, but sadly, it's just not possible. This is our attempt at catching you all up on what we've been up to. For those of you that won't read past this first paragraph, just know that we had very exciting year. Enjoy!
Making Some Changes
We started out the year with a big change. We left the church that led to our introduction and hosted our wedding, the only church Shana's ever known, to start a new church with a group of about 50 others. From leading the children's ministry to singing songs in Swahili, being a part of The Church at Antioch has been quite a growth opportunity for us. We love it!
After coaching most of his life, Casey stepped down as the basketball coach at Sunset Middle. He's looking forward to having more free time this winter, and Shana's looking forward to getting an extra 3 months with her husband. Now Casey will have more time for his new side job, selling custom sunglasses to schools for fundraisers.
The biggest step of faith was when Shana left her incredible job as the Interactive Marketing Manager at Vanderbilt to launch her own business as an engagement marketing consultant. Despite some hardships at home right after leaving Vanderbilt, her business is booming. It's been amazing to see God bring clients to her and provide for us in such tangible ways. We thought Minny would love having mom at home, but she just lies in bed until she hears Casey's car pull into the driveway. The debate about who's her favorite is officially settled.
Becoming Grown-Ups
This might be the year that we actually turn into adults. Between the two of us, we have 12 awesome nieces and nephews. We had the pleasure of hosting a few of them in our home this year. The opportunity to practice our parenting skills was very unique. We learned that we should always check the room for iPods before bedtime, how to stand our ground when a child won't eat their dinner, and that it's not wise to let a 3-year old nap on your couch without a waterproof pad. It was trying at times, but we are truly thankful for the extra time we spent with them this year, and Minny was definitely a fan of all the extra attention!
This was also the year of two major purchases. After months of scouring craigslist for the perfect couch, we finally gave in and bought a brand new one from a furniture store. It was our first purchase of a new piece of furniture for our home, and a big piece of furniture at that.
If that wasn't scary enough, we decided to take an even bigger step and upgrade to a 4-door sedan, not for kids, for Minny. We tested the viability of our new-to-us Sonata right away when we piled in the car with Minny and our nephew for a 20+ hour drive to North Dakota. Now we know why people with kids drive minivans and SUVs. Crazy!
Gallivanting Around Town
Shana's favorite thing to do is travel so we feel incredibly blessed that God gave us the finances and time to travel this year. During trips to visit friends, we watched a Boston Red Sox game from the Green Monstah, put our toes in the sand off the coast of Wilmington and even ventured into the backwoods mountains of Boone, North Carolina. With Shana working for herself, we had the freedom to spend a week in North Dakota and a week at the lake in Minnesota for the annual Bresnahan family vacation. That's where Minny reluctantly had her first swimming experience and finally got to meet her Uncle Kobe.
We made some shorter trips as well to Alabama and Kentucky to spend time with Shana's clan and even to Chattanooga for some time for just the two of us and the world's best 80's cover band. Sadly, we had to cancel this year's anniversary trip to Arizona because Casey came down with mono and passed it to Shana, but thankfully, we'll be headed that way for Christmas. I guess next year's anniversary trip will just have to be twice as big 😉
Welcoming Our Family
It's incredible how our family showered us with their presence this year. We were blessed with a lot of quality time with Shana's family. Although the loss of her granddaddy was bittersweet, we cherish the moments we spent with him before his passing and are thankful it brought the family together. We even made a couple special trips to Kentucky this year to visit Shana's parents, aunt and uncle. Even though Minny was sad she didn't get to go fishing on the lake with dad, she had a blast hanging out with her cousins, Rocky and Max, and her uncle, Harley.
Although Casey's family is far away, his parents were able to surprise him with a visit on his birthday. We really enjoyed welcoming them into our home and showing them around town. His brother, Rich, and sister-in-law, Robin, plus their two sweet kiddos were also able to spend some time in Nashville. Since they used to live in Nashville we had the pleasure of more quality time at home. It was such a treat to have our nephew, Liam, visit us for a week for a robotics camp. He had an absolute blast and so did we. It was the week before that we had our niece, Ashlynne, for a week too. Who wants to come next?
Living in Community
We feel so blessed to have such an incredible family, but this year, we've really seen the power of community. From our missional community at church and wives connection night's in our home to monthly neighbor dinners and supper club with some of our closest friends, we are amazed at the incredible people God has placed in our lives. We are beyond thankful for the prayers, support and laughter our friends have shared with us over the past year. You all are a blessing that we don't deserve and proof that family is not bound by blood or law.
Minny has been living in community too! She has playdates with her best friend, Petra and gets to run around with the other dogs at daycare when mom and dad need a break. She even had quite a few sleepovers this year – Petra, Porsche, Rafiki, Moose, Callie, Kobe, Harley, Max, and Rocky. Wow! This was definitely an exciting year!
Thank you for being a part of our life. We love you all so much!
We pray you have a Merry Christmas and a Joyful New Year!
Casey, Shana &Minny
For God so loved the world,that he gave his only Son,
that whoever believes in him should not perish but have eternal life.
John 3:16