Every year Casey and I make a trip up to North Dakota to visit his family for the 4th of July. This year we got adventurous and decided to drive so that we could bring Minny. Since our nephew had been visiting that week he was going to be on the journey with us too. Casey and I knew that we weren't going to fit into my 2-door Accord so we took the plunge and purchased a family sedan a few weeks before the trip. So there we were, Casey, me, Minny, Liam and all of our stuff packed to the brim of our new car that we were praying wasn't a lemon. Now I know why people drive minivans and SUVs. So we drove – correction: I drove and they slept, for 13 hours, from 6 pm to 7 am. Then Casey, took over for the last leg of the trip. Surprisingly, we made it to North Dakota in one piece and only 18.5 hours.
Since you all couldn't go on the trip with us (there was no more room in the car), I wanted to recap the trip for you.
After that long drive, I needed a long nap. Minny kept me company.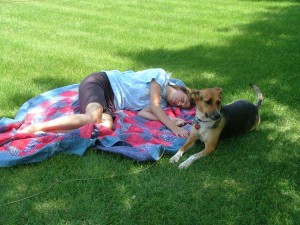 Minny got spoiled by the in-laws. Check out that huge bone!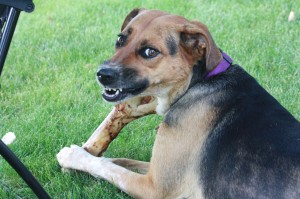 We had some R & R on the lake.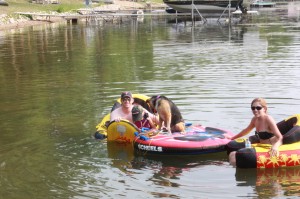 Minny LOVED riding in the boat.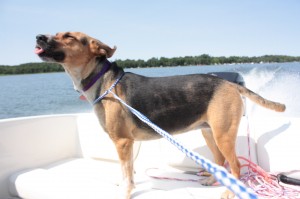 I did some beginner wake boarding. See the video below.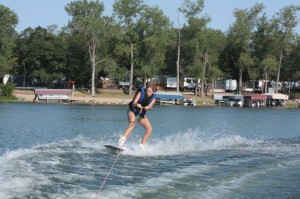 We saw some amazing wildlife. Isn't this Bald Eagle gorgeous!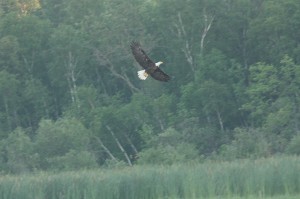 We caught some awesome wildlife. Casey snagged a bass and we both caught nasty northerns.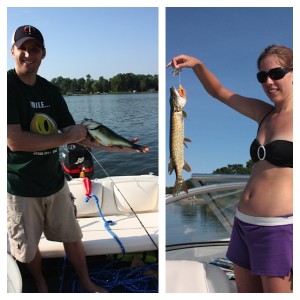 Madi and I celebrated our birthdays together for the 3rd year in a row.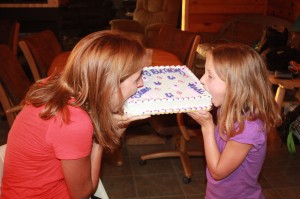 And of course, we did lots of driving. Minny was a good sport.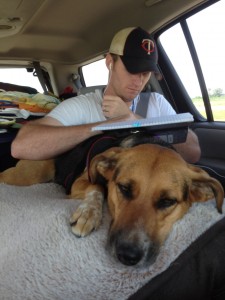 Check out Minny trying to figure out if she likes the water.
Take a look at Casey waterskiing and me wake boarding. There are two good wipeouts!
Now we get a little bit of time to catchup on life before we head out of town again. Why does summer always go by so fast?