You're probably wondering who the Wednesday Wife is for this week. The answer is YOU!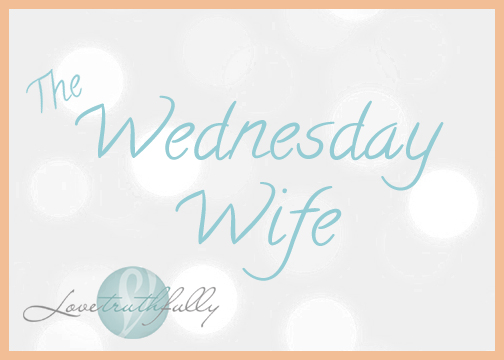 So many of you have told me how much you have been touched and encouraged by hearing the marriage stories of other wives. So now it's your turn! I'd love to feature your story on Love Truthfully!
You're probably thinking, "There's no way I could be honest about my marriage struggles!" or maybe you're on the other end and thinking, "My marriage is way boring compared to those other stories." Don't believe those lies! The truth is that there is someone out there that needs to hear your story, no matter what it is or who you are.
So please consider becoming a Wednesday Wife. The process can be difficult if you've never asked yourself these questions before, but I've tried to make it pretty simple on my end. The questions are below. Simply copy them into a word doc and get to answering. Then you'll just come back here to submit your answers, photo etc.
I have only 2 stipulations.
1) You must share your answers with your spouse and get their permission to share. You always have the option of remaining anonymous, but the stipulation still applies.
2) You must be honest. That means it's time to take of the mask and get real because no one wants to hear another whitewashed story.
Maybe you're not ready to share your story today, but I hope one day you'll let God use your story to impact the lives of others. If you're ready, let's do this! I can't wait to read and share your story!
THE QUESTIONS
Tell us your courtship story. How did you meet and end up married?
On your wedding day if someone had asked why you were getting married, what would you have said?
If someone asked you today why you have stayed married, what would you say?
Do you have children? If so, how has having children affected your marriage?
What has been one of your greatest trials in your marriage and how did you all overcome it?
What has been the most challenging aspect of being a wife?
How has being a wife changed you?
What does date night look like for you?
 What are the top three things/people that pull you away from or compete with your marriage?  How do you deal with them?
 What role has community played in your marriage?
 What's one thing you wish someone had told you before marriage?
 If you have one final thought or piece of advice to share with current or future wives, what would it be?
Wednesday Wife Submission
I'd love to hear your marriage story, and be able to share it with others so that they might feel a little less alone and a little more encouraged. Just fill out the below form and copy & paste the questions and your responses below. I'll be in touch!