This weekend Casey and I attended a parenting conference. I'm sure you're wondering why two people without kids would attend such a conference. It's like training camp for football players or bootcamp for soldiers. You see, in about 9 months we will be parents, welcoming a beautiful child into out home.
In just 9 short months our life is going to be turned upside down as we step onto a new battlefield. Thankfully, we have time to prepare our hearts and minds to welcome this sweet child into a home where she will be able to feel safe, supported and prepared to thrive as an adult. We are taking every opportunity that comes our way to make sure we are prepared.
Dr. Tim Kimmel has devoted the latter part of his life to speaking and teaching the truth about Biblical parenting in a way that is easily understood, applied, and creates life change that impacts your family for generations to come. This Friday and Saturday event was so full of wise parenting advice that I can't even begin to summarize it for you. Thankfully, Dr. Kimmel has put together a great visual reminder of everything we learned about how to be a grace-based parent, and no, it doesn't mean be nice and let them get away with everything. Not at all.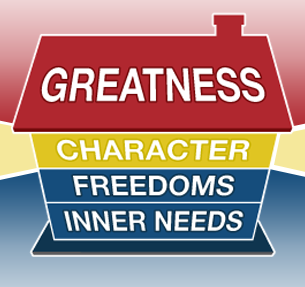 Dr. Kimmel describes the model.
I truly believe this is a chart that all parents should know, understand and apply. So I encourage you to attend a grace-based parenting conference near you, host a small group in your home, or at least read the book. Click here to find all those resources.
So what's next for us? We are going to spend 15 minutes every week for the next 9 months going through our notebook from the weekend to begin implementing and practicing grace-based living in our home so we are ready when our little bundle of joy arrives next summer. Okay. So maybe she's not quite so little, but she is a bundle of joy and we are honored to get to guide her through her teenage years.
Some might call taking in our 14 year old niece insane, but we could not be more excited. Just like with any child, I'm confident she is going to bless us and teach us more than we ever could her. And we are ready, with hearts full of grace, to love her like our own.