Wednesday was my last day of work at Vanderbilt. Casey and I have been so busy working double-time the last few months that we haven't really stopped to celebrate us taking this big leap of faith. After I finished work on Wednesday, my colleagues took me out for a goodbye happy hour. I hadn't heard from Casey all day so I called him on my way to Yolos. This is the point where I should have kept my mouth shut.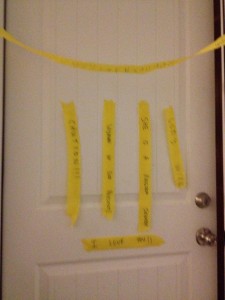 I was starting to feel sad that Casey hadn't done anything to celebrate me leaving my job. I knew that if we went on for a few days without any celebration that bitterness and resentment would rise up in me. I wanted to make the covert overt and share my hidden expectations. I told Casey how important this day was to me and how I'd be pretty upset if I didn't get a card or dinner or something. He agreed and said he'd take care of it.
An hour later, he was surprising me at the restaurant with a poem on a card. When I left the restaurant, I had another card with another poem on my dashboard. I had an inkling that there would be something waiting on me when I arrived home. I pulled into the garage to find the door to the house decorated with streamers.
"Congratulations" and "caution" were written on the streamers. A bottle of wine and another card were on the steps. I opened the door to find balloons from floor to ceiling with streamers.
After popping one with the door, I understood the warnings. Each balloon had something written on it. Bible verses about God's provision or steps of faith, reasons I left my job, things I'll have more time for, and so many more words that melted my heart. He wasn't done.
I got to the kitchen to find a bottle of champagne and a present – Quitter by Jon Acuff (Minny decided to eat this one already) and Entreleadership by Dave Ramsey.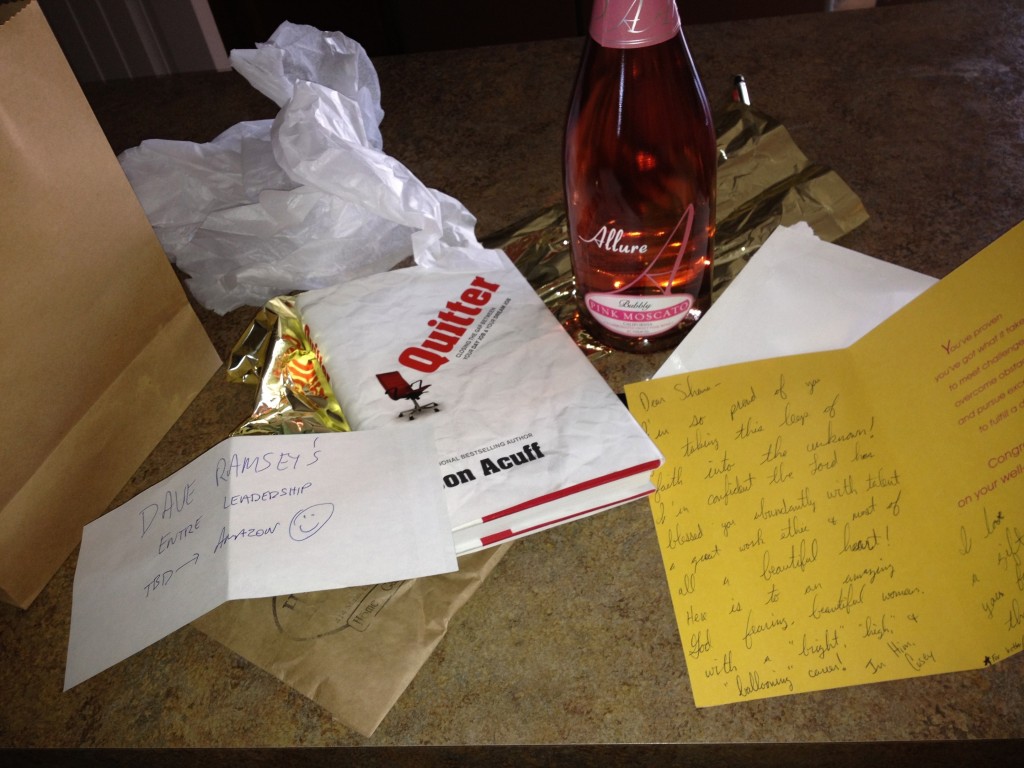 I went down to my neighbor's house to watch their two little boys (another story in itself). Casey showed up from his basketball game later with dinner and another gift.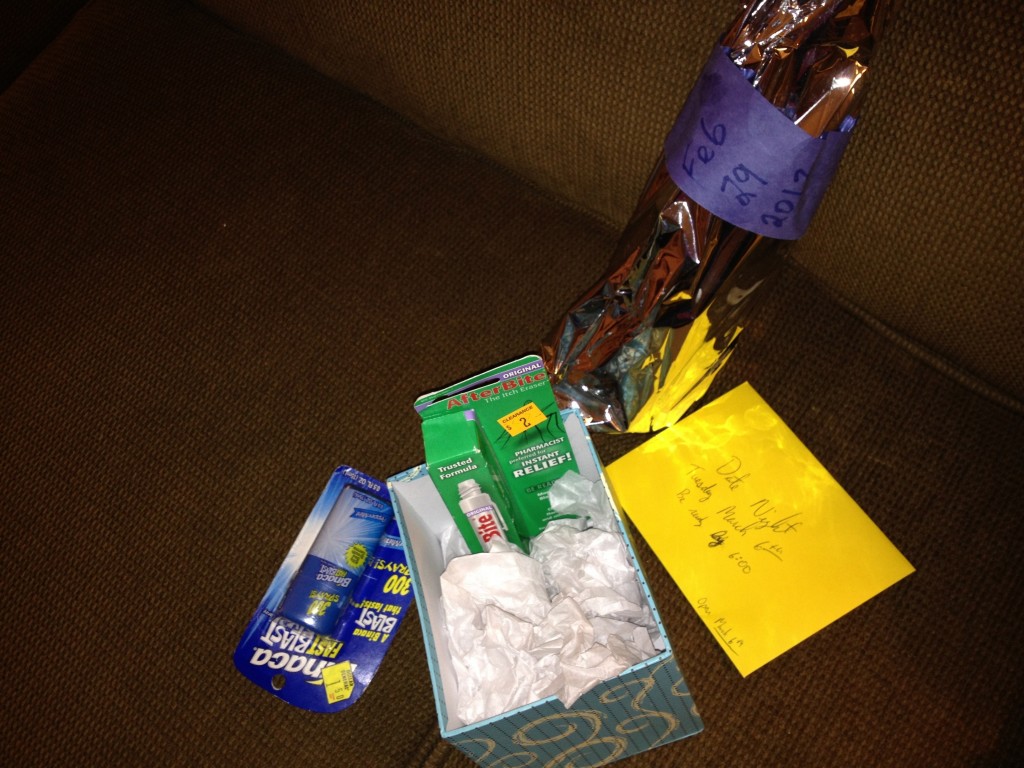 In true Casey fashion, he gave me binaca and after bite. Binaca to eliminate my "I haven't brushed my teeth so I can't kiss you" excuse. The after bite for the bug bites I'll get, you know, with all that working outside this spring. Clever. There was also another note. The envelope read "Don't open until 6am March 6th." Apparently there's a date night on the calendar.
The best part? When I called Casey to tell him about my desire for a little something to celebrate, he was in the store buying balloons. He had been planning this for weeks and had secretly taken the day off to not only try and fight off his cold, but to prepare this surprise. I felt so loved and celebrated, and of course, wished I had never said anything to him. But this is more evidence of how far we have come. A year ago Casey never would have planned something like this, and I never would have been so proactively honest about my needs. I love seeing the fruit of God's work in our lives.
Pin It