On Friday Casey started complaining about a sore throat and drainage. I was immediately on alert. Like most men, when Casey gets sick, it's like he's the only person in the world that's ever been sick. Usually, I don't mind taking care of him, but recently I've been beyond overloaded with work and other commitments. A sick husband was not going to fit into the agenda.
On Saturday Casey and I went to visit my sister and nieces in Alabama for the day. We decided that instead of leaving Minny at home by herself, we would bring her with us. It seemed like a win-win. Minny get to play in their fenced in yard, and we wouldn't have to worry about her being at home alone all day.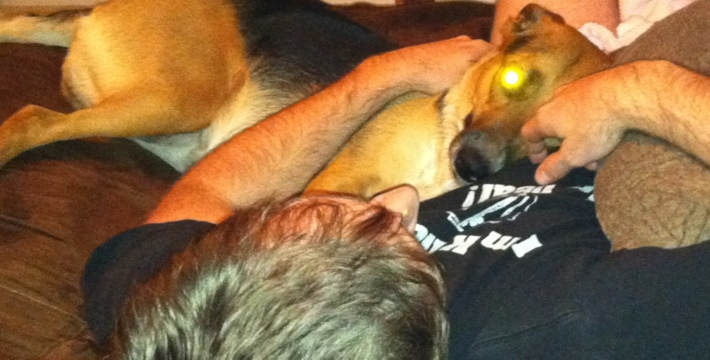 On Sunday night Casey, still not feeling well, and I were enjoying some relaxing time in our giant bean bag before we headed to bed. Minny is not a fan of us having pack parties without her so we allowed her to join us. We curled her up like a baby on her back and began rubbing her belly. And then it began…
Shana: "Is that a FLEA?"
Casey: "A what?"
Shana: "Minny just had a flea on her. Wait. Is THAT a flea TOO?"
Casey: "Huh?"
Shana: "There's another one. She's COVERED in fleas. Casey, get her into the tub NOW!"
Casey: "Come on Minny."
Shana: "No, Case. Pick her up. Carry her. Dump her in there."
Casey sweeps Minny off the floor and rushes her downstairs. Shana bathes Minny & watches fleas fall off of her.
Shana: "Casey, get me some towels. Take the sheets and everything off the bed. Get everything from upstairs into the washer. Get out the vacuum."
That's pretty much how the night progressed for 2+ hours. Me running around, grabbing things to throw into the washer – sheets, clothes, blankets, rugs, towels. Casey vacuuming and trying to manage all the tasks I was throwing his way. Needless to say Casey was a HUGE help despite being sick. I'm so thankful that he pushed through to help me go to battle against the fleas.
We got everything into the laundry room and washed as much as we could. Vacuumed the entire house. Bathed Minny. Checked Minny 500 times for more fleas. Then finally made it to bed (in the guest bedroom) after midnight.
Monday afternoon. I leave work at 4 to take the car to get it cleaned out since flea-infested Minny had been in it. 2 hours later I arrive home. Thanks to VP Joe Biden deciding to make it to the airport during rush hour, I sat in traffic for hours and the car wash was closed by the time I got there. Ugh! Exhausted, we both arrive home from work. Minny greets me at the door with a paw to her nose as a flea sits on the end of it, teasing her (and me). Here we go again.
"Casey, get her in the bath. Grab some towels. Strip the guest bedroom. Where's the vacuum?" Another night of bathing Minny, checking her for fleas, washing everything, vacuuming the whole house. About 10pm I join Casey in bed after getting some work done post-cleanup.
Shana: "Casey, my throat hurts."
Casey: "Oh no."
That brings us to today. Tuesday morning I wake up. Throat closed. Ears popping. Nose stuffed. Let's look on the bright side, at least the flea-infested pooch has company during her quarantine. Right?