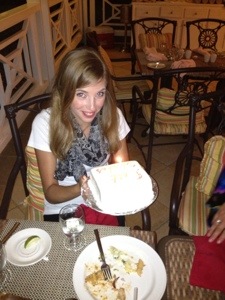 What's the big deal about turning 27? To most people it's just another birthday, but to me it's the end of an excuse. Before I met Casey, I had always said I would never get married until I turned 27. Well, that obviously didn't happen. But once we were married, I began to say I would never have kids until I was 27. (We can discuss whether that is right or wrong at another time.)
So here I am. Staring 27 in the face, and yet I feel the same about having kids today as I did yesterday. Wasn't something magical supposed to happen? Shouldn't I be ready to have a baby now? The truth is I may be more fearful of being a mom today than I was yesterday, when I was 26. The reality is upon me that in my mind at least, I have entered the age of motherhood. I always thought that when I turned 27 I'd be ready and willing, but I'm not.
I still selfishly want more time to be just husband and wife. More time to launch my business. More time to write. More time for the things I want to do with my life. I'm not ready to let go of my body – giving it over to little creatures as a life force and jungle gym. I still want to wearmy size 00 J.Crew shorts and wear a nice top without worrying about spit up. Don't get me wrong, I love kids and if The Lord blesses me with some, I will love them with all I have in me, but…
I have come to the conclusion that I will never be the woman that excitedly enters the world of childbearing.
Making the decision to have kids will be an act of obedience, not a willful journey. I will look at all my reasons I'm avoiding becoming a mom, put them in a pretty box and hand them over to God – praying that He will give me the selflessness, humility and strength that it takes to be a mom.
Although the joyful, ignorant anticipation of being a mom may have been spoiled by my experience raising my niece, it's ultimately my fear that has led me to push motherhood back further and further. Will I be good enough? Is our marriage stable enough? Will I ruin my kids? Will I still be able to run a successful business? Will I still have me time? Or will I just lose myself, smothered by my new name – Mom.
I haven't had to face these fears yet. Even now that I'm 27, that magical age, there is still one excuse that remains – my health. Doctors are toying with a mystery diagnosis and for my safety, have asked me to hold off on babies. But that could all change in two weeks when I go back to the doctor. Casey is praying they clear me for baby making. I'm not sure what I'm praying. In fact, although it has been fear that has kept me from motherhood, it might be fear that drives me to it. As I watch many I love struggle to conceive, the fear of not being able to have a baby once we are ready is almost strong enough for me to hand it over to The Lord now, no matter what the doctors say.
I suppose I won't pray for a result either way. I'll just pray that in His love, God removes my fear and replaces it with a an overwhelming trust in Him and inexplicable joy no matter what's around the next turn – even it is stretch marks and poopy diapers.