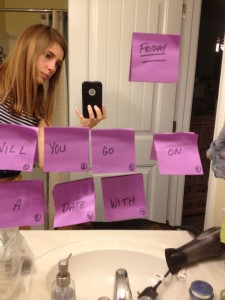 So the trip to Europe is finally here. I've had very little sleep and don't really see much in my future either. My body is drained, but my heart is full. I am so thankful for the time I've had to prepare for this trip and for the help my husband has been. In my last post I showed you a photo of the post-it notes that Casey had been scattering around the house. I'm sure you could have guessed it then, but they were all leading up to a date night.
Casey planned for us to have a night to ourselves on Friday before I hopped on the plane on Sunday morning. Sadly, Amy and I had planned to work just a couple of hours to prepare for the trip together. Ultimately, a meeting that was supposed to be done at 6:30 went on well past that into the 9:00 hour. Needless to say our date night didn't happen. We ended up picking up pizza on the way home.
Saturday was my last day to prepare for the trip. Casey was gone all day at a men's retreat for church. I was busy trying to get everything done that I could before he got home so we could have that date night. I also wanted to get a chance to tell my sweet grandmother happy 95th birthday so I made a stop by her place as well. Apparently I tried to do too much in one day because I wasn't done packing when Casey got home. I was so thankful that he was willing to help me finish packing. We were scrambling to get everything together, take care of things around the house, and run all the errands that we needed to get done before I left. We packed as much as we could and then took off for the mall. I needed to get a pair of shoes for the trip, and an iPad for work. I had put off getting an iPad for way too long because I hate spending that kind of money, but with the encouragement of my wise husband, I finally made the decision to get one. Of course, I definitely needed one so I could keep my business running while I was gone. I digress. So we ran around the mall looking for the shoes I needed and barely made it into the Apple store before it closed. We weren't done there. Off to Wal-mart for a few last minute items.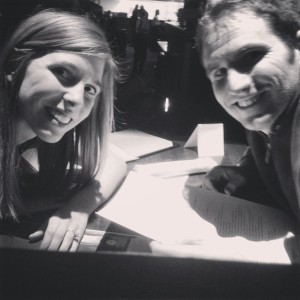 I know Casey was starving and so was I. It was late. Like after 9:00 again and we had still not had our date. We made it to J. Alexanders at around 9:30pm. FINALLY! Time to relax and connect before 3-weeks apart. I am so thankful that despite our exhaustion, we made time for each other. I loved getting those last few moments to share my heart about the trip and love on my husband one last time before I left.
After dinner we headed back home. Casey slept (somehow) while I stayed up way too late finishing my packing. Off to church the next morning. A little lunch with Amy and her husband, Clint, at Olive Garden. Then off to the airport. We are on our way!