Yesterday Casey and I were driving home from an amazing date night at Arrington Vineyards when I mentioned the smell of honeysuckle. I began telling Casey about how that scent of summer reminds me of playing softball because we would always eat the honeysuckle near the fences. He didn't know what I was talking about.
It didn't take me long to realize that I was about to get to introduce Casey to something new and take him to my childhood for just a moment. As we drove down this long back road we saw honeysuckle everywhere we looked. I kept urging Casey to stop, but with a 55 MPH speed limit and a sun setting behind us, he wasn't exactly up for a detour. I almost had given up hope for my little adventure when he jerked the car off the road into a patch of gravel. There it was. Right in front of an old, rundown home. A huge honeysuckle bush right there where we could reach it.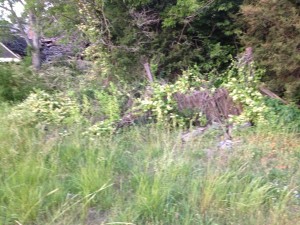 We ventured out of the car and headed to the bush – lured by the scent. I instructed Casey on how to select his flower. "Do we eat the flower?" he asked. "Even better!" I said.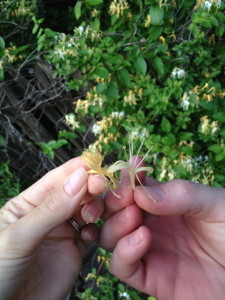 I showed Casey how to pull the stem out of the end of the flower and watched him enjoy the sweet nectar.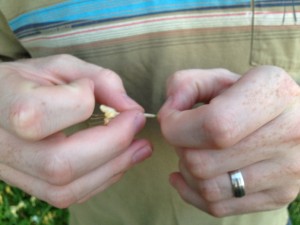 Although it's just a drop, the taste was a highway to childhood memories for me. Casey was surprised by how good it was and clearly enjoyed the process of gaining the nectar as much as I did.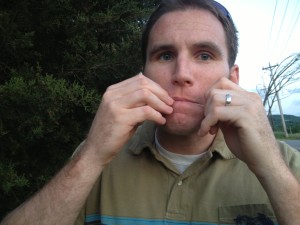 Now I have a new memory to add to the old that will come to life at the smell of honeysuckle.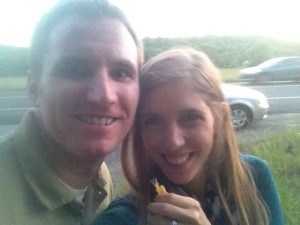 Sometimes we are so busy driving 55 down the highway that we never embrace the detours. That has to change. Because nothing really compares to sharing something new with your spouse. Teaching them a secret. Sharing your past in a tangible way. Making new memories.
What memories have you been making lately?