So we pulled Ashlynne and Uncle Rickey out of bed and piled in the car. I drove faster than I've driven in a long time, adrenaline racing, and showed up in record time. I walked into the hospital room to see my granddaddy lying there unresponsive. He was no longer greeting us with a "hi hun" or "Oh, I'm alright." His big blue eyes were staring back at me in desperation as his labored breathing broke my heart with each gasp. The nurse came in and said his blood pressure dropped which is a sign of dying. It could take ten minutes or 4 hours, but he's leaving us. So I walked over to my granddaddy, embraced his hand, kissed him on his cheek and began whispering to him about the greatness of heaven and the love of God. As I stared into those big blue eyes, I told him that it was okay – that he could go. We would be okay. I described heaven as a place with colors beyond what we can imagine with the most beautiful voices he's ever heard, with joy multiplied times 1,000. I talked to him about all the wonderful places he's been – North Pole, South Pole, Australia, Hawaii – "picture those places granddaddy. Don't listen to the beeping of those machines telling you you're dying. Just picture those joyful, peaceful moments in your life and know that heaven will be a thousand times greater than those. God loves you. You are his son and He is waiting on you with open arms. You don't have to fight anymore. The pain will go away. There will be no more pain, ever."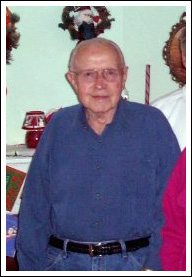 The doctors had given him morphine to stop the pain, what they call "air hunger." They also gave him something to help him rest, but sure enough he could squeeze our hands and every now and then he'd try and get out of bed – fighting and restless. After two hours of talking to him about heaven, with me my mom, and uncle by his side, he opened his eyes wide, looked at us, sat up and tried to get out of bed. The doctors came in and said, "we don't know what to tell you, but his blood pressure is back up to normal. His heart rate is steady. His oxygen levels are fine. We didn't think he'd make it through the night. We're not sure what happened. Usually when their blood pressure drops they don't make it, but he's doing better." This is a moment when you typically expect joy, but in our hearts we knew that he was leaving and we just didn't want him to fight it anymore. So we spent all night with him in the hospital with someone holding his hand at all times.
We could tell on Saturday morning that he wasn't getting better. He was barely squeezing our hands anymore. He wasn't trying to get out of bed and his big blue eyes were no longer able to follow me around the room. I couldn't get him to close his eyes for anything, but he wasn't really responsive. The worst part was watching him fade. He was gasping for breath. Sometimes he'd moan out in pain no matter how much morphine he was given. It was painful, heart wrenching to watch him.
The day before I had met a lady in the elevator who said she had been in the hospital for 3 weeks… 3 weeks! I had been there 5 days and it sucked the absolute life out of me. I didn't want my granddaddy to suffer any longer. He hadn't slept in days. He could barely eat. He was confused and uncomfortable. I didn't want my family to have to watch him slowly die anymore. We knew that it was his time. So I laid my head on my granddaddy, held his hand and cried out to God, asking Him to take my granddaddy, to bring him home. "God I can't watch him suffer anymore, I don't want him to be in pain anymore, God, please call him home. Call your son home." I got up from the bed and assumed my position next to my granddaddy, holding his hand as my mom slept on the other side, holding his hand. I whispered in his ear, telling him how much I love him, how proud I am of him and how much everyone in the family loves him. I shared how much I enjoyed hearing the stories he shared about WWII, fishing with his mom and the time I had spent with him in the hospital. I talked to him about the places he'd been. All the amazing moments he experienced, just like I had done before. I have never spoke so confidently about God's love and heaven's peace and joy as I did with my granddaddy in that moment.
It was about 15 minutes after I said that prayer that his blood pressure began to drop and oxygen levels began to decrease. God was answering my prayer! I watched the monitor slowly as his stats dropped. Knowing he was dying, I began telling him about heaven again. Only this time his big blue eyes couldn't stare at me, and his hand couldn't squeeze mine as I held it. I told him how he doesn't have to be scared. There's nothing to fear. How the pain and suffering and guilt and anything else he was holding on to would all be gone soon. His breathing began to get more and more labored and his breaths were sparse. When his blood pressure dropped severely I knew he was about to leave so I woke my mom up. She had been sleeping by his side, holding his hand. I went down the hall and got my uncle. We stood by his side and held his hands as he passed.
I had put music on my phone, instrumental worship music, so that he would have something to listen to, and I would have something to listen to other than the beeping of the monitors reminding us of his ailments. There were no lyrics in any of the songs until the final moments of his death. In that moment, when he was breathing his last, the song "How Deep the Father's Love" began to play. As I stood there with my mom and uncle, listening to that song, God gave me a peace that my granddaddy chose to leave. He had finally given up – had fought the whole time. If he wanted to stay he would have. He chose to leave and he was about to get to experience the love that the song talks about in a way that none of us could understand.