I don't know about you, but Casey and I are not big fans of Halloween. Although I loved scary movies at on point in my life, that love quickly faded when I moved away from home. Now I hate scary movies, loathe haunted houses, and frankly, I get quite nervous whenever a commercial comes on during the month of October. But there is one thing I love about Halloween – dressing up.
When I was a little girl, I wanted to be an actress so I was always dressing in costume, trying new makeup and pretending to be someone I'm not. I was able to carry that into my high school and college years through plays and Young Life skits, but those days are gone. Now there's only one day a year I get to play dress up.
Since I love dressing up so much you'd think I'd spend all year preparing, but the truth is I usually wait to the last minute. I'm always digging through the house and running to Goodwill to try and piece something together.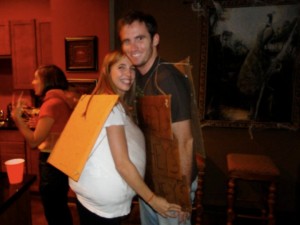 Last year we were s'mores which was awesome because I got to use spray paint and we had to hug to be complete. This year we were rednecks. It all started from a mullet wig I bought and Kroger and the rest was pieced together from Goodwill and things around the house.
Casey and I just had a blast with it. Christmas lights on porch furniture, candy out of a trash can, slingshotin' candy to kids, and of course, the accents. I think Casey's accent was even better than mine! Check it out in the video below.
It's too much fun to only get to do it once per year. I mean, how often do you get to be in costume and acting goofy with your spouse? It really brings you back to childlike laughter and joy. Once per year just isn't enough. Any ideas for other excuses to dress up with your spouse? What were you and your spouse for Halloween?