Shana and I were planning on watching Extreme Makeover Weightloss addition tonight, but instead watched the three hour finale of The Bachelorette. Before I begin, please forgive me for taking the romance out of the dating process. For those of you still holding out for the one true love, please proceed with caution.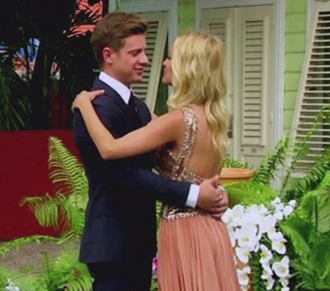 During the process of two individuals on the road towards a serious dating relationship, it is typical, at some point, that there is some infatuation and the perception that they will live happily ever after. At this time, feelings take over and almost nothing can go wrong. Shana and I had this experience for the first three months or so until we had a long weekend in D.C. at a friend's wedding. Over the course of the weekend, several factors induced tension between us and while running late for our plane, I snapped and yelled at Shana. Although there is no excuse for "snapping," the weekend hadn't gone as planned. Shana and I were disconnected, I was irritated and bam! Cloud nine was no where in sight, the boat was rocked and my baggage spilled over the side! Welcome back to earth!
My point is that it is so easy to get caught up in the clouds that we forget reality. The reality is, according to DivorceRate.org that the divorce rate in America for the first marriage is 41%. The divorce rate in America for the second marriage is 60% and the divorce rate for the third marriage is 73%. Obviously the folks that are apart of these statistics didn't experience happily ever after. Anyone that has been married 50 plus years, in my opinion, would describe it as anything but, "happily ever after."
The reality is that life is full of adversity and the cloud nine experiences put the adversity and problems on pause. Don't get me wrong, I am not saying marriage is like a "ball and chain." I'm saying that it takes work, intentional time spent together. The Nitty Gritty Dirt Band has a song called Stand a Little Rain that describes it quite well.
"When the storm blows over
Only the strong love remains
If we're ever gonna see a rainbow
We have to stand a little rain."
My marriage to Shana has been a joy; in fact, she has brought out the best in me. I am, without a doubt, a better man today because of Shana. Right now we are enjoying a beautiful rainbow, but we had to endure a little rain.