It was just a couple days ago that Casey asked me, "what would be your perfect Valentine's Day?" After jokingly responding, "you giving Minny a 2 hour walk," I let him know what I really wanted. "I just want something thoughtful, like breakfast in bed and for you to make me dinner. A love not wouldn't be too bad either."
Yesterday morning I heard him clanging around in the kitchen. I figured he was just doing the dishes from the night before that he didn't do, but just in case he was making me breakfast, I stayed in bed instead of getting in the shower. Sure enough, with just a few minutes to spare before work, he came into the room with heart-shaped pancakes, made with love. He listened! He loves me! I have a plate heart-shaped pancakes in my lap! Casey and I have never really been big on Valentine's Day, but this year, I was quickly loving every minute of it.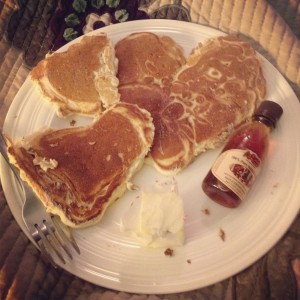 Thinking ahead to a romantic dinner cooked by my hubby, I made sure to take a little bit extra time getting ready that morning, washing AND blowing dry my hair. After my shower and quiet time I ventured into the kitchen for some water. This is what I found.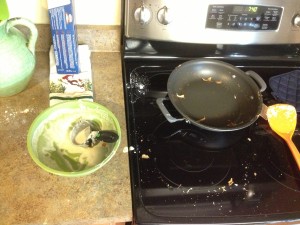 So he definitely wasn't doing the dishes, but who cares?! I had heart-shaped pancakes! I was secretly keeping an eye out for a typical Casey post-it love note stashed some where, but sadly, never found one. It wasn't long though before I had forgotten completely about that and was knee deep in work. When I heard the garage door open I got excited as it was once again Valentine's Day.
I awaited the cue from Casey to get ready for our romantic dinner, but that's not quite what happened. Instead, still battling fatigue, he laid down to rest. Seeing as how it is Valentine's Day I obliged a request I usually decline and was soon lying down next to him. Over an hour later, I couldn't stand it anymore and woke him up. "Are we doing anything tonight?" I asked. "No."
At first I thought he was kidding, but when he went to back to sleep, I realized he was serious. He wasn't making me dinner. We weren't even going out. We'd scrounge around for leftovers just like any other night. Lame.
It was 6:30 when Casey finally woke up enough to come to his senses. "I wonder if there would be a long wait at Southside Grill?" It didn't take long for him to realize that at this point, I wasn't up for getting all dolled up for an apathetic Valentine's date. His second attempt – "Want to play Qwirkle and watch Nashville?"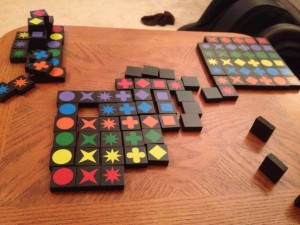 Darn it! He knew I couldn't say no to Qwirkle. Now I have to interact with him instead of sitting here acting like he doesn't exist. It wasn't long into our game, which I won by the way, that Casey made the covert overt, as he likes to say. I believe it went something like… "I screwed up. I knew I wanted to take you to dinner. I thought about J. Alexander's in the car on the way here. I just never initiated. Let me take you on a date this weekend." The conversation continued playfully throughout the night. I believe I kept reiterating how lucky he is to have a wife that has fairly simple requests and makes them plain as day. He kept bringing up my breakfast in bed, made with love. Despite our banter, by the end of the night we had settled on a Saturday date night with one condition, that he writes me a classic Casey love note to ask me out. I'm secretly hoping that our date will be a romantic dinner at home, but at this point, I'll take what I can get.
So how was your Valentine's Day?