I sit here in this tacky chair, surrounded by lifeless beige walls. The side tables are adorned with brochures on rare diseases and out-of-date magazines. The chatter of those in the room is frequently interrupted by a nurse calling the next patient's name over the loud speaker. The faces around me are tired. Some have driven all morning to be sitting here – waiting.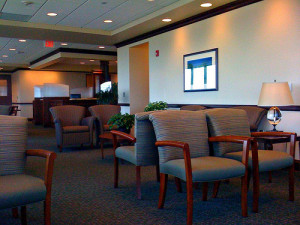 Right now I'm waiting to hear my name. When I get in the room I'll be waiting on my doctor. When I leave I'll wait on the elevator and then wait on traffic. These are just the little "waits," but I'm also waiting for God to move in big ways too.
Our lives are full of waiting.
Waiting – God has been teaching me a lot about it lately through Isaiah 30:15 – 18. There are 2 things this passage has taught me about waiting.
1) We are much better off waiting on God's guidance than choosing our own path.
2) When we choose our own path, God is waiting with grace and mercy for our return.
I admit I'm an impatient waiter. Waiting to me often feels like wasted time. But God asks me to wait. Not cool. Doesn't he know how much I hate waiting? Doesn't he know how much faster things would happen, how much more I could get done, if everything happened when I wanted it to? Doesn't he know my plans are better?
Okay. So I know these things aren't true, but I often behave like they are. I behave like me being in control is the better option. I take myself out of the waiting room and put God there instead of waiting on my name to be called. And if I'm not careful, my behavior will start altering my perception of truth. That is, if I follow my own way enough, I might actually start believing it's better than God's way. That's a dangerous place to be.
Even though I know the truth – that God's plans are better, his timing is perfect, and I should wait on him – I just want to plead before Him like a child…
"But Father, do I have to?"
"No."
That's right. I don't have to wait, and you don't either. We can continue to put God in the waiting room while we go about finding our own way, but is that really want we want? If we really understood the truth about waiting we might actually find ourselves quite comfortable in these tacky chairs reading out-of-date magazines.
The truth is that God will do more in me and through me in the waiting room than I'll ever realize, and the work done in my life while I'm waiting is equipping me for my name being called.
The truth is that there's joy to be had, but if I choose to focus on what's to come instead of the here and now or choose to simply go my own way, I'll miss it. Casey calls it the practice of being fully present. It's in that practice that I can find joy in the waiting and heck, I may even find that for the first time, I'm not actually waiting on anything at all. That all I need is right here – right now.
Photo by:

Rhurzek