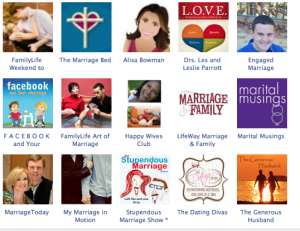 If you're married or engaged, you'll want to subscribe to my marriage list on Facebook. I've made it easy for you to get news feed updates from all of the best marriage blogs and organizations on Facebook without having to 'like' each page individually. You can even see a stream of all the latest marriage-related posts on one page. Just click here and then hit 'subscribe.'
You might also like my Twitter Marriage List.
If you notice a good marriage Facebook page that is missing, let me know in the comments and I'd be glad to add it.
Happy reading!
On the List
Stupendous Marriage
To Love Honor and Vacuum
Happy Wives Club
The Dating Divas
The Generous Husband
Project Happily Ever After
Drs. Les and Leslie Parrott
Engaged Marriage
The Marriage Bed
Marital Musings
Marriage Today
FamilyLife Art of Marriage
FamilyLife Weekend to Remember
Facebook and Your Marriage
LifeWay Marriage and Family
Marriage in Motion 
Pin It