Originally written October 11, 2013.
Here we sit. I can't believe this day is already here. I'm 8 weeks along, and we get to meet our Baby B today. I'd be lying if I said I wasn't nervous. Part of me fears what the bad news could be. The other part of me just doesn't know what to expect.
They've shuffled us and the other ultrasound folks into another waiting room in the back. One step closer to meeting our baby. Some of the ladies have clearly been through the routine before as they look like their delivery date is right around the corner. That's going to be me in 8 months! Wow. We sit quietly until we hear them call my name "Shay-nuh. How do you say your last name?" That's a regular occurrence at the doctor's office… or anytime a stranger has to say my name.
It all happened so fast. We had barely stepped foot in the room before I found myself on the table – shirt up – cringing as she squirted the chilly gel on my abdomen. I could barely see the screen when she said "there's your uterus, that's the yolk sack, and here's the heartbeat." I wanted her to just hold it right there so I could watch my baby's heart beat strong, but as soon as she said it she was on to measuring. Not quite 8 weeks, more like 7 weeks and 1 day. That makes a lot more sense, but I immediately thought "ah man! you mean I have 6 more days of 1st trimester?!" Probably not the best attitude to have this early in the game.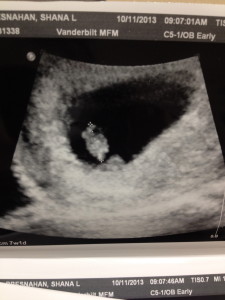 I didn't even see Casey's face because I didn't want to move my eyes from the screen. She's going so fast, I might miss something important. And just like that she was done. I wiped the gel off and readjusted my clothes as she printed a few pictures of Baby B. We were ushered back into the hall waiting room and then quickly into another exam room to wait on our doctor.
Finally, a chance to take in what just happened. No time for tears or overwhelming emotions like you so often see, just relief Baby B is really in there and the heart is beating. The picture I held in my hand made it more real. There's really something in there. We are going to have a baby. Whoa! We had plenty of time to soak it in as we waited almost an hour for our doctor to arrive. I had never met this guy before so we talked about whether we would like him or not. "Either way, he's one of the best high-risk OBGYNS around so we're sticking with him." I said.
When he finally arrived, he was surprisingly young and friendly. He proudly sported his Mayo Clicnic ring and rightfully so. Mayo Clinic and Vanderbilt, not a bad resume. I was shocked by the amount of time he spent with us. We went through my family history and then I gave him the play-by-play of my undiagnosed condition that landed me in front of him in the first place. He was amused by my detailed rendition of the last year of test after test, but I sure wasn't. I've repeated this song and dance numerous times. Ultimately, the ending is always a little disappointing when the conclusion is a big unknown.
He went through all our treatment options and shared his recommendation. Mainly concerned with labor and delivery. We will plan on an early epidural and assisted delivery to ease the stress on my heart and muscles. Not what I wanted, but I trust the doctor's cautious approach. He answered any questions we had and reassured me that I'm going to be just fine. He wrote down a list of appointments that was quite overwhelming, then sent us down the hall for blood work.
It seems like everything should be different now. The sun should be shining a little brighter. My worries should disappear. This nausea should be a little more bearable. Our hearts should be leaping with joy. But today is much the same as yesterday, except today I am carrying a little picture of a tiny baby, and today I have just a little more peace that the 3 of us are going to be just fine.