You know that moment… maybe it was with a stranger in line at the grocery store, or while enjoying tea with your best friend – cuddled up on her couch. It doesn't matter with who or where you were, but you probably remember it well. It's that moment when she opened up and told you truthfully, transparently how she really is. Not that sugarcoated crap we tell people in passing at church on Sunday, but the brutal, raw truth. And when she did that, when she chose vulnerability over saving face, something awesome happened. That piece of loneliness in you that had remained far too long, that thing in your life that you thought no one could possibly understand, it began to melt away as you realized…
YOU ARE NOT ALONE.
There's someone else out there that knows your pain/guilt/frustration/hurt/anger. In that moment, you felt a little less lonely, and a lot more connected to her and the world around you. She felt a little more free and a lot more loved because not only did someone take the time to listen to her, but you embraced her vulnerability. Her pain had power through transparency.
Now that's Love Truthfully.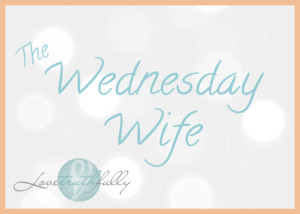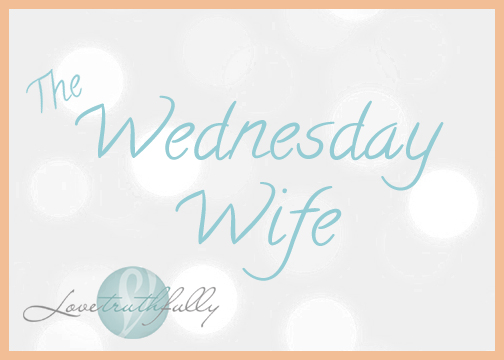 Enter The Wednesday Wife. A place where women experience freedom and love through sharing their stories transparently. A place where women find themselves a little less alone, a little more connected, and maybe even a little wiser after reading another woman's story.
I've had the pleasure of knowing some incredible women that have chosen vulnerability and shared their story with me and with you… and it all starts next Wednesday. Trust me, you won't want to miss any of these so make sure to sign up for email alerts.
Just to give you a taste… here are the questions I asked each of these women.
1)   Tell us your courtship story. How did you meet and end up married?
2)   On your wedding day if someone had asked why you were getting married, what would you have said?
3)   If someone asked you today why you have stayed married, what would you say?
4)   Do you have children? If so, how has having children affected your marriage?
5)   What has been one of your greatest trials in your marriage. How did you all overcome it?
6)   What has been the most challenging aspect of being a wife?
7)   How has being a wife changed you?
8)   What does date night look like for you?
9)   What are the top three things/people that pull you away from or compete with your marriage?  How do you deal with them?
10) What role has community played in your marriage?
11) What's one thing you wish someone had told you before marriage?
12)  If you have one final thought or piece of advice to share with current or future wives, what would it be?
 I look forward to sharing these stories with you starting next week. If you want to be a Wednesday Wife, let me know if the comments.