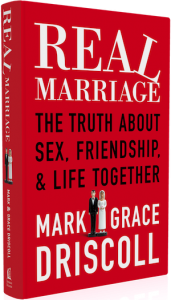 Pastor Mark Driscoll and his wife have written a controversial book about marriage and sex (and when I say sex I mean details. – ex. should we use sex toys?). A recent article in my local newspaper (read it here) evaluated the book and the controversy surrounding it. There are a few points in the article on which I would like to comment. 
::Warning:: I'm stepping up on my soapbox.
" But his critics wonder if church leaders should stick to teaching about the Bible and steer clear of sex."
Seriously? If you steer clear of sex, you steer clear of the Bible. It's full of sexual content! What kind of church leader would pick and choose what parts of God's word should be shared and leave out the controversial subjects. Not to mention, if the church leaders don't talk about sex then who will? Oh wait, everyone else already is! It doesn't make sense to silence those speaking Truth.
"And conservative pastors like Driscoll can be skeptics about modern psychology and may not refer couples to professional counselors."
Words like 'can be' and 'may' are so deceiving. I must say that Casey and I had multiple "conservative" pastors refer us to professional counselors and have even been to counseling themselves. The Driscoll's aren't trying to replace the work of a good counselor (should a couple need it). In fact, their book will likely make people aware and unashamed of their 'lack of a perfect marriage' and lead them to a place where they are comfortable seeking wise counsel. (Find more on our counseling here.)
Ignore the cheesy-ness of this video.


Can't wait to read the chapter for victims of sexual abuse. That's been such a struggle for me in marriage.
If you've read this blog at all you know this book is one I can't wait to read. People being real about marriage? Count me in! I'll let you know if it fits the below summary the article writer shared.
"In short, the Driscolls say sex is only for married couples, and that those couples should be best friends, have lots of sex and skip the birth control pill, using alternate sex acts that don't cause pregnancy when necessary."
My guess is it's way more valuable than this quote leads one to believe. Check out the awesome list of recommendations.
Let me know: Do you plan on reading this book? What do you think about pastors talking about sex so candidly?
Pin It