It's not very often that I spend my Tuesday evening walking through the dollar store with my pastor's wife, talking about sex and marriage. But surprisingly, the only unusual part about that night was the dollar store.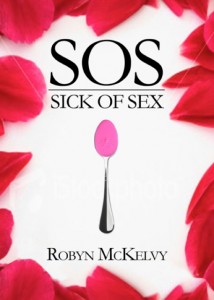 When your pastor's wife is the author of a book titled "Sick of Sex," you know you won't be able to shy away from that topic if you're a married woman in her life. In fact, Robyn has been known to change the subject from marriage to sex with her not-so-subtle transition question – "how's sex?" – quite often. Thankfully, Robyn and her husband, Ray, have walked with Casey and me throughout our courtship, engagement and marriage; so if there's anyone I want asking me about my marital intimacy, it's Robyn.
In fact, it was Robyn's husband that changed my view of married sex with his talk on Heavenly Sex, which happened to be the night before Casey asked me to marry him.  Perfect timing! As someone who had a very skewed view of sexual intimacy due to past abuse, past relationships and society in general, I needed to hear God's true desire for physical intimacy before entering into marriage with a man I hadn't even kissed yet.
Although the thought of talking to your pastor or his wife about sex might make you squirm, it's actually quite refreshing to have a Christian woman in my life that helps me keep a heavenly perspective of intimacy. I think it's easy to want to avoid conversations about such a personal issue, especially since society has demoralized sex. But if Robyn were writing this she'd say "that's just what the evil one wants," and she'd be right. There's nothing the evil one wants more than to put a wedge between a husband and wife in the most spiritual, emotionally connected area of their marriage and for us be too afraid or embarrassed to talk about it. (I'm sure some of you are saying… spiritual? most emotionally connected?… it may not seem that way now, but that's martial intimacy's potential and God's desire for sex in marriage.)
Many of us married folk have let our sex lives slip and we feel alone in it. I'm guilty of this as well. We don't have to be alone in this. We shouldn't be alone in it. So call your girlfriend, grab some tea and listen to this sermon. Then talk about it. Then read this book. Discuss it together. One of the greatest ways we can glorify God and wage war against the evil one is to take back our marital intimacy and fight for heavenly sex. I'm fighting for it with my good friends by my side. I hope you will join us.
What's one thing that you do this week to start making your physical intimacy a prioirity?