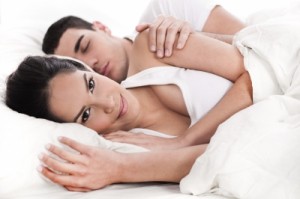 Think your wife doesn't want a good sex life? You may be mistaken.
One of the latest studies on marriage found that of the 1,001 wives ages 18-49 surveyed last month, 75% say a good sex life with their spouse is "very or extremely important."
Guys may be wired physically to desire sex, but women desire emotional connectedness and intimacy. Nothing makes a woman feel more emotionally connected than good, heavenly sex with her husband. Yes, marital sex can be heavenly. In fact, it can be the closest we ever get to experiencing the love of God on this earth.
Sex therapist and clinical psychologist Barry McCarthy, who was not involved in the research, says society downplays marital sex, which shouldn't be compared with extramarital sex or premarital sex.
Amen it shouldn't be compared! That's for sure. But "downplays?" How about completely ruins, butchers, slaughters marital sex. The world paints an ugly, filthy picture of sex that effects our ability to experience the heavenly sex God intended for us married folk. I've definitely been a victim of that corruption. But I'm working to change my perspective. This talk by my friend and pastor, Ray McKelvy, definitely helped.
"What most surveys find women really want is emotional connection and intimacy as a precondition for being in the mood to have sex," says John Gottman… "What's been described as low libido in women is the fact their men stopped courting them. They are no longer trying to be intimate."
This guy said in one sentence what women all around the world have been trying to say for years! Unfortunately, it's not as easy as it sounds. If your husband is like mine, physical connection = emotional connection. So it's kind of a crazy cycle, but not something with can't overcome with persistence and dedication.
Read the full article.  Do you feel like the world's picture of sex has corrupted your marital intimacy?
Want more on the topic or need help rekindling your marital intimacy? I'm reading a book called Sick of Sex by my dear friend, Robyn. Why don't you join me in reading it?
Image: photostock