Casey has always had this house rule for us.
If we are both home, we will sleep in the same bed.
I have not always been a fan of this rule. When I get really angry, like that time I cried over the game of dominoes, I want to prove a point and sleep on the couch. Unfortunately, Casey won't let me sleep until I come to bed. So even though we may not be talking, we are at least lying next to each other. At first I hated it, but overtime I have grown to love the concept.
Since it was Casey's rule, I never thought in a million years that he would be the first to break it. Last night, Casey slept on the couch upstairs.
This was my sleeping partner. She may talk and squirm much less than Casey, but I still missed his presence. Minny was stoked to get to be in bed with mama all night though!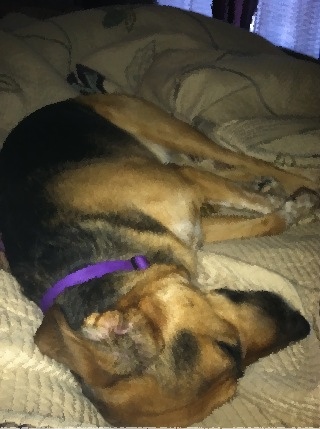 Why did Casey sleep upstairs? He's sick. Plus, I'm making him take an expectorant so he hacks stuff all night long. As much as I've been working, I haven't gotten much sleep so he wanted to make sure he didn't disturb what little time I had to sleep. I tried my best to convince him that I wouldn't be bothered and he shouldn't break the rule, but apparently my arguments are not as conniving as his.
Don't tell Casey, but it was probably one of the most restful nights I've had in a while 🙂
So our biggest household rule has now officially been broken. Do you have any rules like this in your house?
Pin It