You know you've had a good fight when your husband says, "please don't blog about this." Thankfully, I was able to write a post that Casey would allow me to share.
People always say that when you're married you fight about the most stupid things. I agree, but only to a point. In fact, the first fight Casey and I had as a married couple was over a towel. He wanted to use the nice embroidered towel to dry the dishes. But everyone, at least all wives, know a towel like that is merely a nice accent piece for the oven door or for a fresh basket of muffins. Despite having a drawer full of drying towels, Casey insisted on using the fancy towel until we bought some similar, without the embroidery. It doesn't get much more ridiculous than that.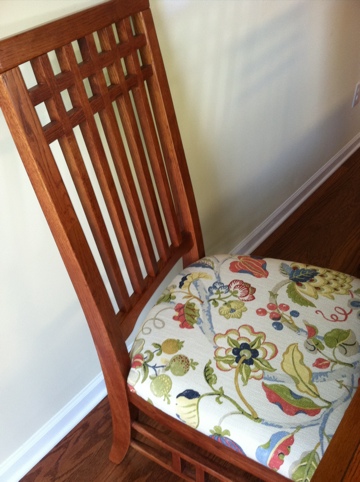 This recent fight, although not about a towel, appeared equally as stupid from the surface. At dinner time Friday evening, Casey and I managed to get into a fight over a chair. Yes, a chair. Like the thing you sit in when you're at the table. Like many fights, the simplicity of the object that sparked the disagreement did not accurately represent the complexity of the issue. A little conflict about a chair turned into a 2 hour discussion about dads, grandparents, defiance, and leadership among other things. Although it was a difficult conversation to have, I was thankful that the real issue came to the surface because often it doesn't and we're left fighting about a towel or a chair, over and over and over again.
Maybe it's that we held issues inside for fear of how the other might react. Maybe we brushed it aside as something we'd "just get over." Maybe we didn't even realize there was an issue at all. Sometimes all it takes is a chair to reveal the iceberg lurking under the surface.
Anyone else had a stupid fight like this that ended up being about something much bigger?