Recently Casey and I have really been struggling to work date nights into our routine. Life has changed with Ashlynne being here. We aren't on our own schedule anymore and often find ourselves tied to her softball schedule and homework routine. Plus, she's not really a fan of being home alone at night. That can make one-on-one time pretty difficult, which eventually leads to times like this one I recently blogged about. Not good. 
Anyone that's married knows date nights are essential to maintaining emotional connection with your spouse; however, they also know, especially if they have children, that date nights cannot always be a night on the town or even dinner at a local restaurant. And you know what? Sometimes date nights like that don't leave you feeling anymore connected because you forget to be intentional about conversation that draws you closer.
So what's the solution?
The first key is scheduling time together, even if it's just an hour a week. Put something on the calendar and keep the commitment. For Casey and me, this is going to be Wednesday nights. That usually seems to be a night that doesn't have too much going on, and sometimes Ashlynne goes to youth group with a friend. So that's our scheduled time together, but what do we do and how do we connect, even if we can't leave the house or have only an hour to spare?
That's where my friend, fellow blogger, and past Wednesday Wife, Cassie Celestain, comes to the rescue. If you read Cassie's marriage story, you probably remember that she has a heart for communication in marriage. Her blog, True Agape, makes that clear as well. So she's been working diligently over the last few months to put together an amazing resource to help us all make date nights at home intentional and fun!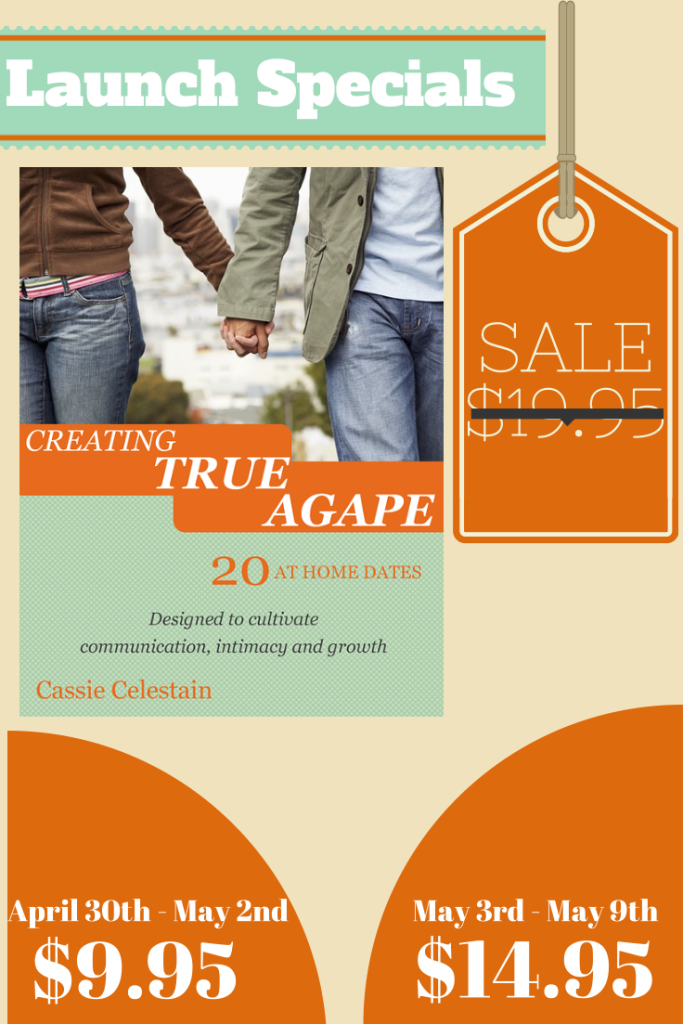 Cassie's eBook, Creating True Agape, is a guide to making at-home date nights fun and easy! There are 20 engaging at home date night ideas that cultivate communication, intimacy and growth without you even realizing it. She's done a fantastic job of walking us through each date idea by providing a list of materials, activity description, focus topic, step-by-step directions, discussion starters and even printables. Dare I say that these date night activities that you can do in your home will leave you even more connected to your spouse than a fancy dinner or night at the movies.
Casey and I are going to be plowing through these date nights over the next few weeks since moving and a big baby in my belly will have us close to home for dates nights and short on creative ideas. I'm especially looking forward to the SPA AT HOME date night!
I highly encourage you to purchase this eBook while you can get it at the discounted rate. Even if you can't see yourself using it now, it's a great resource to have on hand for those days when the thought of planning a quality date night is just overwhelming.
Because my Love Truthfully readers are AWESOME, Cassie is making sure we get the launch special price of $9.95 from April 30 – May 2. Then the price will go up to $14.95 from May 3 – 9. After that you're looking at the full price of $19.95, which is still a great deal, but who wouldn't want to save 50%! 
So don't wait to order your copy of Creating True Agape – 20 at Home Date Night Ideas! I can't wait to hear what your favorite ideas are and how these date nights ideas bring you a your spouse closer together!