It's been a while since Casey and I had a date night so you can imagine my surprise when on Thursday, he surprised me with a 3 part date night. He says it wasn't a surprise. Apparently he asked me to put a date night down for Wednesday, but had forgotten that we had the Antioch church plant meeting that night. As far as I remember, that's where the conversation ended, but somehow, he had Thursday down on his calendar. I guess he just lucked into a surprise date night. Either way, I enjoyed it very much.
W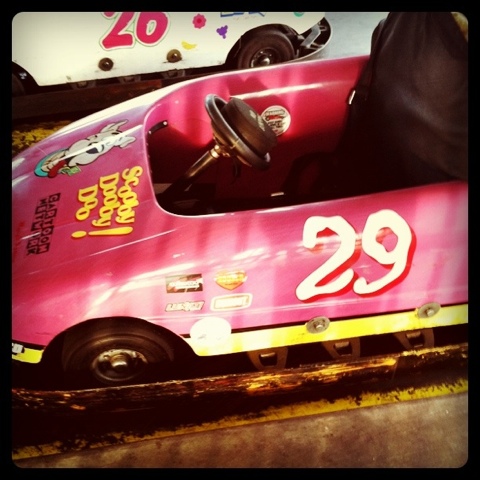 e started out the night at Oscar's Taco Shop. After a delicious dinner, accompanied by a cute little boy at a table near us that practically insisted we sit at his table, we went to Family Golf Center for some go karts. putt putt and batting cages. Casey and I are both very competitive and I'm a sore
loser so we decided it would be best if we ride a double go kart instead of racing against each other.
Then came the great "who will drive?" debate. We compromised. Casey controlled the pedals while I steered us around the track. We nearly wrecked two little kids and battled one kid the whole way around the track. Victory!
Putt putt was just as fun. Casey thought he was trying to play too serious and would enjoy it more if gave him a cha
llenge so I did. "You have to play left-handed." I thought I might actually be able to keep up with him with that challenge. Hole-in-one. Seriously. Not fair.
Next was the batting cages. We both really enjoyed hitting. In fact, Casey enjoyed it so much that he thought surely I was done and finished off our tokens for us haha. He made it up to me though with part 3 of date night – Cold Stone Creamery. Delicious! The other day I insisted on going to Sonic for the oreo ice cream. Don't waste your time. The ice cream tastes like vanilla, not the inside of an oreo. Go to Cold Stone.
Their oreo cream ice cream hit the spot. Yum!
This date night really reminded me how much Casey and I enjoy acting like kids together. I'm looking forward to more date nights like this in the future.