Last night I was exhausted, but my mind wouldn't let me rest. 11:00 – 11:15 – 11:30 – midnight. Dear Lord, please still my soul! All I could do was smile. Like a little kid the day before Disney World, I was giddy with excitement. The moment I closed my eyes, sights and sounds of what is to come filled my imagination. White sand. Clear water. Amazing views. Indulging in melt-in-your-mouth seafood. Yes, my soul knows what is coming.
The snails pace of the line to check our bags gives me plenty of time to people watch. Two couples are in line before us. One with her hair still wound in a bun, diamond studs in her ears that highlight the rhinestones on her stark white jacket – The Bride. A newly monogrammed bag hangs proudly on her shoulder. My eyes glide down to her ring finger. How lovely that wedding band must feel on her hand. I'm surprised or maybe I'm not, by what's not on her hand. Her husband's hand rests by his side. A boy really, but abruptly welcomed on his first day as a man. His eyes glazed over – maybe from lack of sleep or pure fear. I wouldn't blame him for either. Welcome to your honeymoon young man.
Another couple just behind them are not quite so obvious. Older. Calmer. She didn't get the monogram memo, but she's sporting a cute, color block sundress and messy bun. Ah yes, there it is. A new bag with a giant C on it, right next to a shiny new ring and manicured nails. She gloats about her Martha Stewart wedding and fantastic dress over the phone. On the plane their infatuation oozes over into our aisle as he offers her his makeshift pillow. How sweet. They're definitely honeymooners.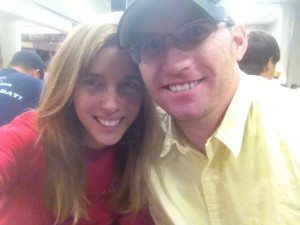 I wonder if they think we are honeymooners. Surely not. My worn out gaucho pants, long-sleeve t-shirt, disheveled hair and makeup-less face don't exactly scream "I got married last night." I'd like to think that had Casey and I taken a honeymoon trip, I would have been kind been kind enough to prepare a decent outfit and wear makeup. No need to smack him in the face with reality, right? The only thing that makes us look like honeymooners, besides our destination, is my shiny new ring. Deceiving. It's a fake – a stand-in I bought at Claire's last night so I don't lose the real one at the beach. No. We are not honeymooners.
In the bathroom at the St. Lucia airport I'm surrounded by 3 proud ladies with bride and just married on their shirts. I pass two more on the way out with similar boasting on their tops. I should have worn an "I've survived 3 years" shirt. Next time.
We leave the airport – greeted by a wall of thick, sticky air that gives you beads of sweat before you even realize what's hit you. We trudge through the heat and find a kind face waiting on us with a cold towel that smells of lavender and rosemary.
"Honeymooners?" She asks.
"No. We are not honeymooners," I respond.
What I really want to say is, "Even better! We are lovers. Truly lovers. We are survivors – overcoming trials that end many marriages. We are celebrating 3 years of counseling. 3 years of hard work. 3 years of learning how to communicate. 3 years of learning how to love."
After a windy drive, we arrive at the resort. Even a rum punch daiquiri couldn't mask the feeling of herding cattle at checkin. While enjoying my fix-it-all drink, I fill out paperwork that asks what we are celebrating. I choose the most relevant – birthday and anniversary. Skipping over honeymoon. The hostess greets us, "is it your honeymoon?" Giving up, I jokingly reply, "it's whatever it needs to be for us to get special treatment. Honeymoon, anniversary, birthday… all of it., but no, we are not honeymooners."
Although they would never see it, our love is much stronger than any honeymooner has to offer. We aren't celebrating a wedding, but a marriage. One that has been refined and strengthened over the last 3 years. We are celebrating all the conflict overcome, counseling completed, repairs made, healed hearts and newly discovered love. We are celebrating God's mighty, marriage-saving work. A work that has left us more loving and more in love than we could have ever imagined on our first day as husband and wife. That's what we're celebrating.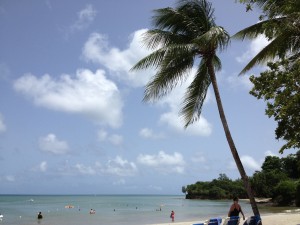 Turquoise waves brush against the sand that's beneath my feet. The radiant sun beams coat my skin. The smell of a new book and sunscreen calms my soul. The taste of a fruity drink on my lips relaxes my mind. My husband, my friend, by my side brings joy to my heart. Our long overdue, non-honeymoon celebration has begun.