You are about to read the first Wednesday Wife that was submitted via my online request. When I put the request out there for wives to share their stories, Jennifer had been impacted by the stories of other Wednesday Wives and was already thinking and praying about what her responses would be.
I met Jennifer on a Christian retreat the summer between my freshman and sophomore year of college.  Side Note: That retreat (Journey Weekend) was a huge turning point for me in my walk with the Lord! Jennifer's story is one that will likely sound familiar. From struggling over finances and in-laws to trials with their sex life and being parents, I don't know any wife that can't relate to a part of Jennifer's story. That's why I'm so thankful for her honesty and for her husband allowing her to be so open with us all.
Please remember that when we share like this we are leaving ourselves vulnerable. This is our chance to love on Jennifer. Please make sure to leave a comment thanking her for sharing or letting her know how her story has encouraged or comforted you.
Jennifer Cooper married her husband, Jerry, on June 28, 2008.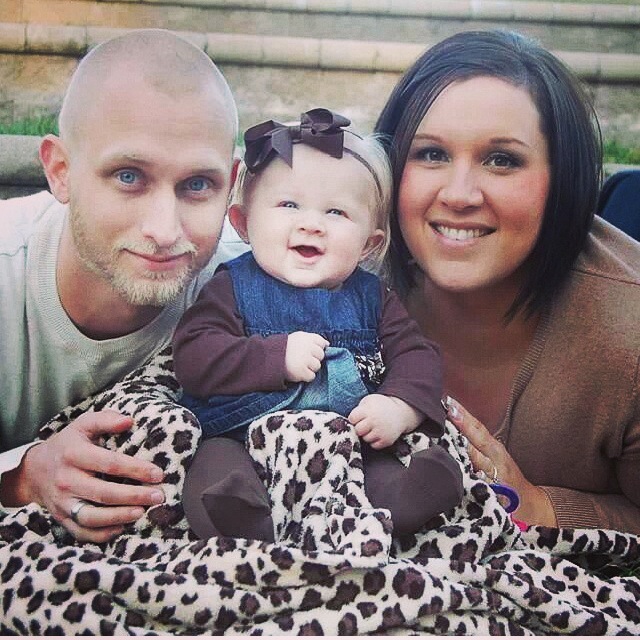 "When you wake up each day, make the choice to love your husband."
1)  Tell us your courtship story. How did you meet and end up married?
We met at church. He was actually dating someone else at that time. Eventually they broke up and Jerry told me that he listened to what I was saying about my life and my plans for my life and decided that I "had it together." I remember telling him later in our relationship that a few weeks earlier, I had been feeling like there was nobody on Earth for me to be with/marry…that I was never going to meet someone and fall in love, and that I was going to be alone for the rest of my life. I had prayed one night for God to send me the person I was supposed to be with for the rest of my life…and if he never came, then I would accept that. So Jerry, just out of the blue, comes up to me and asks if I want to come sit with him during Brush Arbor. He asked for my number, actually called when he said he would, and from then on, we have been together. Our first date was to TCBY in Johnson City with a few other people from church.
Jerry would surprise me by leaving me a rose in my car while I was at work (BB&B) or by leaving me little love notes. I would surprise him with video games or balloons by the lake just chilling out, talking.
During the 2nd year of our relationship, I think we both knew that we were going to get married. It took Jerry longer than me, of course, to realize the inevitable. The day before our 3 year anniversary, we said "I do" and vowed to love each other in good times and in bad, in sickness and in health, until death do us part!
2)  On your wedding day, if someone asked you why you were getting married, what would you have said?
I would have said that I was marrying Jerry because I love him, and that he is my best friend (not that kind of friend you call up and shoot the breeze with, but the kind that you wanted to do EVERYTHING with and see EVERY DAY), and honestly…that it was the next logical step in the relationship.
3)   If someone asked you today why you have stayed married, what would you say?
I would say it is partly because I love Jerry and that I promised to love him in front of God and everyone we know. Believe me, I like my alone time, but I like sharing my life with him too.
4)  Do you have children? If so, how has having children affected your marriage?
We had a beautiful baby girl, Callie Reese, 8 months ago. It was one of the best days of my life! Jerry and I had a piece of both of us…and she's perfect! People are correct in saying "a baby changes everything"….because it does!!! Used to, we could just be spontaneous and go out whenever we wanted and didn't have to worry about babysitters. We could sleep as late as we wanted. We had time for each other…but now, we have a little person depending on us for EVERYTHING! Being a parent is a 24/7 job. Sure, you can get a babysitter for a date night or an over-nighter somewhere, but making time for each other is harder now…a lot harder.
I feel like being a mother is very different from being a father. It's natural for a woman to be the primary caregiver and protector of a child, but eventually, the mother is exhausted and is running on nothing but caffeine and a few hours of sleep. Things start going undone like dishes, laundry, bathrooms, etc. and the fuse just gets shorter and shorter until everything blows up and mom and dad are arguing more and more. All of our attention is on Callie, and she needs that, but I think that if we take a step back, we need to realize that being married is us being a team…now we just have a third player.
5)   What has been one of your greatest trials in your marriage and how did you all overcome it?
See question #6 🙂
6)   What has been the most challenging aspect of being a wife?
I tried early on in our marriage to be "that" wife…the one who cooks and cleans and is always in the mood, and always happy. I failed at that…miserably! We have had a major issue with the lack of sex in our relationship. Yes, it was wrong, but before we got married we didn't think twice about it! Soon after we got married (like on the honeymoon) I realized that I wasn't going to be able to keep up his sex schedule, cook, clean, and be happy all the time! I was becoming stressed with the tasks of having to keep up with my needs…and his! Going from having one person to take care of (yourself) to having to take care of two people (yourself and your husband) was a huge change for me! I always worry about what needs to be done in the house, what bills I have paid or not paid, what I am going to make for dinner. We also wanted sex for different reasons…for Jerry is what physical intimacy but for me it was to have a baby. He didn't want a baby until we started having more sex and I wasn't getting pregnant because of the lack of sex…a never-ending cycle. We are still working on this to this day and we've been married for 5 years!
So, the most challenging aspect of being a wife is trying, and failing at being "that wife".
7)  How has being a wife changed you?
I'm not as laid back as I used to be.
8)  What does date night look like for you?
Normally, it would be dinner and a movie in town. Now…it's homemade pizza and a Redbox movie…but that is fine with me! I can have just as much fun lounging at home as I can going out in town. I just like being able to spend time together without having to turn my attention to something domestic. Since Callie has been born, she has been with us for our "dates." But we went to Gatlinburg one night and went out to a very nice restaurant.
9)  What are the top three things/people that pull you away from or compete with your marriage? How do you deal with them?
1. In-laws: Most of the time, our parents are supportive and always there for us, but sometimes, they can get on our nerves! I get aggravated at the constant calling "for no good reason" (his mom) and he gets aggravated at the "throwing things away" spells (my mom). And of course, I am going to think that my mom is better and he is going to think that his mom is better. We just ignore it most of the time, but if there is an issue with his mom, he deals with it and vice versa.
2. Housework: This is a work in progress (currently our issue). I feel like I am the one doing all of the housework. I think he feels like he is helping as much as I am, but I think my idea of him helping and his idea of him helping are two totally different things!!!! I know we aren't supposed to keep score, but I feel like I do 95% of the housework and he does 5%. I'm trying not to nag him so much and be thankful for when he does help out…even if it's not what my idea of "helping out" is.
3. Finances: Neither of us are "savers". We like to buy things!!! Since Callie has been born, our focus is buying or building a house and growing our savings account. We get two steps forward, then he comes through the door with a new 55" TV that we "just had to have". This is honestly the root of most of our arguments, but now if we want to buy something, little or big, we ask ourselves "Do we want this now or do we want a house"?
10)  What role has community played in your marriage?
Most people we come in contact with play a positive role in our marriage. We were told by our previous preacher that "we would never make it"…which is why a different preacher married us (that's a whole other story). Our parents are always supportive and are there for us when we need to vent or cry or just get away. Others, however, have been negative…going through nasty divorces and always having something negative to say about marriage in general. I think that eventually, some of that negativity rubs off on us and feeds how we react to certain situations. We just have to remember why we got married in the first place! Jerry and I are not even making divorce an option! We can work through anything…it may not be pretty, but in the end we will be happy…with each other!
11)  What's the one thing you wish someone had told you before marriage?
I wish people had been more positive about the whole aspect of marriage. We were both told "don't do it" by people we worked with. Not because we weren't good for each other, but because they had been through marriage after marriage and nothing worked out for them, so they just assumed that it was going to be the same for us. I wish someone would have told us more than once that marriage is a hard, but rewarding journey! Yeah, there are going to be arguments and days that you ask yourself "what did I get myself in to", but the bigger picture is that you are with this person until death…this is your LIFE PARTNER, the person who is going to see you at your lowest moment and still be there for you no matter what happened or what was said. I truly believe that Jerry is my answer to that prayer I prayed 8 years ago!