Over the last few weeks I have had the pleasure of sharing some incredible marriage stories with you. This one is no different, but it's not necessarily a story of a redeemed marriage like many others are.
Casey and I have had the pleasure of walking through marriage with Jarred and Alyssa from the beginning. Their rock solid foundation and focus on the Lord has been an inspiration for us.
Alyssa is wise beyond her years thank to some amazing mentors in her life so definitely take some time to read this and soak in her advice. 
Please remember that when we share like this we are leaving ourselves vulnerable. This is our chance to love on Alyssa. Please make sure to leave a comment thanking her for sharing or letting her know how her story has encouraged or comforted you.
Alyssa Hutto married her husband, Jarred, on July 24, 2010.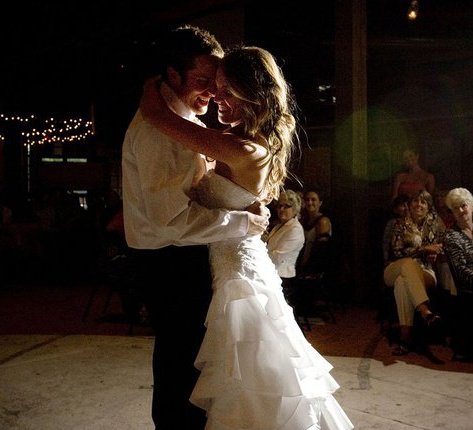 1)  Tell us your courtship story. How did you meet and end up married?
Jarred and I met at a mutual friend's birthday party. He walked across the room and introduced himself and we ended up talking for the next hour and a half. I joked with a friend later that night that I may have met my husband… turns out I did! We went on our first date two weeks later and 6 weeks after that, we knew we were going to get married.
Being pursued by Jarred was different than any dating relationship I had experienced before him. I remember telling my friends that for the first time I had no anxiety or questions about his intentions. I felt complete peace in my heart because I finally knew what it meant to be pursued by a godly man. Jarred asked for my parents' blessing at that point, but it took a couple of months for them to be fully on board with such a quick engagement, so we got engaged 5 months after we met and married 4 months later.
2)  On your wedding day, if someone asked you why you were getting married, what would you have said?
We knew that our whirlwind dating and engagement needed to be covered in wisdom and discernment, so we were constantly evaluating our purpose together from the minute we started dating and talking about marriage. We wrote in our vows that our hope was that we would glorify God more as husband and wife than alone. We both believed that was the higher purpose of marriage, and that we had found the person that would encourage us the most in our walk with the Lord. We also knew that we had found a best friend with whom we wanted to share deeper emotional and physical intimacy and that God would bless that desire once we were married.
3)   If someone asked you today why you have stayed married, what would you say?
Truthfully, the past 3 years of marriage have not been difficult – we love being married. So really, we have stayed married because we want to be together this way. But we're not naive and know that there may be times in the future when we don't "like" each other and staying married is a challenge. If/when those times come, we will stay married because we vowed to God that we would. Even more binding than our promise to each other is our promise to God that we will obey him and remain faithful to each other until He parts us.
My husband loves God even more than he loves me, and that brings me such security, because regardless of how he feels about me on a given day, he will fight to keep his promise to God to always love me and be my husband.
4)  Do you have children? If so, how has having children affected your marriage?
We have a wild and crazy 7-month-old baby boy named Brockson. Having a child has shaken up our life in every way possible – we are being challenged like never before. It has drawn us together even tighter as a husband and wife because we now have a little soul to guide and raise for a holy purpose. To be united in that is a beautiful thing to get to do alongside someone. Realizing that God entrusted the two of you with one of his most precious creations is a reality check and forces you to evaluate what you are living for as a family. But it has been tough on us for sure. All of the things that we love in our marriage and have felt so carefree about  – continuing our dating relationship, enjoying sexual intimacy, growing spiritually together – are now at war with the exhaustion of being new parents and having a little person constantly present with us. We have to really fight for the energy to be emotionally and physically intimate at the end of a long day.
5)   What has been one of your greatest trials in your marriage and how did you all overcome it?
See above. 🙂 We're still working at it – having a child is not a trial to overcome – but it's been the hardest challenge we've encountered and yet it's another gift that we are so thankful for in our marriage. We want at least 4 kids so this isn't a problem to be conquered and fixed. It's just one of those times when you're forced to learn how to continue to grow closer emotionally, physically, and spiritually, when it doesn't just happen naturally anymore.
We are climbing out of the pit of survival mode by identifying the things that need to happen in order for us to be able to focus on our marriage. So for me, that means I need to get sleep and exercise to feel mentally and physically present in our marriage. For Jarred, that means being more disciplined in his spiritual growth so that he can continue to be the godly leader our family needs and depends on.
6)   What has been the most challenging aspect of being a wife?
Having someone see all of your struggles and sin is a very vulnerable and humbling experience and there is no escaping it. I can't hide things I struggle with anymore. Someone is there (besides God) watching and witnessing the mess and ugly side of my heart. I don't like being exposed like that. Being a wife means I've lost the battle with perfection because there's no fooling the husband who sees everything. But God gave me the most grace-giving, patient, forgiving husband, so there is actually so much freedom in not being able to hide anymore!
7)  How has being a wife changed you?
I think becoming a wife helped me shed so many of my insecurities. All of my insecurities were rooted in fear of not being loved. Being loved by Jarred made me feel like a beautiful woman for the first time in my life. I could stop "trying" and "striving" to feel beautiful because whatever I was, was completely enough for him. Jarred validated my femininity in a way no one had before. To him, I'm beautiful because of my feminine side – I'm emotional, I'm sensitive, I need him and his strength, I want to be cherished. He showed me that those aren't things to be ashamed of or to try to overcome.
I am married to a strong and sensitive man who leads me so well. I feel so safe and protected because I'm his wife. And that's all a credit to him and how he loves me and cares for me. I do believe that God allowed me to experience a man like Jarred taking my heart and my life and treating it with such importance and care, and having no fear of what he might do with it, all so that I would have a tangible hint of how God feels about me. That's a soul changing realization.
8)  What does date night look like for you?
Our favorite date is picking up sandwiches at this little Amish country store and going wine tasting at Arrington Vineyards. It's a good chance to relax over a glass of wine and we make a point of talking about the things we're grateful for in our present life and our hopes for the future. We also love getting dressed up to go out to dinner and then going home to snuggle watching a movie. We have to get more creative now with a baby, but having friends with babies means we get to trade off for free babysitting, so that helps!
9)  What are the top three things/people that pull you away from or compete with your marriage? How do you deal with them?
Technology is the biggest one. I mean smartphones, iPads, TV, etc. I love it and hate it at the same time. There is a slow unraveling of intimate relationships happening on the wave of technology and social media and it takes some serious awareness and boundaries to stop technology from replacing real, vital relationships with superficial empty ones. With our newfound parental exhaustion, it's so easy to check out in front of the TV or on our phones but it leaves us so empty and not rested at all. So we're trying to set limits and not bare our souls out on Facebook, but instead in our living room with our family and close friends.
Finances cause strain, of course, but we're learning to adjust. Thankfully, neither of us is a big spender and we are pretty aligned when it comes to money, so we never had to follow a strict budget and just enjoyed moderate spending on dates and vacations. But I stopped working to stay home when Brockson was born so cutting out an entire income is a big adjustment. We both knew we wanted me to stay home to raise our children and that they're a better investment than any home or possession we could buy with a second income. We've seen God honor that by providing a great job for my husband. So this far, we're making it work!
Again, becoming parents definitely adds a new challenge to marriage. But our kid(s) will thrive the most when our marriage is strong so we are focused on putting our marriage relationship first and know our kids will reap the benefits from that.
10)  What role has community played in your marriage?
Embarking on our marriage journey with other couples and mentors is by far the most important thing we have done and the greatest contributor to the health of our marriage. While dating, an older couple with an amazing marriage was individually mentoring us, and we also got to go through several months of premarital counseling with the pastor who married us and his wife. As newlyweds, we joined a group of other young newlywed couples at our church and basically shared our first two years of marriage ups and downs together each week. The couple who led that group (read the wife's story) invited us into their home and family and deserve so much credit for making sure 8 young couples made it through the first couple years.  We share a history with those couples that no one else will ever quite touch. I don't know where we'd be if we didn't have them in our lives starting out as a young married couple and still now as young parents. It's so important to have like-minded friends to encourage you and support you.
11)  What's the one thing you wish someone had told you before marriage?
The lady that has mentored me for the past four years has given me so many valuable pieces of wisdom that she DID tell me before marriage, and they proved to be so true and so important. She said never talk badly about your husband to anyone, and don't just reject your husband if you aren't feeling up for sex – explain your heart to him and make a promise for a better time for the two of you to be intimate, that way he won't feel rejected and you both have something to look forward to.
12)  If you have one final thought or piece of advice to share with current or future wives, what would it be?
I think sexual intimacy is so vital to the overall health of a marriage, so fighting for that is important.  We have to actively pursue it and not put it on the back burner. If you don't enjoy it or something isn't right, talk about it and get help. Do whatever you have to do to maintain sexual intimacy. Guard your marriage bed and keep it holy. Talk openly about it with your husband, with encouraging girlfriends, wise older women, a therapist, etc.