I cannot contain my excitement! Not only is this the VERY FIRST Wednesday Wife, but this woman is INCREDIBLE! I've talked about her on the blog before. She's my pastor's wife, but more importantly a dear friend and mentor to me and so many other women. My marriage would not be what it is today without this woman challenging me and being transparent about her story. She is a mom of 10, amazing cook, and a speaker and blogger for Family Life and their Weekend to Remember conferences. Oh and she's also a knock-your-socks-off author that will light a fire under you. Make sure to take a look at her website after reading the below.
Don't forget that when we share like this we are leaving ourselves vulnerable. This is our chance to love on Robyn. Please make sure to leave a comment thanking her for sharing or letting her know how her story has encouraged or comforted you.
This is going to be good… so sit back, relax, and enjoy! 
Robyn McKelvy married her husband, Ray, on May 28, 1988  (25 years! Wahoo)!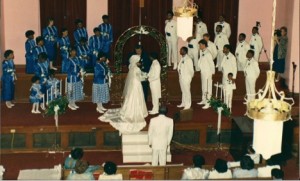 1)    Tell us your courtship story. How did you meet and end up married?
I met Ray one evening when I went to Calvary Bible College in Kansas City, Missouri to pick up my best friend, Vicky, for a volleyball game I was playing in.  Vicky asked me to meet her in the student union and I was early so, I went inside to wait (this was very unusual because I normally stopped outside and she would jump in my car).  Going into the union, there was this young black man, twirling around a pole singing, "I'm singing in the rain."
Ray was that guy, and Vicky couldn't wait to introduce him to me.  He was one of the most outstanding men at Calvary, and she was excited that he was in the student union.
I was not impressed.
We met later when I visited the church where he was youth pastor and minister of music.  He wasn't there that evening.  Long story short, I ended up becoming the interim pianist until the church could find one.  We became great friends and soon thereafter we became an 'item'.
2)    On your wedding day if someone had asked why you were getting married, what would you have said?
Ray and I dated on and off for almost two years.  We were older and hadn't seen any marriages we wanted to pattern our marriage after so…we were very afraid.  Because of these break-ups in our engagement, I knew Ray was the one I wanted to spend the rest of my life with.  I missed his company when we broke off our engagement three times.  He was truly my best friend.  So, if someone had asked me on my wedding day why I was getting married, I would have said, "I get the privilege of spending the rest of my life, almost every day with my best friend.  Who wouldn't run hard after that?"
3)    If someone asked you today why you have stayed married, what would you say?
Ray and I have been through many ups and many more downs (the loss of 7 children through miscarriage, the loss in youth through blood clots, suicide, etc., struggles financially through grad school to the point of being on welfare, etc). It's so important to know who you are in Christ and that your spouse has grown in his relationship with Christ. I am benefitting from these events because his relationship with Christ was strengthened. I stay married because, it can't get better than this.
4)    Do you have children? If so, how has having children affected your marriage?
We have 10 children. 
Without the miscarriages, we have had 8 biological children all by c-section.  Then God gave us one through adoption, and then he asked us to help in the raising of our teenaged niece.  Children have greatly propelled our marriage upward to being more united than had we had not had any.  When you have children, you realize the deep commitment it takes to Christ and to one another to really raise a Godly seed.  It cannot be done alone.  You need another to balance things out and help along the way.
5)    What has been one of your greatest trials in your marriage and how did you all overcome it?
One of our greatest trials came when Ray and I ended up on the opposite sides of a family dispute.  Because it was with one of his family members, I felt like an outsider and I felt like I had been kicked to the curb by Ray.  It took time and plenty of communication for us to get to where trust, for me, could be reestablished.
6)    What has been the most challenging aspect of being a wife?
Knowing how to communicate with your husband where you can talk about the areas in his life that you see needs a checkup and he not take it personally or feel defensive.  We are called to be a helper to our husbands and being the unique helper he needs is a delicate balancing act.  This is a challenge to every wife and one that must be passionately sought after to succeed in it.
7)    How has being a wife changed you?
Truly I don't look out for my best interests anymore.  I truly look out for the best interest of Ray and our family.  Even though in a lot of areas I am still self-centered, I am a whole lot less self-centered because I am married than I would be if I had remained single.
8)    What does date night look like for you?
Over these 25 years date night has taken on many different looks.  Now, our date nights are date days.  We usually spend every Friday together (getting things done together whether it has to do with his job or not) and then we have lunch, dinner, and do a lot of talking.  We shop together (many times its home depot to get what we need for our home. Sometimes it's for fun stuff for us).  But we have fought to make sure we keep spending time together a priority.
9)    What are the top three things/people that pull you away from or compete with your marriage? How do you deal with them?
First and foremost, children will always compete with your marriage and if you are not careful, your marriage and homelife will become child centered.
Secondly, ministry (Ray's job) has been competition for our marriage and time for all of our life.
To deal with each, takes communication, and openness in trust so that you can express your feelings (man to a woman about her becoming child centered, and woman to a man about becoming job centered… especially when both want to do well in these capacities).
Mostly realizing that there will be times when there will be things that will compete for your attention and it HAS to take priority over your marriage and family BUT, it has to get back in its proper place as quickly as possible.  Ex.  When you have a newborn, there will be a period of time when mom is more concerned with the things of the newborn than her marriage (breastfeeding, recovering from labor and delivery, getting sleep, etc.  and for ex. Beginning a new church (set up for ministry involves TONS of meetings, preparation for sermons, getting and developing a leadership team, meeting with ALL of the peeps who have questions etc).
10) What role has community played in your marriage?
There is no way to make it without community.
When the things that compete for your marriage get way out of whack… you have to have those that remind you that something is awry.  You have to have those that know you enough to tell you the truth, laugh with, play with and make sure you understand the importance of life and that it is not monetary success.
11) What's one thing you wish someone had told you before marriage?
That life is short and to spend more time making memories that count.  That kids grow up fast so spend time with them and make sure they understand that God is their source and not you.  I really wish someone had told me to make ministry WITH my family a priority.  It grows you closer than anything else.
12) If you have one final thought or piece of advice to share with current or future wives, what would it be?
Run had after Christ and everything else will fall into place.
But seek first the kingdom of God and his righteousness, and all these things will be added to you.  Matt. 6:33
Pin It