Friday was a busy day for us as we wanted to wrap up decorating and setting up the house, plus spend some time with family. Casey's brother, Rich, had a stopover in Nashville (he's a pilot) so we met him for lunch at his hotel. Since Rich lives in Arizona, we don't get to see him very often. We truly enjoyed catching up with him and discussing our future with Baby B. At this point in the day I was having minor cramps occasionally. They had started the day before, but they were few and far between and not at all painful so they were easy to ignore.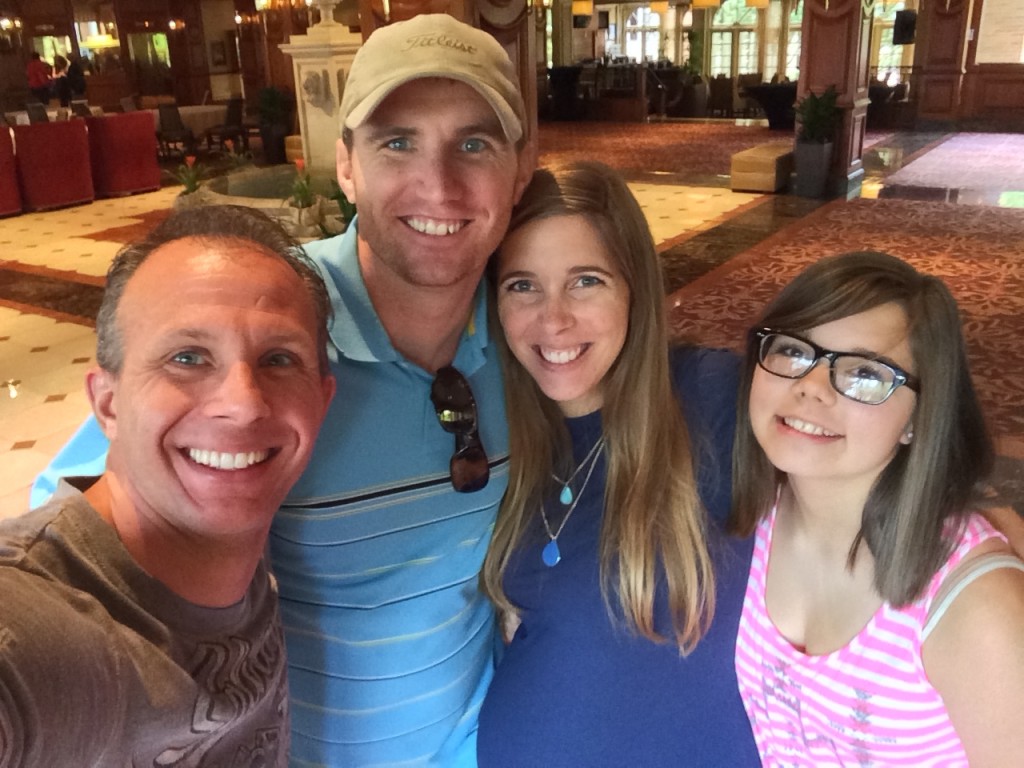 It wasn't too long after we returned home that my sister, Felicia, and Tailynn, my niece, arrived to pick up Ashlynne for her weekend with her mom. Tailynn was extremely excited to see the new house and was quickly exhausted from trudging up and down the stairs. Ashlynne was excited to show off her room. Even though she's still lacking furniture, the bright blue/green walls are worth the trip upstairs to see them.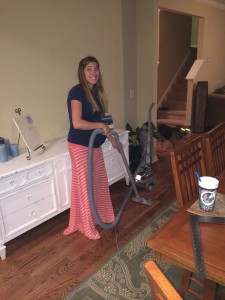 Toward the end of their visit I noticed the cramps were a little stronger, but that wasn't the main thing. I had an unpleasant visit to the bathroom which I had heard was a sign of labor. However, it could be days before labor starts and who knows that I didn't just eat something bad. It did give me hope that I would be able to avoid the impending induction though.
Once Ashlynne hit the road, Casey went down the road to play basketball and take Minny for a walk While he was gone I thought I would get started on hanging things around the house. I wanted to complete as much as I could before Baby B arrived and by the grace of God, lots of hard work, and good friends, the only thing that was really remaining was hanging a few items that had a place. I was trying to hang a painting in our room when I decided I should time my cramps and felt like I needed to take a break on the bed. That's where Casey found me when he got home. Contractions were about 11 minutes a part. I'll let the video explain the what happened next.
Casey drove the whole way balancing the urge to fly down back roads and run red lights, the pain increasing, now 2-3 minutes apart. In between contractions we'd laugh as I would tell him to slow down so I wouldn't puke and then just as quickly tell him to pass someone or approve his request to run a red light. We were headed into the ER by 11:15. The doctor on the phone had made this part sound so easy. "Check in at the ER and we will be right down to get you." That was the complete opposite of how it went.
First we had to get through security. They checked each and everyone of those bags that we had brought while I curled over in agony. Casey scurried to empty his pockets so he could walk through the scanner, and I did my best to explain why I couldn't go through it. After making it past security we stood in line to check in. You would think my moans, groans and large belly would queue the two visitors in line before us to move out of the way, but apparently that's not how things work in the ER. We checked in and the lady at the desk confirmed that someone would be right down. They set me in a chair in the hallway across from the discharge lady. I'm sure she enjoyed my screams as she was trying to work. 10 minutes goes by and no one comes. Casey checks back in at front desk, but makes no progress. More time goes by, more contractions, and now tears as sympathetic passersby encourage me and reassure me that it will be okay. Fed up, the discharge lady heads to the front desk to get help and just a few moments later the triage nurse, apparently the only one on that night, is taking down my info as he coaches me through contractions. He left and a few minutes later we were on our way up to labor and delivery.
They took me up to a temporary room to check me, and I passed the test. They admitted me and quickly hooked me up to heart monitors and began blood draws.
Side Note: I have an undiagnosed condition that causes high potassium and muscle weakness during physical activity that is believed to be a rare condition called hypokalemic periodic paralysis which makes me a high-risk pregnancy.
The resident anesthesiologist began talking to me about the curvature in my spine as we prepared for the epidural. His concern and talk about narrow pathways had me super nervous. That plus the contractions had me begging for Casey to tell me stories for distraction, but he just kept asking me questions instead. The attending anesthesiologist with the fun accent stepped in with neat stories and helped me learn to "just blow it away," the pain that is. It actually helped, but by the time I mastered it, the pain was gone.
Once I was able to get comfortable, despite the web of wires I was hooked up to, I was able to join Casey who was already sound asleep. My sleep wouldn't be as sound as I dealt with the constant squeeze of my blood pressure cuff and the cyclical visits from nurses and physicians. I wasn't feeling contractions though, not even, the slightest cramp so I assumed the pain meds had slowed my labor, something the nurses would later confirm.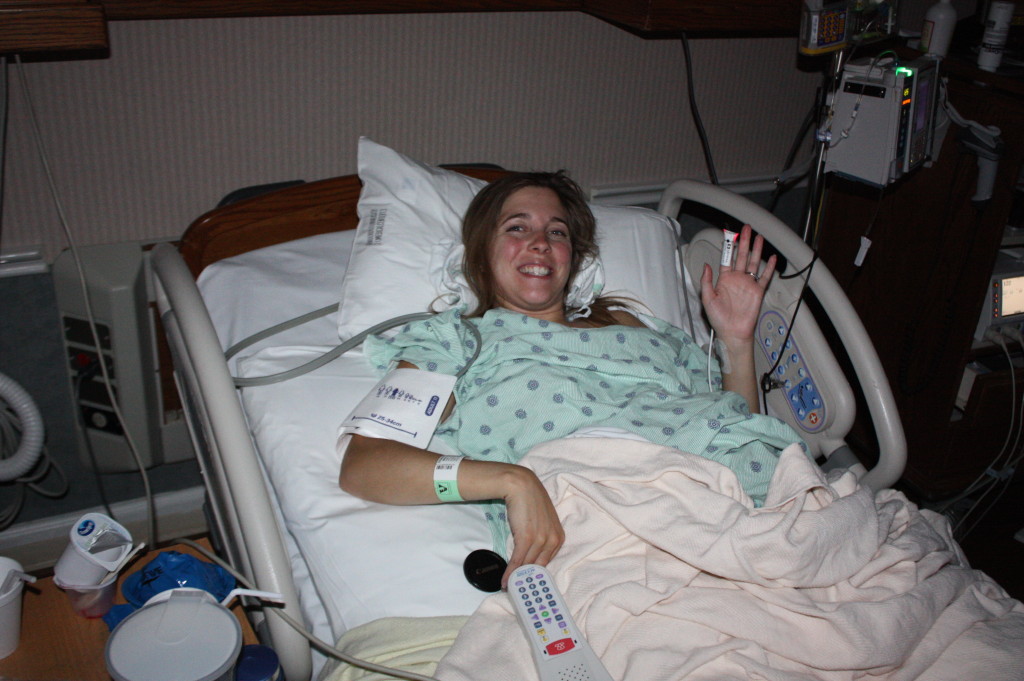 They wouldn't check me again until 5am. 8-9 cm 90% effaced. What? We were all shocked. 10 cm is pushing time. The nurse confirmed my contractions had slowed which increased their shock of my quick progress. Even still they expected it to be a few more hours before I was ready. Back to sleep. I wanted to get as much sleep as possible knowing baby would be here soon.
I woke up about 3 hours later feeling pretty lightheaded. I called the nurse asking for some apple juice, assuming my blood sugar was low. Before the juice arrived my blood pressure alarm went off and the cardiologist monitoring my telemetry monitor notified my nurse that my heart rhythms were out of sync. Next thing I know my room was full of anesthesiologists, nurses etc.
"Are the blood pressure drops associated with your contractions?"
"I wouldn't know. Am I having contractions?"
They were shocked to find I hadn't been feeling anything. They let me know I have a case of premature contractions with my heart which apparently aren't that big of a deal. Finally some answers! That was helpful considering none of my blood work was showing anything.
They decided to go ahead and check me ahead of schedule since they were already in my room and I was awake.  "Your baby has a full head of hair" was the next thing I heard.
"Excuse me? You can see the baby!?"
"Yes, ma'am. This baby's ready so you might want to wake up your husband."
I woke Casey up. "Casey, baby will be here soon. Time to wake up."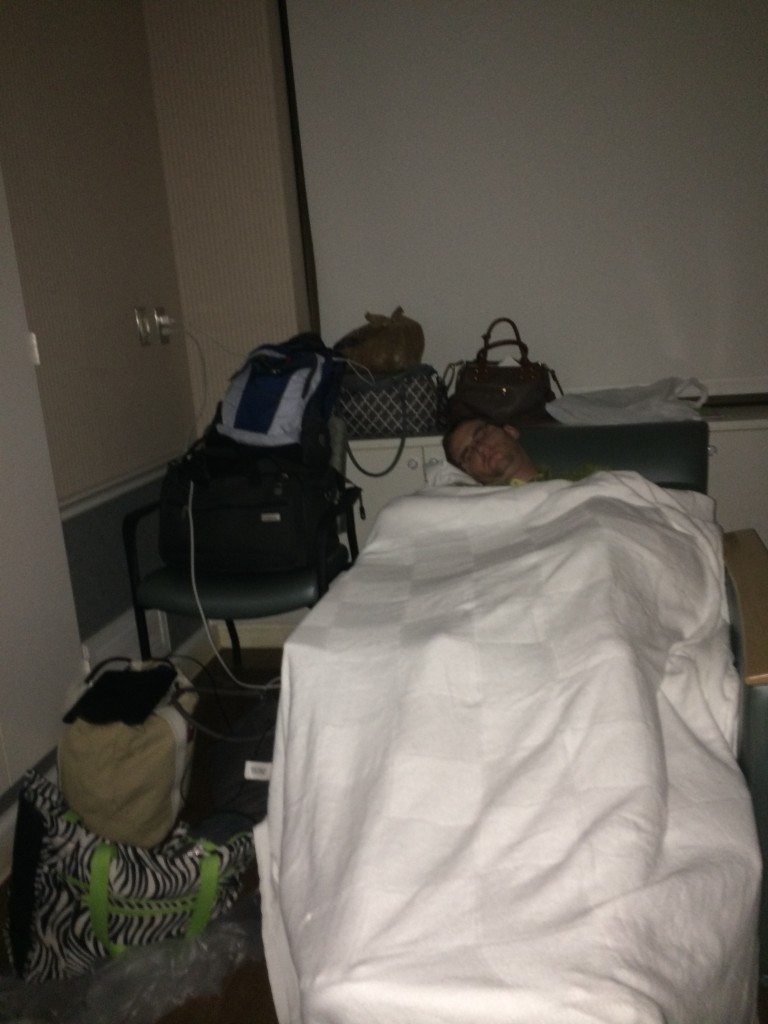 As I was coaxing Casey from his slumber the nurse was calling for the room to be prepped for delivery. Before I knew it the room was shifting and my legs, which I could have swore weren't attached, were by my ears.
"Okay, you're going to push with your contractions."
"Well you're going to have to tell me when I'm having a contraction."
Again, they were shocked that I couldn't feel anything, not even pressure.
"Okay. Go ahead and push. Stop pushing!"
I didn't even think I had started pushing before she was calling for the doctor to come in for delivery.
Next thing I knew my room was packed with med students, residents, and attendings. One of the residents would be "catching baby" under the supervision of the MFM physician. Casey positioned himself on my right leg and was soon fighting passing out at the sight of what was happening, but regained his composure. I reminded the doctors of my total lack of feeling so they could tell me when contractions were approaching. They had me push for 10 seconds, 3 times per contraction. Still no pain or even pressure. "Push" they'd say and "breathe" Casey would say. He probably hated seeing me not breathe, but I had to try hard to focus on the doctor's commands, not his. Just 15 minutes or so and 3 contractions later I heard the squeal of our baby as the doctors placed him on my chest and Casey proudly proclaimed "It's a boy!" with a huge smile on his face. I was in awe. It had all happened so fast, and there I was with my precious son on my chest.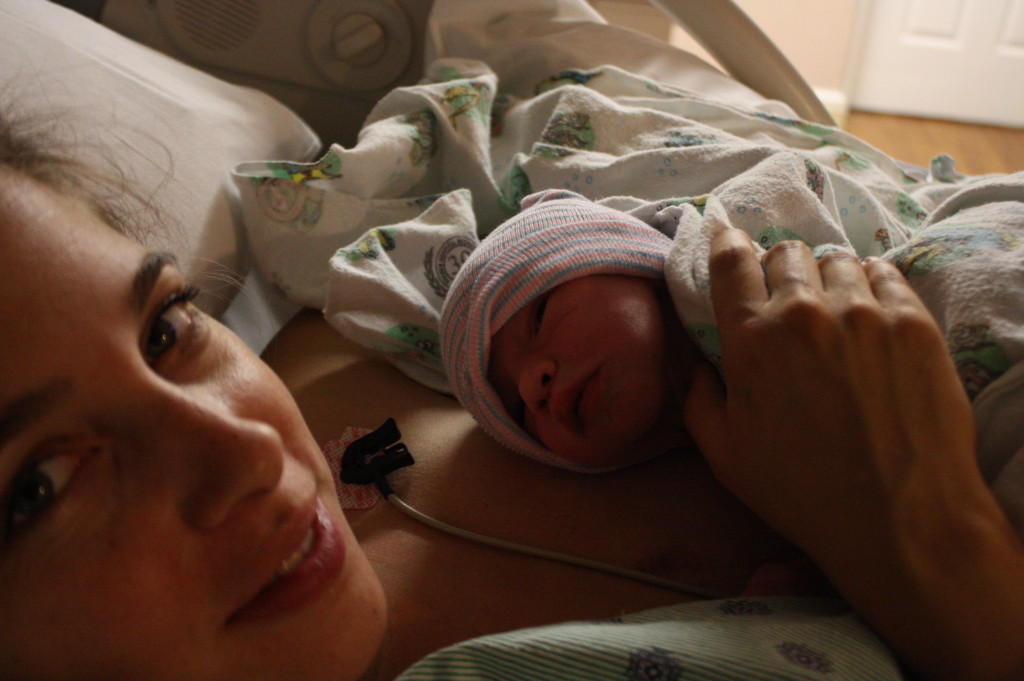 More post-delivery updates to come so stay-tuned!