Read the birth story first.
We soaked in our baby's presence for the next hour before we let anyone else touch him. We even waited to tell friends and family that he had arrived, just absorbing the moment with the 3 of us. He was so quiet, yet so alert for a newborn. He didn't really fuss, not even when he was first delivered, and was fine with waiting to eat while I cuddled him. My heart was immediately overflowing with love for our Silas. I soaked up skin-to-skin time for what must have been an hour before feeding him. Then daddy took on skin-to-skin time while I talked with the doctors and nurses and they adjusted all my monitors and wires.  Now THAT is one of the most precious memories!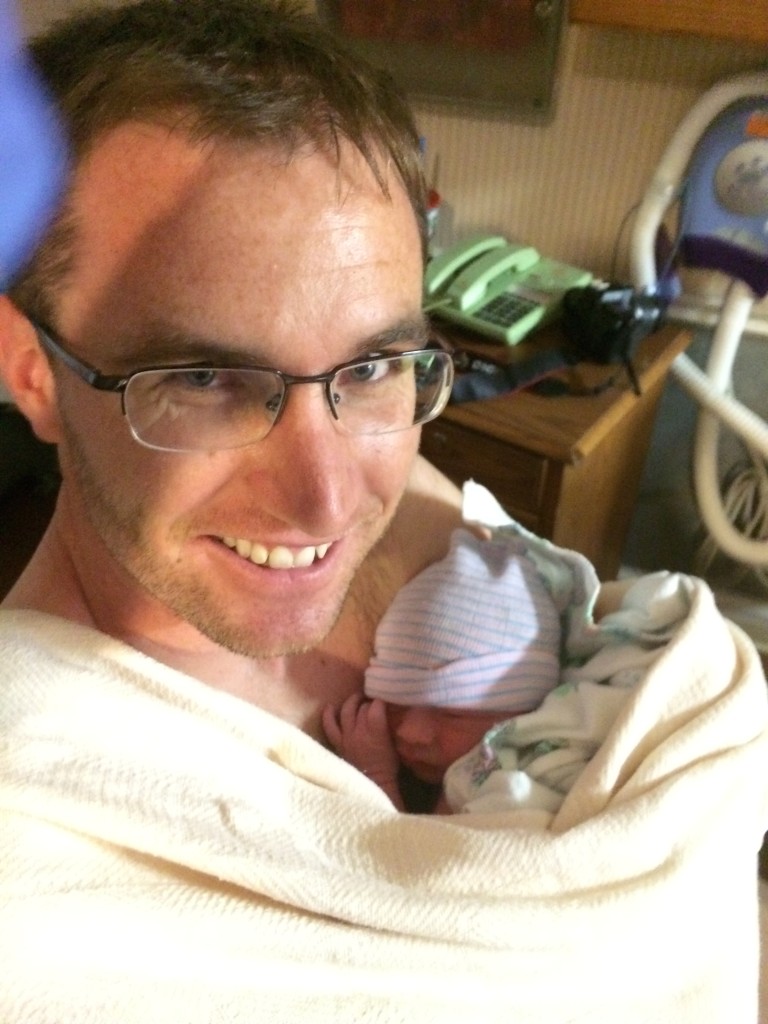 After an hour or so, Silas got his first checkup. He weighed in at just 6 lbs 2 oz and measured 19 inches. Everything else looked fantastic from head to toe. They were a little concerned that he was so small considering he was past his due date, but I was quite thankful for his size. It made delivery very easy! He did have one temperature drop that landed him a spot under the warmer for a bit, but I'm pretty sure that was just because mommy spent a little too much time admiring him after a diaper change. Other than that he was perfectly healthy and handsome 🙂 He definitely has my hair and lips, but the rest seems to be all daddy who, by the way, was a champ at the hospital changing diapers when I wasn't feeding. Speaking of, Silas took to breastfeeding really well. So well in fact, he enjoyed eating so much momma barely got a break.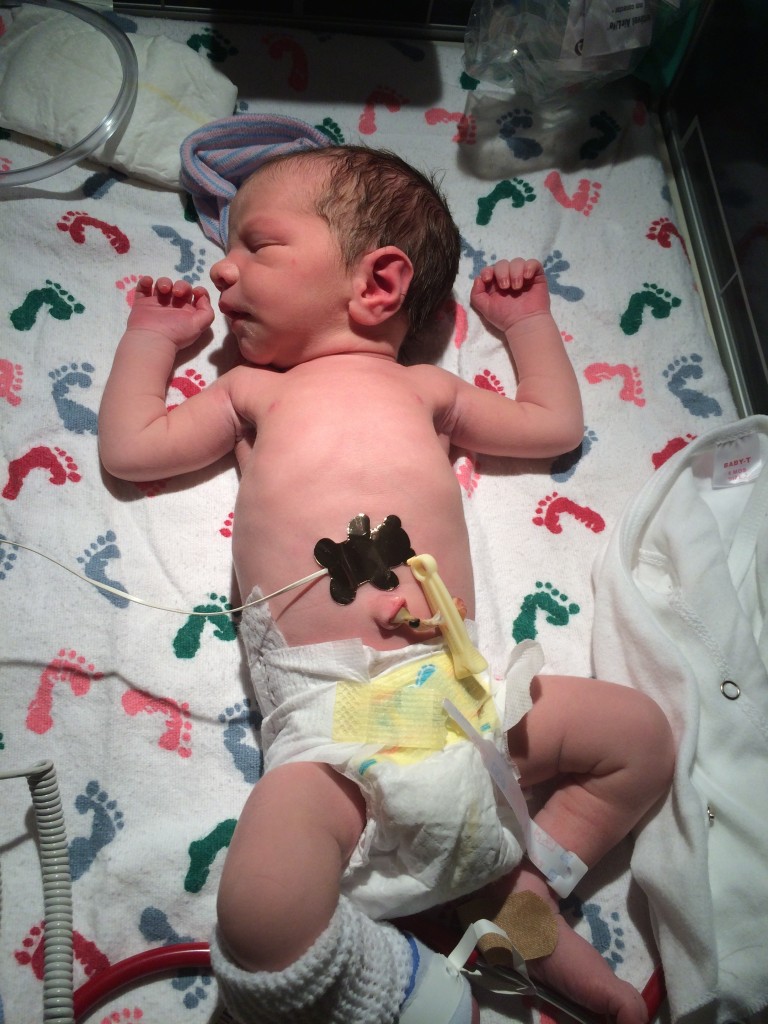 Mommy on the other hand wasn't quite as healthy as baby Silas. I had experienced a couple drops in blood pressure and an irregular heart rhythm that earned me an extra 12 hours of monitoring. They apparently don't have that sophisticated equipment in the postpartum rooms which meant we'd remain in our labor and delivery room the rest of they day until I was cleared. That wasn't such a bad deal, except for the sounds of labor that surrounded us. Let's just say not all women have a pain-free birth like I did.
It wasn't too long before my mom and stepdad arrived. They had hit the road that morning thinking that Silas would arrive that night or the next day, like we all did. I'm sure they were excited that the wait was over and they got to head straight to the hospital to meet their grandson. They cuddled and nuzzled him, absorbing the joy of new life. I'm sure they wanted to stay all day, but they knew they'd be with him for a week so they headed home to get settled in.
Not too long after they left one of my sisters arrived with her husband and 2 of her 4 kids. Unfortunately, the youngest, Nate, was too young to be in the labor & delivery area. Pam, Gino, and Sophia got to meet Silas though. Pam was super excited. Even though she has nieces and nephews that she loves dearly, Silas is her first blood niece or nephew. There's something special about that.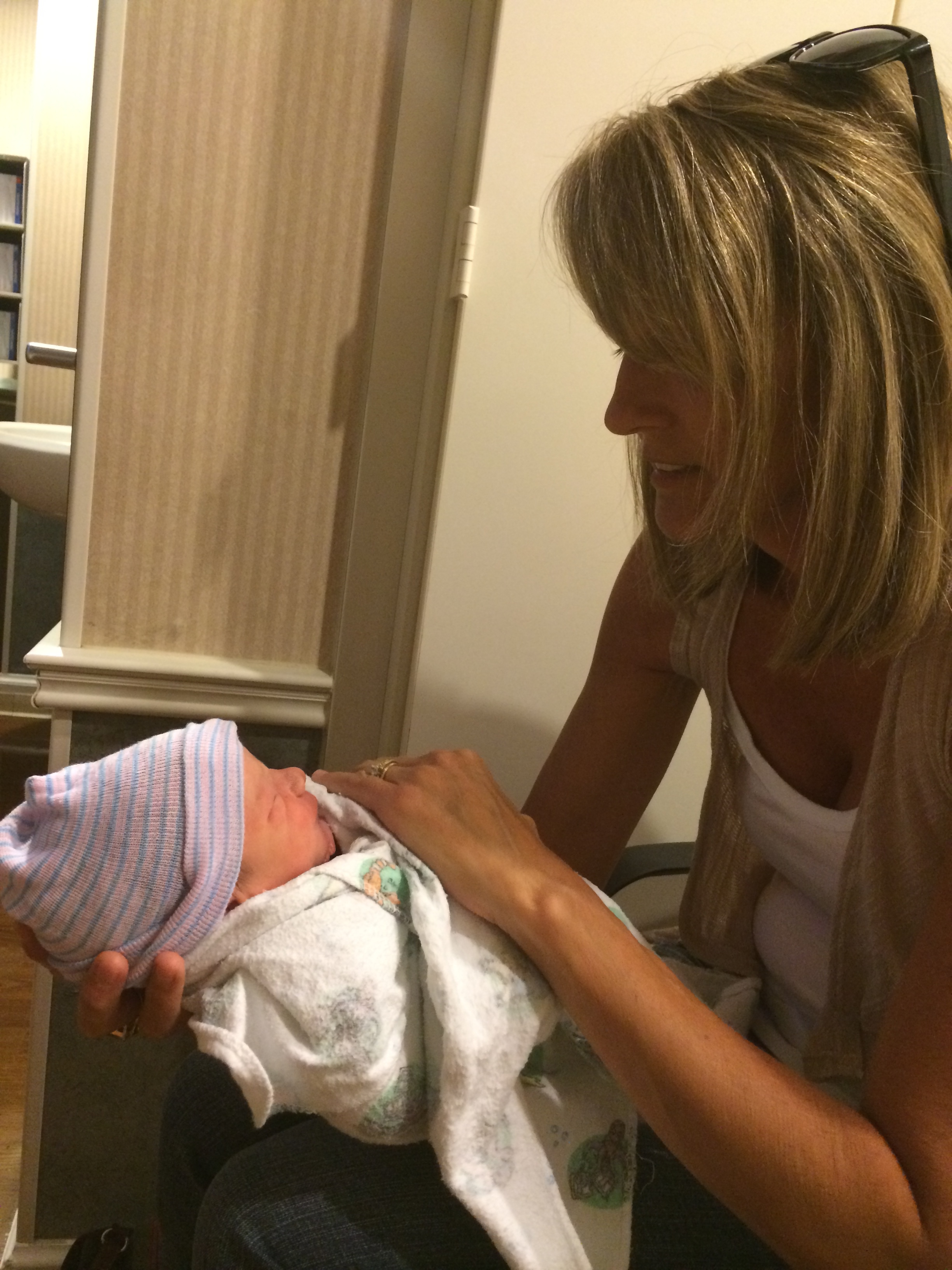 The rest of the time was not quite as ideal. Unfortunately, my epidural was so good I was numb for 13 hours after labor. More unfortunately, they had already removed my catheter from labor, assuming I wouldn't be numb much longer. They kept coming in to get me up to go to the bathroom and each time my legs wouldn't lift front the bed, no matter how hard I tried. That left me with lots of uncomfortable moments and feeling pretty helpless. In fact, I was still stuck in bed when they removed all my monitors. By the time I could walk again, my tailbone was bruised from the labor and delivery bed, not meant for a long-term visit. Thankfully they brought in a new, more comfortable bed before we shut down for the night.
Although we were supposed to move into a postpartum room, by the time they were done monitoring me, all those rooms were full so they kept us in L&D. At least that was the plan. If the constant rotation of nurses and doctors, plus feeding and diaper changing weren't exhausting enough, they came in at 3am and said the L&D rooms were full and we had to move. It was quite funny watching Casey try and rise from his slumber to pack everything while I was stuck in bed. Eventually everything was packed and they dragged us across the hospital to an overflow room which was essentially a daytime operating room with no window. Tiny, even though they said they gave us the biggest one. I immediately started asking when we could go home. They kept giving us hoops to jump through. I would need to pass another round of blood work, Silas would need a certain number of wet diapers, and he'd have to pass his 24-hour doctor appointment.
Although we should have stayed for 3 days, we passed all the tests with flying colors and were discharged just 26 hours after Silas was born. I just couldn't wait to get home and get our family settled in. Plus, my 13 hours of numbness and all the monitors had prevented me from being able to shower. Let's just say I've never needed a good dousing of water as bad as I did by the time I arrived home.
A short bath and a nice long shower later and I finally felt like myself again, but nothing like myself at the same time. More to come 🙂