There are some people you have the pleasure of meeting in life that you wish everyone had the chance to meet. Stan and Ginny are that couple for me and Casey.
They have spent most of their married life serving the Lord both in the US and overseas, and have some incredible stories from their journeys. Although their service to and love for the Lord is beyond admirable, it's their selfless, sacrificial love for each other that is the stuff of fairytales.
I feel so honored to be loved by Stand and Ginny, and to have the gift of soaking up their wisdom as I watch them do life together.
Please remember that when we share like this we are leaving ourselves vulnerable. This is our chance to love on Ginny. Please make sure to leave a comment thanking her for sharing or letting her know how her story has encouraged or comforted you.
Ginny Smith married her husband, Stan, on December 15, 1956.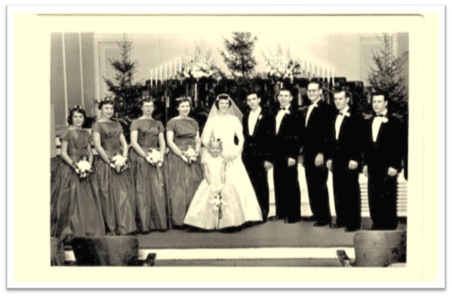 1)  Tell us your courtship story. How did you meet and end up married?
I was in my senior year of high school and a day student at a Christian school, Wheaton Academy. The school also had boarding students, many of whom were missionary kids. It was my 2nd year there after attending a public high school my first two years. I was a Christian and I believed God had called me to be a missionary since I was 12 years old.  When I heard that there was a new boy, a boarding student, in our class, and that his parents were missionaries in Vietnam, I was very interested. When I heard their names, I realized I knew about them and was in possession of material his mom had written on their experiences. I was interested to meet Stan Smith. Then I saw him and I was even more interested – handsome with big blue eyes and dark hair!
To make a long story short – he asked me out to a school roller skating party and that was it! We dated for four years as we both attended Wheaton College.  We got engaged our junior year and married our senior year, as we wanted to take some missions and Bible courses at Moody Bible Institute after we graduated.  They had a rule that you must be married at least six months if you wanted to attend as a married couple and we didn't want to wait another year to get married as we had already dated for four years. We were 21 years old!
2)  On your wedding day, if someone asked you why you were getting married, what would you have said?
We believed God brought us together, we loved each other and we were both interested in missions. We never had any doubts about it.
3)   If someone asked you today why you have stayed married, what would you say?
Love for God; love for each other; love of ministering together; love for our children; facing the "storms" in our lives together and seeing God intervene and answer prayer; seeing our love for each other deepen as we have grown older.
4)  Do you have children? If so, how has having children affected your marriage?
We have four children, which now includes their spouses and 15 grandchildren. They have been a wonderful supplement and blessing to our marriage! Parenthood comes with difficulties and challenges, but God has been faithful in seeing us through each one. I would say that the positives of being a parent far outweigh anything negative.  These challenges continue as we interact and pray for our grandchildren.
5)   What has been one of your greatest trials in your marriage and how did you all overcome it?
Probably some of the issues that developed early in our marriage on my husband's side of the family and how that affected him and us. As a wife, I hurt for him because he was hurting, but he had to work it out with them.  It eventually came to a somewhat peaceful conclusion.
6)   What has been the most challenging aspect of being a wife?
I have loved being a wife! Because we met and married young I didn't have many challenges in this area. I had never had a life on my own, as I lived at home while attending college. So I went from my parent's home to our home as a married couple. Since we were both still in school, and also working part-time jobs, we shared household chores so we would have time to do homework! I had and have a wonderfully helpful husband!
After being married about 4 years, we began ministry together overseas. We each were involved in different aspects of it, as we have different gifts. In the 60's women were often seen by some as just the wife of the missionary and not a missionary in her own right. Sometimes the wives were looked at as unimportant, except for her role as wife and mother. However, single women were valued for their contribution to the overall ministry. This attitude of others was at times difficult for me to deal with. My husband never saw it that way! He always encouraged me to use the gifts God had given me.
7)  How has being a wife changed you?
Since I went from being single to being married 57+ years ago, I really don't remember too much about the changes. I would say that we kind of grew up and matured together. There were some interesting "discussions/arguments" through which we understood more about the deeper thoughts and feelings we both had. Even after dating for four years, there are different dynamics when you actually live together. Also, since I was the oldest of 3 children – my brother was 5 years younger and my sister 3 years younger – I was used to frequently being in charge. My mother jokingly warned my husband that I could be quite "bossy" so watch out! So that was a big change.  I still deal with some aspects of that – just ask my husband!
8)  What does date night look like for you?
This concept was not even talked about "in our day"! When we were overseas and our children were small, we had household help so we would have someone to care for them when we occasionally went out to eat together.  We didn't do it often as I didn't like leaving the children. We were busy in ministry during the day so the evening was our time with them and each other.  As the children got older we would sometimes go to a movie or out to eat.  But more often than not, the whole family would go out.  Then when the nest was empty (which was sad!), and we were both working at the mission here in the US, we would go out to eat and/or to a movie more often.
9)  What are the top three things/people that pull you away from or compete with your marriage? How do you deal with them?
In this stage of our life this is really not an issue.  We do many things together. When we were younger I would say it was:
1. Our children and all their needs:  My husband had to help me more when he was able, so that we could have more time for each other.
2. My ministry involvement: I had to cut out some things in my schedule, especially after my husband reminded me at one point with "Don't forget about me!"
3. Being separated from each other: During furlough in the US my husband had to be away weeks at a time on speaking tours with our mission. I couldn't go because of our children. The separation was very hard on me and our marriage. I was fortunate that we were near my parents who could help me. The mission later changed this program because of the difficulties it caused for the wives and children.
When we were overseas he had to travel a lot because of his responsibilities of overseeing other missionaries. This was hard as well, and I missed him terribly.  One thing I always did when I knew he would be coming home that day was make sure I looked nice to welcome him – some makeup as well as a nice outfit! Being in very hot climates with no air-conditioning, we women would be wearing the coolest things we could, which were not necessarily very attractive!
10)  What role has community played in your marriage?
Most of the first 40 years of our marriage was lived in community: Married couple's dorm at Moody Bible Institute; 8 months at the headquarters of the first mission we were with where we lived in a dorm and ate in community; large group of missionaries on the field in both countries we worked in; the group we worked with at the mission headquarters in the US. I don't think it ever really affected our marriage negatively. When there were differences of opinion in the group, as husband and wife we were usually on the same page.  It is difficult to remember at this stage of my life!
11)  What's the one thing you wish someone had told you before marriage?
At this point in my life I really can't think of anything! I might have been able to in the early years of marriage but that is a long time ago!
12)  If you have one final thought or piece of advice to share with current or future wives, what would it be?
Don't get married thinking that you are going to change one or more things that you don't particularly like about your spouse! You should be able to accept him for who he is when you marry him. Not that there won't be changes for the better, but that is God's job, not yours, in his life and yours as well.