To see how we got to this point… read Part One here.
Friday
The 6am alarm came way too early. We were up wrapping up packing, pulling sheets from beds, throwing last-minute items into laundry baskets – just trying to beat the movers. Our work the night before had paid off. After we finished packing, Casey had time to run to Sonic for breakfast. We spent 30 wonderful minutes resting at the kitchen table together before the movers arrived. 3 Men and a Truck. It was supposed to be 2 men, but they threw in a bonus guy I guess. Casey had to go to work so I sat at the kitchen table and worked while I watched these guys load our treasures into the truck and occasionally answered their questions.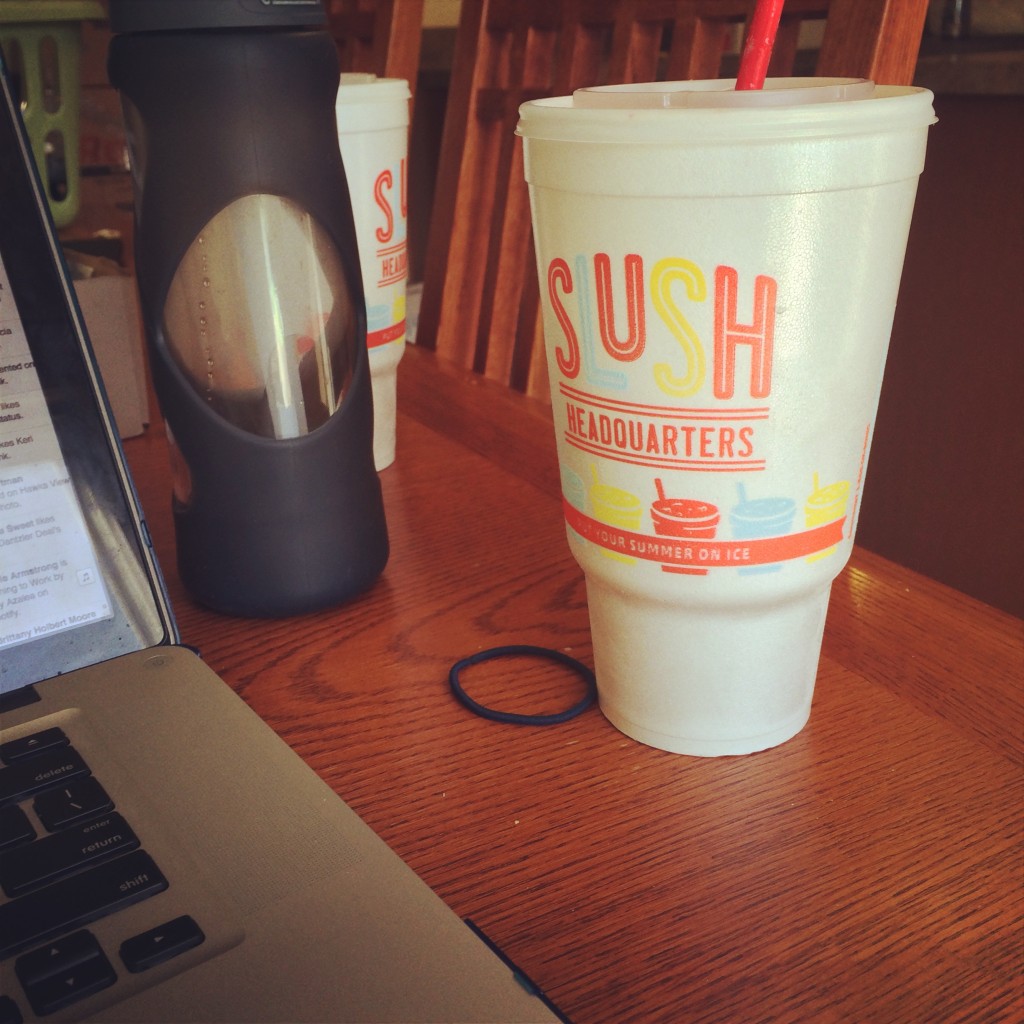 All was going well until I overheard them say they were running out of room in the truck. Despite them coming to the house to survey everything, they had underestimated and would need to make two trips (more $) or load the truck + trailer we were borrowing from a friend. Having no clue how to hook up the trailer much less drive the thing, I didn't see that as an option. I was very thankful when Casey arrived home on his lunch break, just in time to solve the problem. He was able to get everything hooked up and loaded in time for all of us to make the trip to the new home (only 2.3 miles). The movers, arriving just after we did, had taken a lunch break. Casey heard a crutch which he thought was them driving over rocks then went down to greet them. When he got to the street, he found our car side view mirror in the road. The movers assured us they didn't do it, but further investigation proved otherwise. There wasn't any point in arguing with the guys so we tabled the issue until later.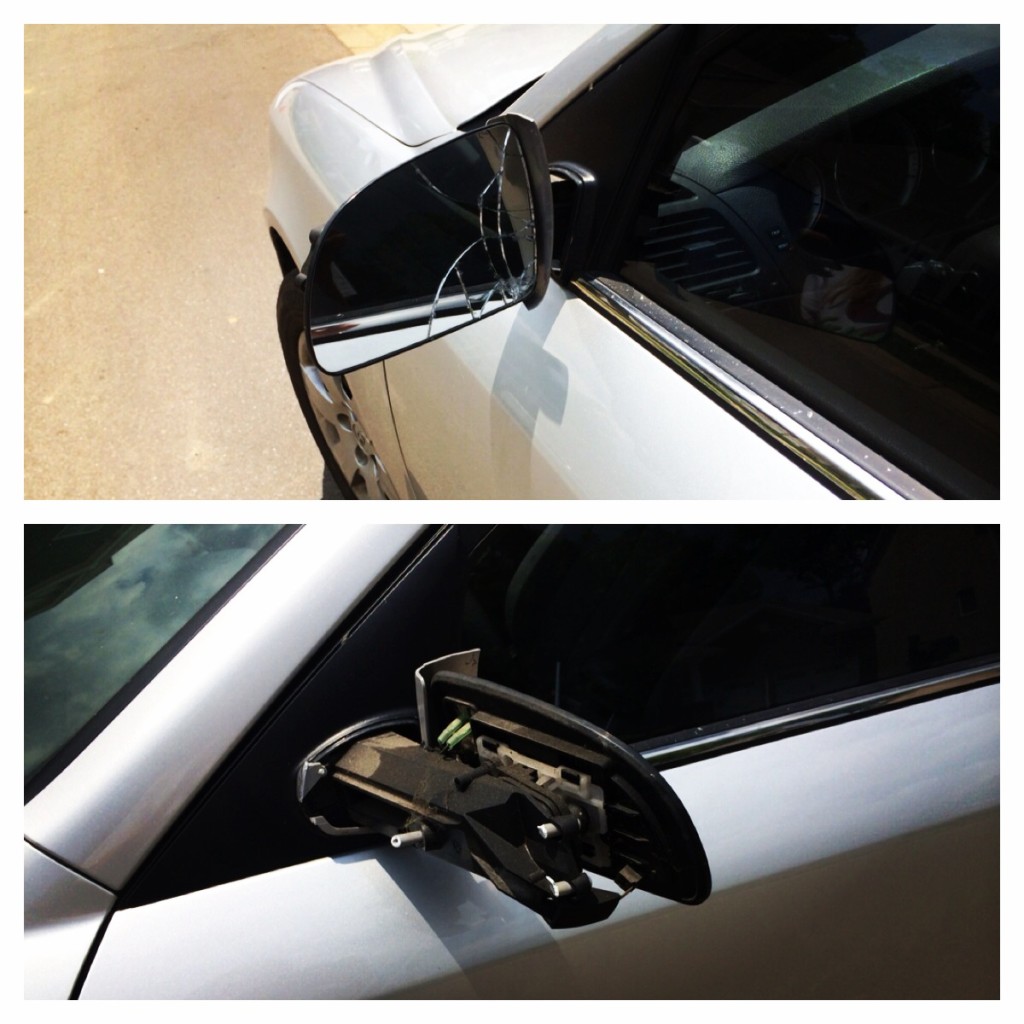 The move was quite a difficult one for the guys with all the stairs and the narrow hallway. They were moving slow, but by God's good provision, Casey was dismissed from work for the rest of the day and was there to help. Now 4 men + 2 trucks + trailer. With Casey's help, they were able to finish 30 minutes ahead of schedule with minimal damage to the walls and furniture. More than I would like since I expected no dings and dents, but the movers were gone before Casey pointed out the damage to me. It wasn't worth the trouble at that point, plus we were busy calling the company about our car and preparing to file an insurance claim.
Amazingly, we had made it through the move. We headed back to the old house for the final load. Casey and I loaded up the truck + trailer + my car. We made it back to the new house at about 7pm to meet our friends, Ryan and Pat, who were there to help. Ryan and Casey pushed hard to unload everything from the car + truck + trailer while Pat wiped down furniture and I vacuumed the furniture. Once all that was done we were too tired to unpack. We sent our friends home and that's when we realized I hadn't eaten, not good for a 9 month pregnant lady. We were on the hunt for peanut or almond butter so I could make a sandwich, but every kitchen box we opened proved to be the wrong one. Exhausted, I settled for a cup of applesauce, pudding and taking the spoon to the half gallon of sherbet. After I ate my wholesome dinner, we got cleaned up, Casey took an ice bath (the steps did a number on his legs), and we curled up in bed, half dead, for our first night in our new home. That's when the smoke alarm started beeping. We did our best to fix it earlier that day and thought we had changed the batteries in the correct one, but apparently not, or the batteries died in another one. Unable to get it fixed and frankly, too tired to care. We slept through the beeping.
Saturday
I woke up Saturday morning to wide open windows and a beautiful view of the morning sun kissing the trees awake. I just laid there and stared at it until I knew I had to get us moving. Ryan and Susan were coming to help at 9am and I wanted us to have a breakfast date before then. We headed to Mama's Java, snagged the two most comfortable chairs, enjoyed a delicious breakfast, good company, and some rest before the work began again.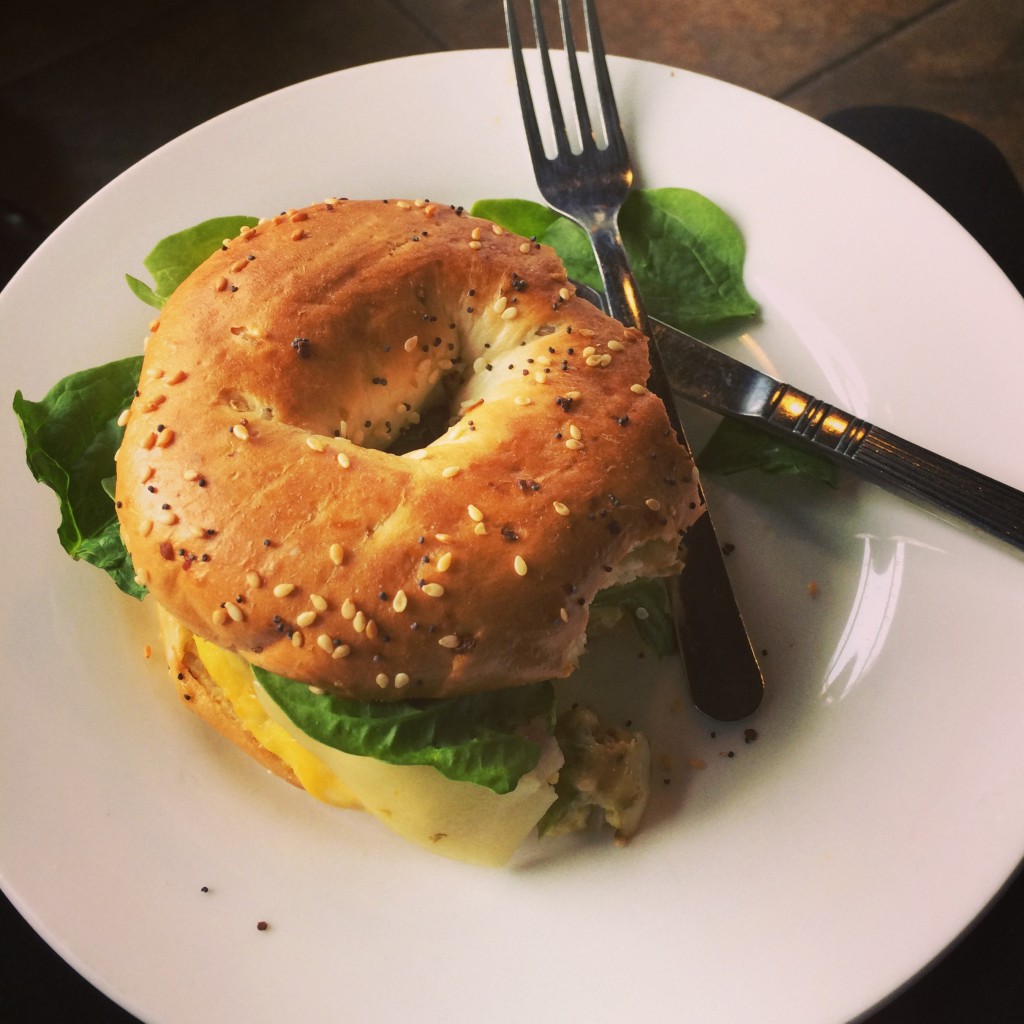 We could have sat there all day since the burden of boxes wasn't staring us in the face anymore, but knowing help was on the way, we headed home. Ryan and Susan were an incredible help to us all morning long. By lunch time, the entire kitchen was unpacked and incredibly organized. I gave Susan free rein to organize everything while I tackled the pantry. She did an incredible job. Casey and Ryan headed off to pick up McDougals for lunch while Susan and I moved to the master bed and bath. Jodi had a couple hours so she came to join us working in the bathroom and then tackled unpacking all the decorations. A friend from high school did an amazing job helping get the baby's room in order. Everyone was gone by the afternoon.
We planned to head to our friend's baby's 1st birthday party, but the cry of the remaining boxes kept us at home. Casey tackled the office while I wrapped up the bedroom. Then we moved on to miscellaneous items as we searched every box for something we needed to complete the office. So far no luck on that front. By 7pm my feet were in severe pain as I had gone barefoot all day. I was anxious to take a good shower and dry my hair now that my hair dryer was unpacked (it had been packed for weeks), so we called it a night. I showered, snuggled up to the foot massager, ate my PBJ and Casey and I watched a movie. I should say I watched a movie and Casey watched part of it while he drifted off to sleep. In bed by 10:30pm. Not bad.
Sunday
I woke up again at 6am to my beautiful view and couldn't resist to urge to get up and write. Although I was briefly distracted by laundry, I made it outside with my pen and journal after loading one load of laundry and our sink with bleach and a shower curtain. It's now 8:30 and Minny and I are still on the deck enjoying the morning.
Can I stay here all day? The laundry and boxes awaiting me inside say no, but the birds chirping and sight of my neighbor's beautiful garden lure me to keep writing.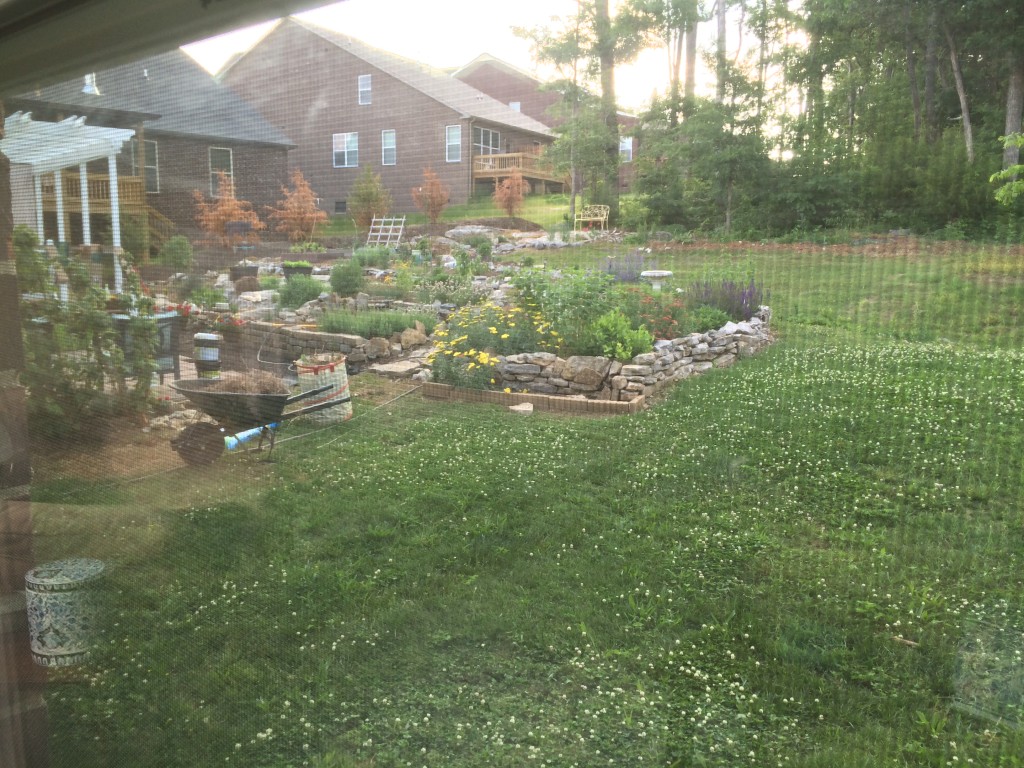 Baby B seems to be enjoying the rest as well. I'm so thankful for his/her patince. It wasn't just the move, but my doctor is out of town until Tuesday. Although I'm experiencing some new pains, I'm pretty sure those are just from the stress of all the work recently and Baby B is still patiently waiting for either my doctor to get back in town or his/her due date on Thursday.
Only 4 more days! It seems unreal. I've been doing so much to plan and prepare for the move, which I am very thankful for because it was all pretty uneventful, that I haven't thought much about the fact that in less than 2 weeks I will hold my son/daughter in my arms. Maybe it's because I've been so distracted by the move or maybe it's just too abstract a thought for me to comprehend. Having all the babies here on Thursday had Baby B on my mind a lot more. I'm definitely ready to meet him or her, but I'm perfectly content waiting a little while longer until we are more settled in the house.
This time with just the two of us has really been nice. Although we've been busy we've gotten along really well considering the chaos. I think it's partly because planning so well helped calm the storm and significantly reduce my stress, but also because Casey has been such as huge help and diligent worker. We haven't been intentional about emotional connection per se, but we've been such good teammates that I have felt very supported and connected to Casey in the midst of all this.
Although it's definitely for the best that Ashes is in GA for her graduation trip,  I miss her. I love seeing pictures and hearing how her trip is going. I know she is having an absolute blast, but I look forward to having her home and settled into the new house, hopefully before the baby comes.
Now that we are moved, I am really looking forward to this next phase in life in a new setting.