If you've ever wondered what it's like to be a military wife with a new baby at home and a husband overseas, this is the Wednesday Wife for you!
Sabrina is my sorority sister and one of my closet friends from college. She's also one of the most amazing, strong women you will ever meet. Not to mention, she's brilliant! I had the pleasure of walking alongside her during her courtship with her husband, Chad, and the honor of standing by their side on their wedding day.
Chad was deployed soon after they were married and is currently on his second deployment, and has yet to meet his precious daughter. Please take a moment to read their story and pray for all the military families that are serving our country, especially those spouses that are holding down the fort at home while their husband or wife is deployed.
Please remember that when we share like this we are leaving ourselves vulnerable. This is our chance to love on Sabrina and Chad. Please make sure to leave a comment thanking her for sharing or letting her know how her story has encouraged or comforted you.
Sabrina Prosser married her husband, Chad, on June 12, 2010.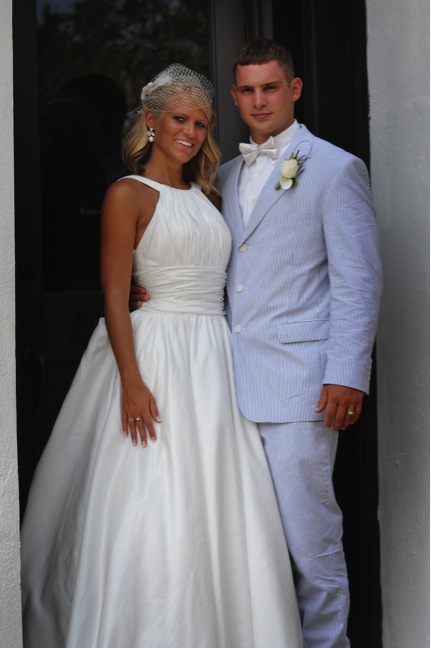 1)    Tell us your courtship story. How did you meet and end up married?
Chad's grandparents moved in next door to my parents in Tennessee. Chad is from Sumter, South Carolina so it was God's intervention that got us together. As visiting grandparents can be slightly boring, Chad would call me when he came to visit and I would take him to Wal-Mart. After about 2 years of visiting like this we decided to take things a step further. Chad was attending The Citadel in Charleston, SC and I was in school at East Tennessee State University. We dated for 3 years, long distance and after Chad was commissioned into the Army in 2009 he proposed at the Battery in Charleston.
2)    On your wedding day if someone had asked why you were getting married, what would you have said?
I would have told them that I feel like, together Chad and I can do more for Christ than we can individually.
3)    If someone asked you today why you have stayed married, what would you say?
I made a commitment in front of God and our family to stay married and to love this man through thick and thin. Our relationship is what we make it. Within it, we can choose to work on it and perfect it or to be miserable. Together we have chosen to place Christ in the center and work towards perfection. There's nothing like marriage to point out your imperfections and when you're looking at the log in your own eye you begin to feel blessed by the person who chose to marry you.
4)    Do you have children? If so, how has having children affected your marriage?
We do have a 5-month-old daughter and Chad was deployed when she was born. This is our second deployment and this one has been very different from the last. Our conversations are now centered on Ande Lynoir rather than what's going on in our lives. I now have to make a conscious effort to make time to address our relationship. Since he has yet to meet his daughter, I am not really sure how children has affected our marriage but I am looking forward to being a family.
5)    What has been one of your greatest trials in your marriage and how did you all overcome it?
Finances!! Chad is a SAVER and I am a SPENDER! We still struggle with this at times but we went through Financial Peace University with Dave Ramsey and it really put us on the same page. Now we have united financial goals so I am more conscious of what I spend.
6)    What has been the most challenging aspect of being a wife?
For me, being a military spouse, the most challenging aspect is managing everything while Chad is deployed. I never pictured myself being a single mom and suddenly you're managing both roles. It is a challenge. Particularly, managing relationships with his family and setting healthy boundaries without him to back me up.
7)    How has being a wife changed you?
It has made me more thoughtful of someone else's needs and really reinforced the Golden Rule. I now seek to make things that are important to Chad important to me. Also, teamwork is really important and I never really understood what being part of  a true team was until I got married.
8)    What does date night look like for you?
Hum…good question…it's been over 9 months since I have seen him so in my head a perfect date night is sitting in our living room holding hands. With both of us working, we really worked hard to save the evenings to be together and made weekly routines we looked forward to.
9)    What are the top three things/people that pull you away from or compete with your marriage? How do you deal with them?
THE ARMY – It takes a lot of his time and can be really consuming if he does not put his foot down and come home. Chad is the one that has to manage this one and I try to be patient and allow him to manage it. As a submissive wife I try to know my boundaries and be patient when Chad does not have control.
FAMILY – Family is tough to manage. We normally work together on this one to set healthy boundaries. We also have an agreement in our marriage when conflict arises Chad addresses the conflict with his family and I address conflict with my family. We always try to keep in mind that blood is thicker than water no matter how strong the relationship may be.
CHILDREN – While we haven't been together as a family I can already tell it takes more time and focus to work on your marriage when children are involved because it's easy to make them the focus.
10)    What role has community played in your marriage?
COMMUNITY IS HUGE! We have a wonderful Sunday School class of couples that are also in the military, away from family, and have been married less than 8 years. It has been amazing to have the support of like-minded people. During our first deployment (4 months after we were married), I chose to stay in Louisiana rather then move home. Moving home meant that most of my support system was going to be my college friends who were still single. Having married friends during a time of separation is really important to maintaining a healthy marriage.
11)     What's one thing you wish someone had told you before marriage?
Our situation is so different than most marriages. Due to our time apart we really enjoy being together and doing normal things. True, after too much time together we begin to get under each other's skin but over all I would take being with him and being annoyed over being apart. I had no idea I would love and appreciate him more with each passing day and that being apart would be harder every time. I wish someone had explained that aspect of marriage to me so at least I could expect it.
12)    If you have one final thought or piece of advice to share with current or future wives, what would it be?
FIND A CHURCH HOME TOGETHER! Being equally yoked is key. I do not mean just if he's a Christian, you're a Christian, but in your mental health and relationship with Christ. The counselor in me wants to reiterate that you are only attracted to someone as mentally healthy as you are or less. If your husband is not seeking God and you are, it is not healthy because God is changing you and your husband will not be likely to work with you.