We did it. It's early Sunday morning. I woke up in our new house, calmed by the beautiful view out my window.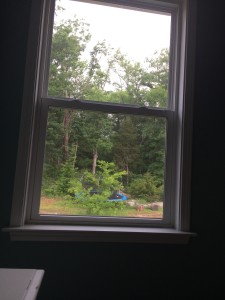 Waking up to the sight of trees makes me feel like I'm on vacation. I pray that feeling never goes away. This week has been emotionally and physically exhausting, but I'm thankful that we made it through the move and Baby B decided to stay inside. It's only through the power of prayer and the grace of God that we didn't have this baby. I definitely haven't been resting. In fact, I've been going non-stop from morning until night, reaching the point where I physically can't stand on my feet anymore because they feel bruised to the bone. Although we've been packing here and there for months and spent the last few Saturdays packing all day, there was still plenty to be done this week, on top of coaching Ashlynne through finals and Casey wrapping up the end of the school year.
Wednesday
Wednesday was a big day for all of us. We started off the morning with Ashlynne's 8th grade graduation ceremony. I held back tears thinking about how far she has come and overwhelmed with gratitude that I get to be such a big part of her life these days. All went well for the ceremony other than the fact that it was way too long and hot to boot. This pregnant lady was quite uncomfortable on those bleachers for all that time. Casey was able to get someone to cover his class so he could be there for Ashes and pass along a beautiful bouquet of flowers to her. There was a little reception afterwards that Casey had to miss, but I attended. I almost didn't because, in true teenager fashion, Ashlynne was going to bail on me for her friends, but a little hormonal pregnancy tears kept her by side. After the reception I hurried to the bank to write that painful down payment check and then was off to the school to pick up Ashes and Casey for the closing on our new home.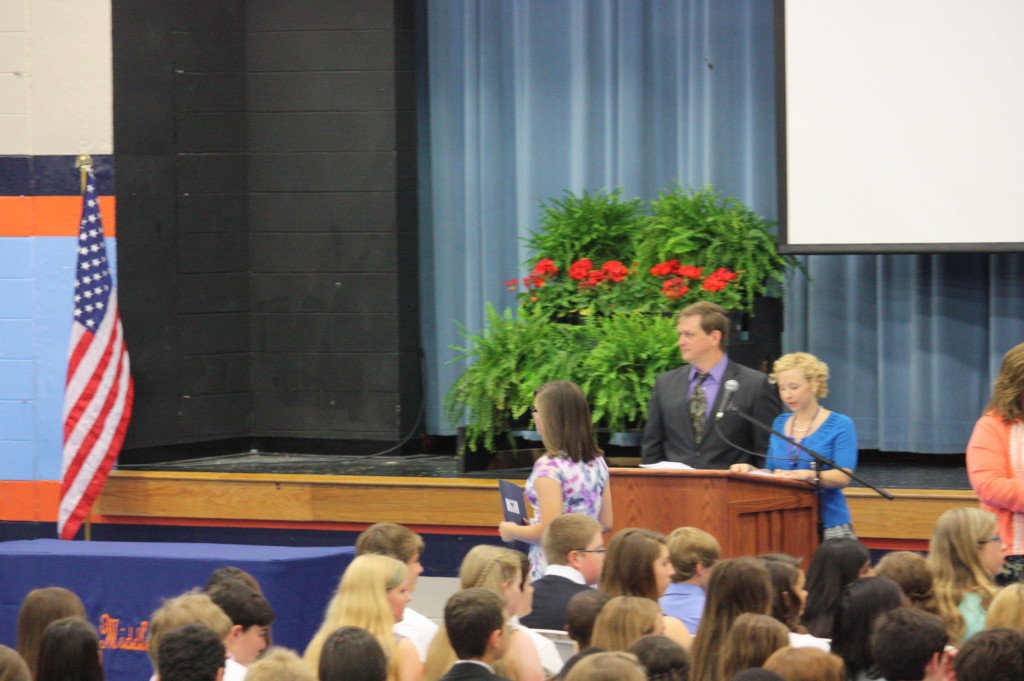 Other than some hiccups on the drive there and an issue with our home insurance, closing was flawless. Emelyn's (Ashlynne's best friend) dad, John Cook, was our closing attorney so Ashes enjoyed watching him in his element. John was extremely helpful and the closing flew by. The next thing we knew we had keys in hand and were headed to our new home to meet the painter.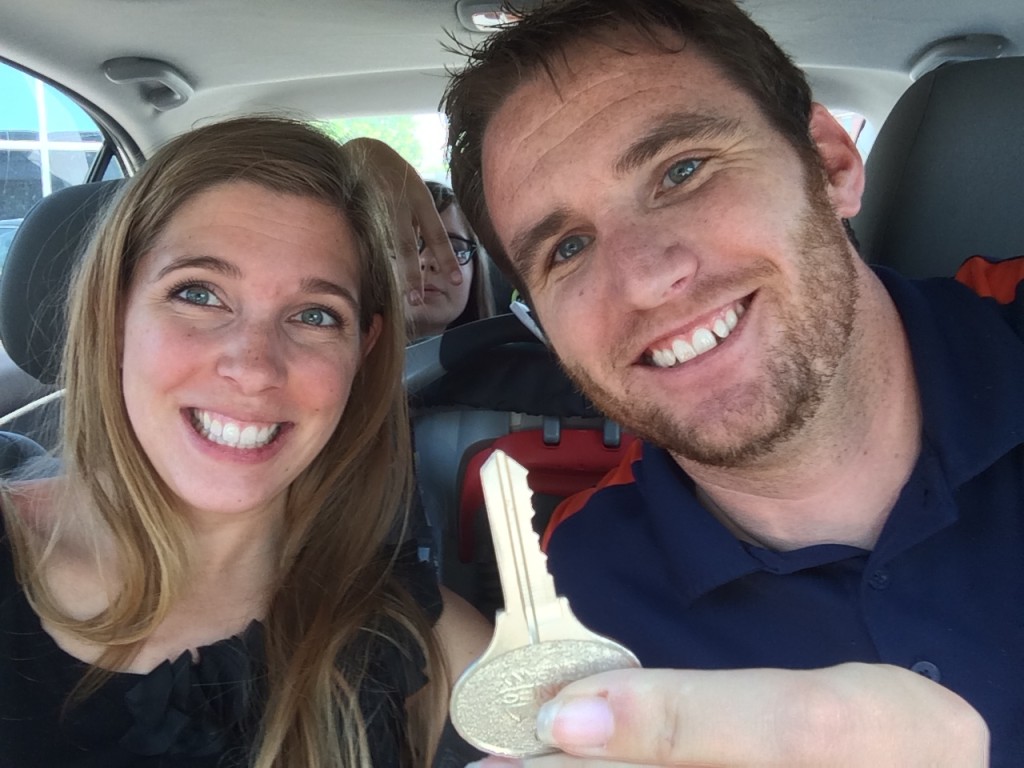 That afternoon we were busy getting the new house clean. Our friends, Pat, and the Baileys came over to help. We definitely couldn't have done it without them. I definitely couldn't have since Casey had to go back to work. By the end of the day we were exhausted, but the kitchen and most bathrooms were clean. The baseboards had been wiped down thanks to Ashes and I tackled the doors, door frames, and electrical/light switch plates throughout the house while Casey tackled the windows. Progress, but still much more to do!
Thursday
Thursday was the most chaotic of days. Casey spent the day at work so I was on my own in the morning trying to get Ashlynne to pack for her trip to GA and finish packing her room and bathroom for the move. Surprisingly, it was all done relatively close to the time I asked it to be done.
We headed to the house around 11 am to get started cleaning. Ashlynne tackled sweeping the deck and patios and even helped me finish cleaning the bathroom tub.
The rest of the day was this crazy combination of productivity and chaos. We had friends come to help – Emily, Annie, and Brittany. They did more than I could have imagined and pretty much tackled the remaining cleaning items. The chaotic part was the babies – 4 under the age of 20 months. Ashlynne did the best she could to watch them all, but it was nearly impossible for her to do on her own. I would help her in between cleaning and her friend, Madison, even came to help for a little bit. Our friend, Stan, also came over Thursday afternoon and spent an incredible amount of time outside in the heat. I'm not even sure what all he did, but I know that by the time he left my deck, patios and driveway were all more beautiful. By the afternoon, Ashlynne had left for GA and friends were heading home after a long day of sacrificial service.
Once work was done for Casey it was madness. The painter was finishing up just in time for the carpet cleaners to arrive. That's when Casey showed up with about 3 students and a truck and trailer full of boxes. They started unloading into the dining room where I was sweeping and mopping. Once I saw Casey I let him know everything needed to go into the garage so it was out of the way for the movers. A little frustrating for all, but eventually all was unloaded in the right place.
Our friend, Ryan, showed up to help, but it was just in time for them all to pick up pizza and head back to the old home. I had been living off pizza since our kitchen was packed so I passed on that and stayed back at the new house by myself to finish up in prep for the big move on Friday. I planned to get a sandwich at the Feed Mill but showed up just a bit too late. I ended up back at sonic which was the only thing other than pizza that I had eaten recently. Not happy, I wanted to console myself with a strawberry shake. I headed back to the old home to eat and see what work the guys were doing, but showed up to find them all leisurely chatting on the front porch. Not pleased considering how long I had been working at the house. I filled my hands with my purse, food, and shake then set my shake down on the car as I spoke with Ryan. That's when the final straw fell on the camel's back. My shake, the strawberry shake that was going to be my 9 months pregnant indulgence after a tiring, frustrating days work, tipped over and poured down the front of the car. In tears, all I could get out was. "I'm just going to go in. I'm done."
Seeing my emotional frailty, the boys and Ryan left, and Casey came in to comfort me. I vented about the exhausting chain of events and how hard I had been working etc. Although I was a wreck, Casey knew just what to do. He hugged me, apologized, offered to get me a new shake which I regretfully refused, and then Casey gave me the night off, well tried to at least.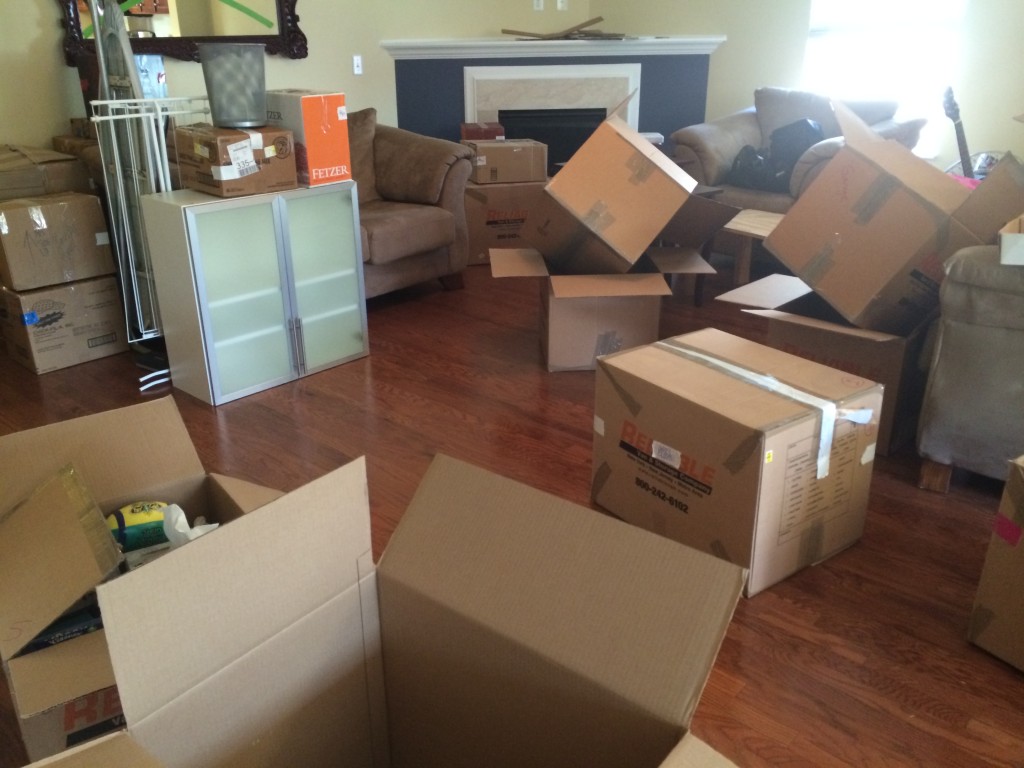 With movers coming the next morning there was still plenty to pack – laundry room, closets, etc. Everything needed to be packed and organized for the movers' 8am arrival. Casey set me by the foot massager with my computer and told me to watch New Girl episodes. Instead, I knocked out some client work, but being off my feet was rest enough. I could hear how hard Casey was working downstairs, which made me reluctant to disturb him, but I knew there had to be plenty more to do. We were up until 11:30… still more to do, but no energy for it. We took a brief moment to recognize that this would be our last night in the only house we've ever known together and then drifted off to sleep.
Continued… Read Part Two!
Originally written May 25, 2014