There was a moment with the girls yesterday that I wasn't sure I was going to make it. All I wanted to do was was shut my bedroom door and hide in the pillows. I have a feeling real moms have this feeling often.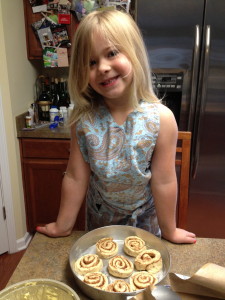 The day really was enjoyable overall. I had the pleasure of quiet time to write before the girls woke up. Tailynn and I made cinnamon rolls for breakfast and in the meantime, I cancelled all my meetings.
After breakfast the 3 of us took Minny for a walk. Tailynn was holding the leash on the trail when Minny saw something in the tall grass and took off. I wasn't worried until the grass stopped moving. I knew she had gone too far. Thankfully, after a few minutes of waiting she returned, but minus her leash which made for quite a a long walk home.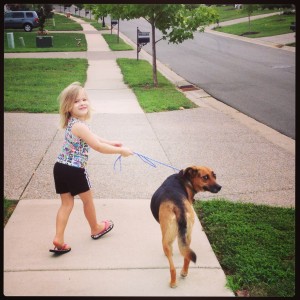 I halfway worked and halfway played until I knew the girls were starving. Realizing I had forgotten to buy lunch food, we ate eggs. The eggs took forever as Ashlynne had special requests and Tailynn wanted more. I finally ate around 2pm. Oh, I made biscuits too, but apparently they were old and turned out terrible. Figures.
After our delightful lunch, we went upstairs. I was going to be the judge of their cheerleading tryouts. But before they could begin, Minny peed a bucket's worth onto the carpet. You have got to be kidding me! I reminded myself it's not her fault (Her new medicine has messed her up.) to keep from dropkicking her down the stairs. I called Casey, desperate for relief, "Please come home!" (Sound familiar?) He wouldn't be home for another couple hours.
That was the end of my rope… or so I thought.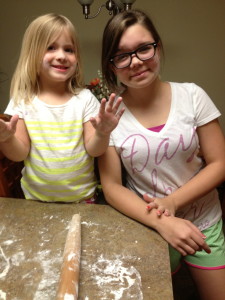 All I could do at this point was lie on the couch. They cheered. I judged. Then Casey came home and saved the day by taking them to help in his classroom so I could work. They returned full of life just after 6pm. Apparently helping Uncle Casey was quite enjoyable. I fixed dinner while Casey slept upstairs. While Tailynn and I battled over the veggies, Ashlynne decided to make homemade sugar cookies. The girls enjoyed the mess, and I all I could do was grin and bear it. Of course, after his 2 hour nap, Casey came down in time to enjoy a cookie or two. After cleaning up and getting ready for bed, we watched a movie in my office floor. The goal was accomplished. Tailynn fell asleep without tears (She cried for 30 minutes the night before.), and I was able to carry her to bed once the movie was over.
Exhausted, I came to bed thinking Casey would be asleep. He left the movie a few minutes in and his first day with students was the next day. Much to my surprise, he was awake. Waiting on me, if you know what I mean.
"Casey, would you hold this for me? It's the end of my rope. You help me find the beginning of that rope tomorrow and we'll talk. Okay?"
How do the real mommas do it all?