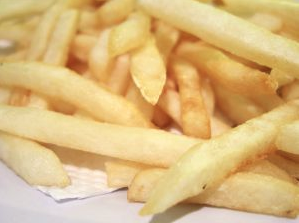 It's here! I was hoping I would belong with the 1 in 4 pregnant women that don't have to endure this mess. My mom was in that 25%. I inherited a lot from her, how did God leave that gift out of the package?
It all started on Tuesday. That was the day I was gone from 10:30 am – 11:30 pm., drove 6 hours and danced the night away at a ball with a bunch of teen girls. I had been feeling a little off that morning, but my uneasiness was soothed by Chick-Fil-A fries on my way back from picking up Ashlynne in Alabama. It snuck back up on me later that night. First it was the buffet line. The smells were so overwhelming I had to hold my breath as I grazed the platters. Then much to my surprise, I couldn't finish my mac and cheese without feeling sick. I don't know about you, but I never leave mac and cheese on the plate.
The next morning I woke up after not enough sleep and wanted to do nothing, but lie in bed. I had planned on making the 4-hour trip to return Ashlynne early that morning, but didn't get out the door until after ten. I was still feeling uneasy, but wasn't quite ready to call it nauseous. I made it home in time for lunch, but my kitchen was like a minefield. Everything I considered eating made my stomach turn even more. Nothing seemed appetizing and the exhaustion was overwhelming.
Casey came home to me resting in bed, hungry and tired. His cure? Mexican food. I figured it would be better than cooking, and I was right… at least at first. The chips and cheesy bean dip were heavenly, but then my meal arrived. The smell of the grilled onions was enough to make me gag, but I managed to choke down half my meal and eat the other half before bed. Mom and baby were fed. Mission accomplished.
Now all I need is a good night sleep. Wisely, I had already decided not to attend my 6:15 am workout and turned the alarms off. Although my bladder woke me up a couple times, I was able to sleep a full 10 hours. I was feeling great too! Breakfast went along without a hitch and I managed to have a productive morning in the office. Then lunch came. My tummy was growling, but again, the thought of anything in my kitchen made me sick. All I wanted was, you guessed it, French fries. No fries in sight, I heated up some leftovers and starred at them as they cooled off on the kitchen table. How on earth am I going to eat this? I need to pray. It was in that time that my friend Jodi called to check in. Praise God! She has 3 kids. She can relate and I know she'll pray, and she did. In fact, talking with her was just the distraction I needed to be able to choke down some of my meal while we chatted.
When I got off the phone with her a text from Casey arrived "Good afternoon! How's my baby mama?" Now Casey is praying, but he's also a make-it-better person. Knowing I couldn't finish my lunch, he arrived home with 2 large sonic tots and even went back to get the honey mustard he had forgotten. Although part of me was angry that he was indulging my unhealthy craving. I was thankful for his tangible way of caring for me, and we were both thankful to see me eating. But Lord knows I can't survive much longer on of tots and fries.
I went to bed praising God for an amazing husband and for just having food aversions and not really nausea, but I spoke to soon. This morning has been awful. I can no longer deny that I am among the 75% of pregnant women that experience nausea during the 1st trimester. I woke up at 7am and it is now noon. I am still in bed as I write this, surrounded by an empty water bottle, saltines, a granola bar I've been picking at for the last hour, my computer that isn't being put to use, and a trash can, just in case. I've made one quick trip to the kitchen, numerous visits to the bathroom, and my nausea is finally starting to subside.
Oh and this is the worst kind of nausea – the kind that just sits in your throat. The kind where you burp constantly and pray it's just a burp, but stay on guard for more. The kind where sitting up feels like a chore, but the dizziness from lying down keeps you awake. The kind where you find yourself thinking, "if I could just throw up, I'd feel better," but then you remember you're not sick and this feeling is here to stay for a while.
How am I going to continue to function? Attend client meetings? Develop strategies? Cook dinner? I suppose in a few days I'll be used to my new normal and back on my feet again. Until then, I'll just pray it doesn't get worse and praise God for this baby, even if it's wreaking havoc on my body ☺