If you haven't noticed, I ask all the Wednesday Wives to be honest with you about their marriage. We don't do whitewashed stories here at Love Truthfully. I am so thankful that my sorority sister, Emily-Anne, was bold enough to go where no Wednesday Wife has gone before… SEX. 
Even though it covers our lives in today's world (although a corrupt view of it), talking about marital sex is still feared by so many, especially Christians. Our silence has allowed the devil to keep his stronghold on one of the most intimate and important aspects of marriage. It's time to break those chains and get real! 
Emily-Anne paints an honest picture of life before and after kids that I'm sure anyone with children can relate to. I know we have shared many of the same struggles since our niece moved in with us. It's not east being WIFE AND MOM. Don't believe me? Read this post!  
Please remember that when we share like this we are leaving ourselves vulnerable. This is our chance to love on Emily-Anne. Please make sure to leave a comment thanking her for sharing or letting her know how her story has encouraged or comforted you.
Emily-Anne Buck married her husband, Jason, on October 30, 2005.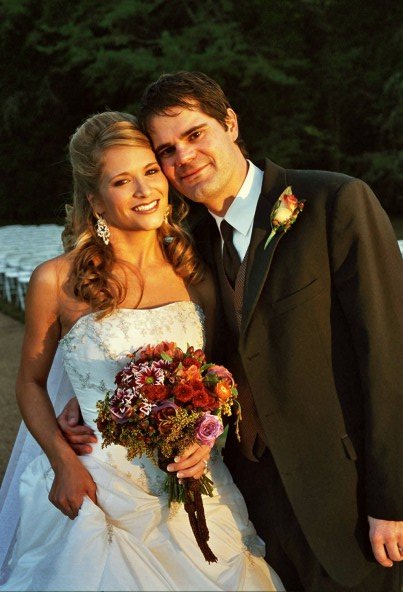 1)    Tell us your courtship story. How did you meet and end up married?
I was a Junior at ETSU when I broke up with my boyfriend in the Spring. I was left with a guy telling me I would fall in love with him and I was only feeling you certainly aren't the "one". After that break up, I swore off guys. I didn't want to meet, be set up with, or pursue one single man until God brought into my life the one guy I was supposed to marry. How was I supposed to do that if I refused to even meet someone? It didn't matter…I knew God would have it all figured out!
So a few months in, my best friend at the time told me, "You HAVE to meet this guy Jason that works for my mom. He is just your type and such a good guy."
Of course my response was, "no thanks."
Well, we had a summer trip planned for NYC and upon our return, we both had to stop at our homes in Knoxville to pick up our dogs our parents watched for us while gone. My friend had to stop by her mom's work place downtown, and since I was tagging along, she decided that I should just say hello to Jason Buck anyway. So I did. I remember he had on an orange polo and was doing crosswords puzzles in a newspaper. And I had on a new NY Yankees hat, new Tiffany's necklace (think Legally Blonde), and denim skirt. We met, shook hands, swapped a few words for 5 minutes, and that was it! I was holding true to my word. I walked away thinking, "Well, he's cute." And that was it. He walked away thinking, "Dang! I like that Yankees hat on her!". (haha I'm not sure about this but I do think I remember something he said similar )
So 3 months pass and we have a sorority function coming up. I had sworn off guys so much that I was left without a single frat boy to ask to our formal. Standing outside of class, I jokingly asked my best friend, "hey should I call that Jason Buck guy?". She squealed, "Yes! Do it! 679-Buck!"
That night I was babysitting late. Once the kids went to bed, I calmly (wasn't nervous since I was swearing off guys) called Jason. And again. And again once more. See, on my end it wasn't ringing… at all. On his end, it rang 3 times and he wasn't picking up this unknown number because he had company over for dinner. So after he thought, "who is this crazy person?" and I left him a voice mail, he returned my call the next night.
From about 9pm that night until 5am the next morning, we stayed on the phone. I barely remembered what he looked like! BUT within 2 hours (we had to take an hour break because we had sorority initiation stuff going on) I had beamed to my best friends that I just hung up the phone with the guy I was going to marry! And in all truth, I felt that in the first 5 minutes. He simply said 4 words that caught me hook, line, and sinker: "I'm a Christian nerd."
Our phone calls went on like this throughout the night for the next 10 days. He couldn't make it to my sorority formal, but he did accept coming to our next event: What the Heck Redneck informal. Here was a guy I talked on the phone with for 10 days, KNEW I was going to marry, and only remembered he had dark hair and skin. And he was driving up to Johnson City and would be staying at my house. Wow…we were both nervous!
Jason however, almost chickened out. He says it was the devil trying to take it all away! He had his bible study friends praying for him and pushing him and encouraging him to not break plans with me. So off he went to a small college town to meet this 22 year old girl.
The night went perfectly! We ordered pizza, talked all night once again, and he even ended up staying the next night, and went to church together on Sunday.
Fast forward to August 2005… we were engaged! And did you notice our wedding date?! Yes, I planned our wedding in a little less than 3 months. Why? (no I wasn't pregnant… as some people assumed… I was a VIRGIN) I was EXCITED! And to be honest, (as I wouldn't just say this to anyone but because this is a marriage blog and have come to see the importance this has on a marriage, I'm going to say it) I didn't want to wait a full year to have SEX. I was ready to BE with my future husband. So there is the #1 reasoning behind me planning my wedding so quickly… I was ready to have sex!
2)    On your wedding day if someone had asked why you were getting married, what would you have said?
If someone asked me on my wedding day, why I was getting married, I would have said I had prayed and longed for a man like Jason since I was 16. That he was my answer to prayer and the man God had created just for me. I definitely had in my heart the longing to spend eternity with one man if it was the right relationship!
3)    If someone asked you today why you have stayed married, what would you say?
I have stayed married because of our #1 commitment to God and to each other. I was once told while I was engaged to not even let the word "divorce" be in my vocabulary. It hasn't.
4)    Do you have children? If so, how has having children affected your marriage?
Yes, I have 2 gorgeous, rambunctious little boys. Children has affected our marriage for sure. With the first born, the first year was quite a blur. I didn't feel comfortable leaving the house at all (I breast feed my babes so this makes it tricky at times) so when we did finally start going on a few dates again, they were like at 4pm for a quick dinner. After a full year had passed, I felt our life started to resume a little bit more normally. Although we still didn't get many dates, this is when we had to get creative with homemade dinners by candlelight in our PJ's and movies to rent.
Then we found out I was pregnant again. I get terribly sick with my pregnancies and threw up for 37 weeks with my 2nd pregnancy. This leaves me completely MIA and not wanting anything but my pillow! With the 2nd child, (born December 2012) things got even more chaotic. Even our vacations weren't a vacation. On a beach trip previously with 1 child, we at least tried to hang out while our son was napping. With 2 kids at the beach, my husband had 1 and I had the other. It seems we were on opposite schedules and this started happening in our home. With 2 kids at dinner time, we can't even get a word in to each other, and by time they are both in bed, we are so exhausted from the work day and playing with the kids, that we didn't have a word to say to each other. We'd be cleaning up the kitchen and making sandwiches for the kids' lunchboxes in silence. So if I were to answer the question directly, I would say it has affected my marriage by bringing us closer as a family, but dividing my husband and I up even more. It has most certainly become a marriage I have to work at after 8 years whereas before everything seemed easy. I say this positively though because I like challenges. I now have to work at something to make it better where we aren't just "roommates" anymore.
5)    What has been one of your greatest trials in your marriage and how did you all overcome it?
Overall our greatest trial has been physical intimacy. We are presently trying to overcome this and it's too fresh to say it has been overcome. I've currently gone to see a Christian sex therapist alone and we are at least communicating more about this. I hate to say it, but the devil certainly had our marriage under attack and this is how he wedged himself in our marriage.
6)    What has been the most challenging aspect of being a wife?
The most challenging aspect of being a wife is being a WIFE. I'm now a mommy of 2… do I need to say more? I have such little time to do much. I work full time and even my devotionals are done in the car or while locked in the bathroom. I pray daily on how to be a better wife and learn to balance these roles even more. If you asked me this question as a newlywed, I think it was hard to understand what the whole "submissive" role meant as a wife. Once it clicked in my head what it truly meant, it was a relief to understand the role my husband has with God is not my own.
7)    How has being a wife changed you?
Being a wife has changed me in learning to be more dependent on someone. I'm extremely independent and I feel I don't really "need" anyone. My husband once counteracted this by reminding me I constantly had a boyfriend, one after another my whole life, but I truly just had fun and never needed them.(I was never ever dumped! Ha!) Who knows, maybe he's on to something a little deeper I don't even know about myself yet and I'm still learning 🙂 So I guess you can say I'm still learning to show my affection to a husband that wants to feel more loved and doted on.
8)    What does date night look like for you?
Date night! HA! Well, before kids, it was me excitedly running to the door on a Friday night waiting impatiently for my husband to get home to find out where we were going for dinner or what movie to see. He was exhausted and I was ready to go! And Saturdays were usually spent in bed eating pizza and watching movies until 2am. Post baby: We go to dinner about once every 4-6 months! Yep. Quite pitiful. Can't fully afford a babysitter and with my parents watching our kids 3 days a week, I don't like to ask them to do much more.
9)    What are the top three things/people that pull you away from or compete with your marriage? How do you deal with them?
Kids – We are presently trying to not give 110% to our kids. (We compliment ourselves and each other that we are the most devoted parents in the whole world to our kids, but that is where we have struggled to devoting more to each other!) But for myself to not give as much to my kids is a big struggle. I don't "get" how not to, especially at this age!
TV
Exhaustion
I'd say TV and exhaustion sort of go together. We are so worn out by the end of the day, we each love to crash (him on the couch downstairs and me in the bed upstairs) to enjoy our "shows". We are also presently trying to find more things to watch together to get us started there spending more time and at least being in the same room.
10)    What role has community played in your marriage?
Before kids (here we go again…seeing a pattern?!) we were in a Sunday school class and a small group. Our current church we haven't joined yet since we are newer so we aren't in either. Small group took up so much time we don't feel we have that time to give at this moment. As far as family and friends go, we have tons of support and Godly people surrounding us.
11)     What's one thing you wish someone had told you before marriage?
I wish someone explained further that sex would be the way it is. I do remember my mom saying something about hoping I wasn't "let down" because I literally was so excited that I wanted all my wedding showers to be lingerie showers! It's like we were cursed on our honeymoon and it's just spiraled down from there. It's never been easy for us.
12)    If you have one final thought or piece of advice to share with current or future wives, what would it be?
Don't marry a nonbeliever. I have seen what this has done to couples that are equal here. It's a struggle and sad. Even through our struggles I at least know I have a praying husband and a man that is Godly and seeks God through everything always. What more do I need than that?! Marry someone that is going to be a good Father. I have the BEST man for my boys. THE BEST. Feel lucky and blessed. I am amazed that I have such a great man to be married to and I don't want to take that for granted. So don't. If my husband had to answer this, I think he would say communication. He has mentioned how important this is for us lately based on the struggles we are currently facing.