There are some people in life that cross your path only briefly, but you feel eternally connected to them. This week's Wednesday Wife is one of those people to me. I met Heidi when I was on mission in Europe. She was our fantastic host in England, and it's her fault that I now crave clotted cream on a regular basis with nothing in the States to satisfy me.
I was so excited when Heidi answered my recent cry for Wednesday Wife submissions. Her story is a hard one to read, but I'm sure an even harder one to tell. I'm thankful for her honesty about her depression, her thoughts about leaving, and how it all started with a delivery gone wrong. Her story is a must-read for all of us!
Please remember that when we share like this we are leaving ourselves vulnerable. This is our chance to love on Heidi. Please make sure to leave a comment thanking her for sharing or letting her know how her story has encouraged or comforted you.
Heidi Barnes married her husband, Brad, on May 7, 2006.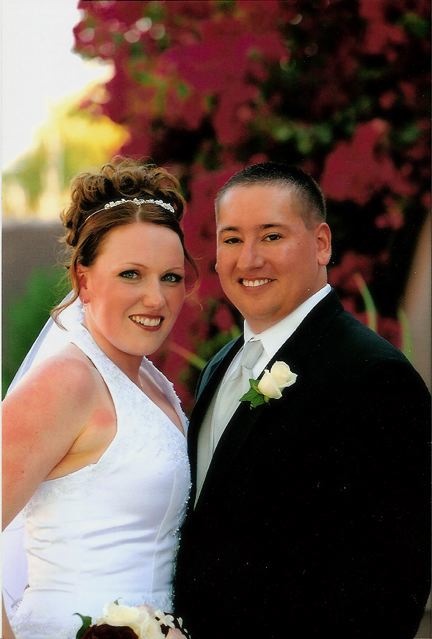 1) Tell us your courtship story. How did you meet and end up married?
Brad and I met online. Yes, one of those "romances"! My friend talked me into signing up for ChristianCafe.com, and, after chatting with a few different guys, I started talking with Brad. He decided to contact me because he saw that I did humanitarian work in the former Soviet Union and he had just returned from that part of the world as part of a trip he took literally around the world. After we had sent a few messages back and forth, we talked on the phone one night and found we had even more in common. He asked me on a date and we went to an Arizona Diamondbacks baseball game. Neither one of us really liked baseball, but I have to say a baseball game really is a good first date. The game is slow enough to sit and talk, but if the conversation lags, there is a game to watch. He took me home that evening and met my brother who I was living with at the time. They hit it off because Brad was Air Force and my brother had recently left the Marines. Brad says he was walking on Cloud 9 as he walked to his car that night, but I was hesitant. See, just a year before I had been engaged to a longtime friend who ended up cheating on me with one of my girl friends. But I kept talking to and seeing Brad.
One weekend I was leading worship and music at a women's retreat in the small town Brad lived in. He came and helped me set up and get the sound issues all worked out. He even came back one evening to hear my mini-concert – him and 73 women in one room! After that weekend, I knew he was the man God had in mind for me all along.
Our first date was September 23, 2005, we were engaged December 9, 2005, and married May 7, 2006.
2) On your wedding day if someone had asked why you were getting married, what would you have said?
I was 31 when we got married and before I met Brad, I dated all different kinds of guys, and as much as I wanted them to work, the really serious relationships ended horribly. But, like I said earlier, after I saw Brad support me doing something I absolutely loved to do, God flipped a switch in me. I just knew he was the one for me – that simply put.
3) If someone asked you today why you have stayed married, what would you say?
This May we will celebrate 8 years of marriage, and they have been a far-from-boring 8 years. From the Air Force moving us all over the world (South Korea, Ohio, and England, then back to Ohio) to having kids and traveling, we have found adventure every step of the way and we know God brought us together to be life-helpers.
4) Do you have children? If so, how has having children affected your marriage?
We have two children: Jacob (5) and Ashley (4). As any parent will say, kids take a lot out of you, but my health and my delivery of Ashley affected our marriage even more than just being worn out from having small children.
5) What has been one of your greatest trials in your marriage and how did you all overcome it?
We have always said our relationship and marriage have been pretty easy compared to other couples we have met, but we've been tested in the area of intimacy, all stemming from the birth of our second child.
I was induced for the births of both of my children. Jacob's birth was long — they started the induction on a Monday night and he was finally born at 1:30 AM that Thursday – but I bounced back pretty quickly.
We decided to get pregnant pretty quickly after Jacob due to my health and age, and 21 months later I was sitting around waiting for my induction date to arrive. A week before Ashley was to be born, I ended up in the hospital with pneumonia. I was hospitalized for a couple of days to monitor the baby and to make sure my asthma was under control. The next week, my doctor decided to induce me a day earlier than scheduled because my blood pressure meds weren't working well. Labor went much quicker and we thought it would be an event-free delivery. Not so.
Without giving too much detail, my delivery included: being put on magnesium due to my blood pressure, which made my limbs very heavy; the epidural was not working; and, Ashley was trying to come out "sunny-side-up" and they couldn't get her turned. I begged for a C-section, but the doctors decided to use forceps. Ashley came out fine, but I was physically and emotionally scarred. I was afraid to hold her due to the heaviness of my arms, and the nurse was pushing me to nurse Ashley, but I wasn't completely sold on doing it this time around. The next few days were fine though. I went home after two nights in the hospital and started working through the postpartum.
A week later I ended up back at the hospital because I was hemorrhaging and I had a D&C and a blood transfusion. I went back home after a night or two in the hospital and began again going through the healing process.
A few months later, I started having what I called "issues." I worked with a uro-gynocologist and a proctologist to figure out what was wrong. Just when they decided I would need surgery, we received orders to England. I became depressed. I didn't want Brad to touch me because I always felt unclean and I began to pull away. I was upset thinking I would have to go through all the exams again at our new base, but God really protected me from that and put me with an excellent doctor who looked at my previous doctors' input and scheduled me for surgery without having to go through everything I was already put through.
Before and after the surgery, I found I would get very angry when I would hear women talk about their "easy" births. I tried not to share my horror story with those who were pregnant with their first child, and I would get mad when women would tell those same women about how great it is to go through such a wonderful event. (To be honest I hated being pregnant, and I still get a knot in my stomach when I hear people say this.)
One day while the kids were napping and I was in the backyard of our beautiful English home, I hit rock bottom in depression and I wanted so bad to just leave – leave my kids and my husband. I knew in my heart it was an irrational thought, but a great deal of my being couldn't handle it anymore. I prayed so hard that afternoon, but the feeling wouldn't escape me. A day or two later, Brad and I were arguing about something as we stood in the kitchen and I just broke down crying and told him what had happened in the backyard. He was very quiet for awhile and then said to me, "Heidi, you have PTSD. I have seen these emotions and actions from those who come back from deployment." Once he said that, it felt like a burden was lifted. I could put a name to what was eating at me and why, and I felt I could finally move forward. I spoke to my doctor about the depression and she also diagnosed me with PMDD (premenstrual dysphoric disorder).
Ashley turned 4 on March 24 this year, and I am still working through the depression and adjusting meds, but God has brought Brad and I a long way with a better understanding of each other and what we both need in a marriage and in life.
6) What has been the most challenging aspect of being a wife?
Being a wife can be difficult, but being a military wife can be even more difficult. Thankfully God prepared me throughout my lifetime without me being aware of the tools He was giving me. I rely on my husband as a partner in life, but God has made me comfortable being independent while Brad is gone for weeks at a time. We have found what works for our family with our lifestyle. We are in transition again now that Brad is retired and we have settled down, hoping we don't have to move again. We are excited for this new adventure.
7) How has being a wife changed you?
Brad and I got married what some may consider as later in life. I was 31 and Brad was 28. It was an adjustment for both of us to rely on another person, but we are better people. I no longer have to figure out the finances by myself (I'm HORRIBLE at that), and he doesn't have to worry about keeping a household going.
I have found that I can be vulnerable around others because I don't have to stay strong to get through the day, a week, etc., because I know someone has my back.
8) What does date night look like for you?
Before we had kids, we decided we would have a weekly date night. Once the kids came along, we found a date-night babysitter and have tried to keep to this schedule. Date night isn't always a dinner and a movie, but usually a quick bite to eat and a run to the grocery store. We can enjoy each other's company without little voices griping and wanting this and that.
9) What are the top three things/people that pull you away from or compete with your marriage? How do you deal with them?
At the beginning of our marriage, our parents would try to pull us away from each other. I don't think they knowingly were doing it, but I find it a blessing that we were in Korea during this time because it was easier for us to keep the distance. We all needed to adjust to married life.
Kids are always wanting individual attention and can wear a person out so much that there isn't enough energy to give to the other adult in the house, but I have a wonderful husband who is an awesome dad and is very involved with the kids. We are teaching them that mommy and daddy need some quiet time just like they need quiet time.
I think the Internet, TV, hobbies, etc., can compete with marriage. We are around people who want our attention all day, in the evening it can be easier to vege in front of the TV or sit mindlessly trolling the Internet or work on whatever crocheting project I have going. Thankfully these things have not worn away at our relationship and we will playfully tell the other, "Pay attention to me!" when we feel we need the other's attention.
10) What role has community played in your marriage?
God has brought some awesome couples into our lives over the years. We have seen how God has strengthened their marriages and have learned from them. And now that we're parents, we have taken some of the things that have worked for others and have applied it to our lives (ie., date night and discipline).
11) What's one thing you wish someone had told you before marriage?
I'm sure someone told me this but it didn't register at the time: I am in awe of how close I can be to this one person and how well we can make it through life with that someone when God has brought us together. We find our relationship natural and easy, and I have never had that with anyone else in my life.
If you have one final thought or piece of advice to share with current or future wives, what would it be?
If I had one final thought it would be to remember that your spouse is also a work in process. I have had to remind myself that he, too, is not perfect, and I can't expect perfection from anyone. All I can do is love him and follow what God has asked me to do, which is love God and love people – including my husband. Crazy as it sounds, it can be hard to remember to show love to those you are around the most.