If you've ever struggled with being "The Good Wife," this is the Wednesday Wife for you.
It warms my heart to share this friend's testimony with you because I've had the pleasure of walking through so much of this with her. We've done marriage together from the beginning, were friends before we met our men, and are even stronger friends now. I constantly thank God for blessing me with Jennifer's friendship. It's raw, real, deep and a true joy. I can always count on Jennifer to accept me where I am, listen to my garbage, and just sit there in it with me.
She's only been married 3.5 years, but the wisdom she has gained as they've walked through trials is priceless. I pray that her transparent look into marriage is an encouragement to you, especially when you're feeling like you aren't ever "the good wife."
Please remember that when we share like this we are leaving ourselves vulnerable. This is our chance to love on Jennifer. Please make sure to leave a comment thanking her for sharing or letting her know how her story has encouraged or comforted you.
Jennifer Ramsey married her husband, Rich, on July 18, 2010.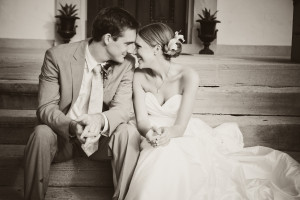 1)    Tell us your courtship story. How did you meet and end up married?
Rich and I met in college on a trip where we ate breakfast together, were in a 7 car pile-up, and ironically don't remember each other at all. Thankfully, about 4 years later, God brought our paths together again in Nashville through Fellowship Bible Church. We met shortly after I moved to Nashville while playing what I wanted to be a non-competitive but he wanted to be a competitive game of Ultimate Frisbee, but didn't really get to know each other until about a year later when I asked him to help with a fundraiser for a mission trip I was going on. After quite a bit of accidental (but really very intentional) meetings over the next few months, we developed quite an affinity for each other. When Rich finally asked me out on an official date a few months in to our charades, I was thrilled!
From the very beginning of our relationship Rich was very clear that his intentions for dating were to find a wife. I really appreciated that his intentions were clear and out there, and I didn't have to wonder whether he was ready for something serious or not. Our conversations could be meaningful and rich since I knew this wasn't a guy who would mess with my emotions and heart. It didn't take long (only about 2 months) for us to go home to meet the families… over Christmas none the less. I had never brought a boy home period, so my family knew something was up when he walked through the door. As my sister stated in the toast at our wedding, this was also the first boy who I didn't immediately nitpick to pieces! After the holidays we both knew what our future held. Three short months later, Rich asked me to marry him with a beautiful song he had written me, a scrapbook of all the places we fell in love, and the perfect ring (except for that it was 2 sizes too big :). I left for Haiti two days later and returned to find that Rich had picked out our house! We got married 3 months later in the dead heat of summer. It was a beautiful day that was full of great memories despite the 100 degree weather and my mono infection that emerged just in time for our wedding.
2)    On your wedding day if someone had asked why you were getting married, what would you have said?
I was marrying my best friend.
He was man that could always make me laugh, could keep me grounded when I needed it, and loved me like Christ loved the church. The way he served me, adored me, and challenged me made me want to be a better person and a stronger follower of Christ.
3)    If someone asked you today why you have stayed married, what would you say?
In our 3 years of marriage I have loved having someone on my side through anything. I can come home and know that I am fully loved and accepted by God's perfect match for me. I love that marriage forces us to be refined because nothing is hidden. All of your struggles are out there and you have to deal with them. What is beautiful about marriage is you are not alone in the fire.
4)    Do you have children? If so, how has having children affected your marriage?
We just had our first baby 2 months ago! She has changed a lot of our day-to-day activities for sure, but we are working really hard to make sure that our marriage is still the center of the family. I have fallen more in love with Rich as I watch him serve me in helping out when we are both exhausted and when I look at him play and cuddle with our little bundle of joy. Date nights are much more intentional these days and spontaneity seems to be a thing of the past for now. I appreciate that we have a great community around us that lovingly watches her for us so we can still have quality alone time on a regular basis.
5)    What has been one of your greatest trials in your marriage and how did you all overcome it?
The trials we have faced in the past 3 years have been outside forces attacking us.  I would say overall the biggest trial we have faced is my husband's chronic back pain. It prevents him from doing things that he loves as well as things he views as his responsibility as a man. We have learned humility in asking for help from friends and family when we need to. We have learned to work our life and activities around what works for his pain. We have been blessed with friends who are so gracious and understanding about the small details. I have learned to be a servant. I am constantly amazed at how Rich goes through each day in so much pain, yet rarely complains or even speaks of it unless specifically asked. He does things for our family to serve us, even if it causes him pain. We have learned the pleasure of having a quiet night in where the couch is our favorite spot. We have most of all learned to trust that God knows what he is doing and will provide exactly what we need even if it doesn't look like what we anticipated.
6)    What has been the most challenging aspect of being a wife?
I would say that the first 6 months of being a wife were tough because of my own expectations. I thought that to be a "good wife" you had to keep your house perfectly clean, always have the laundry done, have a delicious and healthy meal on the table each evening by 6 o'clock, look perfect at all times, and still work a full time job (at least till you had kids). HA! No one on earth can do that!
Every time I failed at living up to that ideal, I would get very down on myself, which meant I was always down on myself! Rich was always gracious and reminding me that he didn't expect any of that, but it was hard for me to accept that I wasn't everything I thought I should be. Thankfully my married friends were experiencing similar dilemmas. It meant everything to me that other women weren't perfect either!
7)    How has being a wife changed you?
Before I got married I would have told you that one of my best qualities was serving people. As it turns out, I am much better at being lazy and asking Rich to serve me. Marriage has shown me more weaknesses than I care to admit. Thankfully, I have a husband that encourages me and never points out all of the flaws I see in myself. In turn, marriage has challenged me to become an encourager for my husband and a true servant for my family.
8)    What does date night look like for you?
Now it looks like a babysitter, dinner that I don't cook, and a walk around the park. My favorite nights are those that I can spend relaxing with my husband in any setting where we really get to talk about important things… not just what is going on in the world, but what is going on inside of us. It doesn't matter where that happens, just that it does.
9)    What are the top three things/people that pull you away from or compete with your marriage? How do you deal with them?
Work. I am a teacher which takes a lot more time and energy than you ever plan on allowing it to. I have learned that my job is not more important than my family and in keeping that balance, I have accepted the fact that I am not going to be teacher of the year 🙁
Volunteering. This one is tough because donating your time and energy is a good thing, but can be a bit overwhelming. There was a time early in our marriage when we decided the only way it was going to work to see each other AND volunteer was to do things together. So, we are either both doing it or neither of us do it.
Family. This is not so much of a time issue as it is an issue of who you run to in tough times. It is important to go to your spouse for all things and not your parents. A piece of advice here or there is great, but you and your spouse are a team — united by God to handle what comes. That means you don't need to share every detail of your life with your family, especially if there is any chance it will reflect badly on your spouse. By going to your spouse first you show them that you trust and value them above others.
10)    What role has community played in your marriage?
Community has been a HUGE part of our marriage. We have been blessed with an abundance of genuine and transparent relationships with other married couples. Our community group of newlyweds was the best gift for our first year of marriage. To know that other people are going through various trials you gain confidence that you can make it through current or future trials. You also realize that you are not all that different in your thoughts, feelings, struggles, and joys. Most of all, the laughs that come out of that group can't be replaced!
11)     What's one thing you wish someone had told you before marriage?
I wish someone had told me to give myself a break when it came to being the "perfect wife." I also wish someone would have told me that laundry doesn't just double when you get married, it feels like it quadruples!
12)    If you have one final thought or piece of advice to share with current or future wives, what would it be?
Fight for your marriage.
There is nothing so big that God can't overcome it. While Rich and I have been blessed that we have not been through a stage where it would have been easy to give up, we have walked with so many couples that have had BIG struggles. The world would have understood them walking away. I admire those couples for never allowing divorce to be discussed, but instead threw themselves whole-heartedly towards wise counsel and transparent relationships.
I know by their example that fighting for your marriage can be done and the relationship on the other side is a beautiful testimony of God's promises.
Pin It