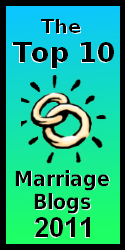 After only 8 months of blogging and less than 2 years of marriage, My Marriage in Motion has made it onto the Top 10 Marriage Blogs list! I'd like to send a HUGE thank you to everyone that voted our blog into the #8 spot on this year's top 10 list! I couldn't believe I was nominated. I'm even more shocked that we made the top 10!
I highly recommend that you check out the entire Top 10 List. I haven't made it through all the blogs yet, but many of them I know and love. I know you will too! Follow them and if you haven't already, follow/subscribe to this blog as well 🙂
A special thank you to Stu Gray and the Stupendous Marriage blog for hosting the top 10 list. Stu and his wife are also Nashvillians. Small world!
Just for fun, here's a reminder of where it all began. My 1st post: Celebrating 365