Recently Gwyneth Paltrow has been opening up about the realties of marriage. This blog quotes Gwyn admitting, "Sometimes it's hard being with someone for a long time. We go through periods that aren't all rosy." In this Good Housekeeping article (1 of my favorite mags) you'll find more details about those not-so-rosy times. "Marriage is hard. Chris and I have had our ups and downs, big-time," she says. "Marriage is way more complicated than just Who gets to control the remote? But hopefully we keep heading in the same direction and getting through the obstacles."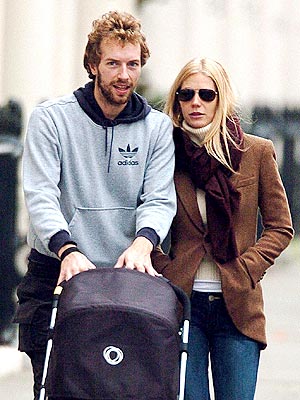 I commend her honesty, openness and realistic perspective of marriage (unlike some other celebs); however, other quotes from the blog and the GH article leave me a little disappointed.
The blog quotes her as saying, "If, God forbid, we were ever not to be together, I respect him so much as the father of my children. Like, I made such a good choice."
The article: "I always say, life is long and you never know what's going to happen."
I'm thankful she is open about the struggles in her marriage and willing to admit that things aren't always perfect, but it breaks my heart to hear her entertain the idea of divorce. I honestly believe that divorce should NEVER been on the table. It should never be threatened. It shouldn't be in the back of your mind. It shouldn't be something that you see as a last resort or an out of any kind. I'm not saying I don't believe in divorce (I'm not 100% sure exactly where I stand on the issue). I am saying that if you enter into the marriage covenant with divorce on the table or anywhere near the table, you're more likely to end up there. Maybe you won't, but I can almost guarantee there will be a lot of additional heartache due to the mistrust and uncertainty that comes with divorce-related thoughts.
It took a while for this to be my conviction, but when Casey and I were dating, a lot of my fear of marriage came from believing that divorce wouldn't be an option. When you know you really are in it through the good and the bad, even the very bad, it takes an act of God for you to have the peace you need to make that lifelong commitment to someone.
What are your thoughts? Do you think having divorce on the table before entering into marriage increase the likelihood that a couple will split?