Are women waiting too long to get married these days? One lady dropped jaws at Princeton when she encouraged girls to be on the lookout for a spouse. You may not agree with her either, but what other time in your life will you have that many eligible bachelors in your midst? She has a point.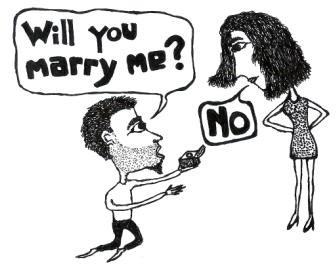 I can really relate to this story. My mom wanted me to wait until I was 30 to get married. Much like they mention in the article, she believed that I needed to live my life
before
marriage. She's not alone. Many women today feel that marriage is the end of their independence, fun and career. Just like kids, it's something we should schedule and push back if possible. I was right there with them. I wasn't quite willing to wait until 30, but for some reason, 27 felt like the right age. Then I met Casey.
Even with such an incredible man by my side, it took me a while to become okay with the idea of marriage at 23. Eventually I realized that all those things I wanted to do as a single lady would be way more fun with Casey by my side. Although my mom wanted me to wait, as always, she was more than supportive of our marriage. I hope that she has seen how being married to Casey has not held me back at all, but has spurred me on to greater adventures and successes.
I'm definitely not saying that getting married younger is the answer. We have our share of troubles that a few more years of maturity might have helped us through, but we've also gotten to share so sweet times together and milestones that we would have missed if we waited. I am saying that waiting for the sake of waiting or because society says your too young or you're scared of losing your freedom is not the way to go.
So what is it that's making women wait? Fear of change? Desire for independence? Focus on career? Selfishness? Whatever it is, it's proving effective at keeping women single for longer.
Do you think people are waiting too long to get married?
Photo Credit:

Daniel Ted Feliciano